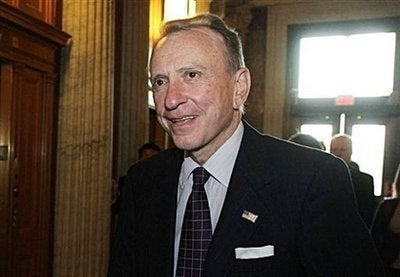 It pays to be the man in the middle. When the Senate reached a $780 billion stimulus deal with three Republican senators, the final package included three amendments that had previously been passed. Only one of them survived conference negotiations between the House and Senate intact, said Sen. Ben Nelson (D-NE).
The lucky amendment adds $6.5 billion in funding for the National Institutes of Health to the plan. It owes its life to its sponsor, Sen. Arlen Specter (R-PA), one of the three Republicans who made the deal possible.
Sen. Johnny Isakson (R-GA) didn't have the same fortune. After his amendment giving a $15,000 tax credit for home buyers passed, the former realtor turned around and voted against the final package. His amendment was stripped out of the bill, said Nelson.
The third amendment was sponsored by a Democratic Senator, Maryland's Barbara Mikulski, who was certain to vote for the final bill whether her amendment made it through conference or not. Her provision would have cost $11 billion and used tax credits to encourage the purchase of fuel-efficient vehicles. Nelson said it was cut down to around $2 billion.
Nelson, too, got what he wanted. The House was pushing back against the Senate's inclusion of a patch for the alternative minimum tax. Nelson fought for it and won.
"I insisted," said Nelson.
Negotiators watched the specific increases closely, making sure they didn't take the package over a preset limit. "Part of the problem is, we were talking six [billion], five [billion], whatever, and staff went through and made sure whatever the final agreement was that it's within the numbers," Nelson said.

REAL LIFE. REAL NEWS. REAL VOICES.
Help us tell more of the stories that matter from voices that too often remain unheard.