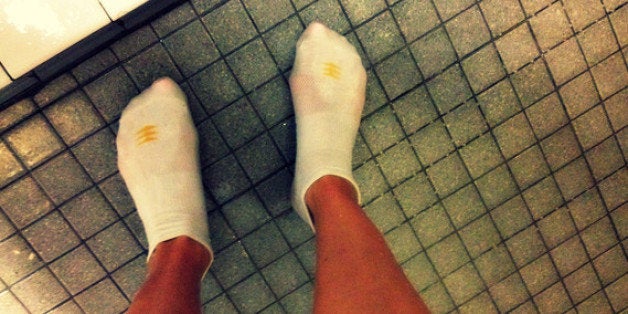 To the women watching my kids at the gym daycare,
We both know that gym policy dictates you will watch my children for up to two hours per day.
However, I think you should know something.
While I will spend the first 40 minutes of this visit doing cardio, the remaining hour and 20 minutes will be spent in the ladies' restroom and sauna.
First, I plan to shower in silence (aside from the occasional toilet flush of a fellow member). The hot water will feel so amazing on my sweat-streaked, yogurt-splattered skin (remnants of kids' breakfast) that it won't even bother me that the water pressure is exceptionally low and I have to wear my workout socks because I forgot flip-flops.
From there, I'll retreat to the sauna, where I'll relax every kid-holding, dish-washing, diaper-changing, tantrum-neutralizing muscle in my body. As. I. Just. Sit. There. The older woman who comes in halfway through, wearing just panties, won't even phase me. I'm in my own version of nirvana.
Then, I'll delight in the glorious ritual of getting dressed without an audience. Unless you count the occasional stranger walking by. Which I don't. Yes, I'm just putting on cotton mom clothes, but at least they are clean. And, there isn't a single, food-coated kid finger in sight.
After that, I'll gaze vacantly into the mirror and start to put makeup on. I won't even care that I forgot my moisturizer and mascara. It doesn't matter. As long as I don't need to stop every seven minutes to break up a fight over a Transformer toy or cue up a different episode of Elmo's World, I am happy.
I might even go for broke and use your community blowdryer to actually style my hair. (OK, maybe that was a little too hopeful. A wet ponytail is probably more realistic.)
From there, I'll return to the locker room, where it's highly likely that I will spend at least 20 minutes returning texts and emails, updating my grocery list and perhaps even making a pointless phone call or two. I'll also make a mental note to bring a sack lunch, along with nail polish and remover, for my next visit.
So in closing, I thought you deserved an explanation for the huge smile on my face as I walked away after leaving my children in your care.
But now that I think about it, I've changed my mind.
What you don't know won't hurt you.
A stay-at-home mother with two kids under 3 and a husband who's out of town until Friday
PS: If you could feed them both lunch too, that'd be great. See you in 1 hour and 59 minutes.
Formerly an Emmy-nominated TV news reporter, Janie Porter is the creator of SheJustGlows.com and (often-unshowered) stay-at-home mama to two boys under 3 years old. Follow her on Facebook and Twitter for more posts about less-than-perfect parenting, juice and smoothie recipes and tips on finding your inner glow.