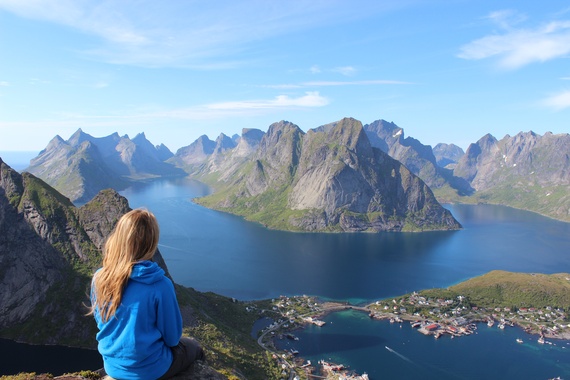 To the young woman checking herself out in the window at that restaurant today... pushing in your tummy, with a furtive sideways glance, critical, judging of yourself. You are beautiful, always have been, always will. You don't know it; you don't even see it.

It causes me pain to see you harshly judging yourself without even uttering a word. It's painful because I know the feeling. I too had become intimately acquainted with every window/mirror reflection on every street corner. One window offers a rosy, thin reflection, the very next one shockingly unappealing. How is that even possible? It's the same person, same reflection, and two different windows on two different blocks -- yet two vastly different experiences of self. I see what you are doing. Pretending to look inside the window and into the restaurant trying to not appear vain. But really you're seeing yourself -- pushing, pulling, straightening your skirt, and hoping that by pulling it down at just the correct angle, you will cover that part of your body you are insecure about today.

I see you quickly changing emotional gears as your friend walks up to greet you. I wonder, though, if the painful feelings linger. Maybe you're thinking about how you look compared to your friend. Maybe inside you are planning your next diet while happily chatting away and catching up. Maybe you are anxiously thinking about how you didn't work out today yet, but will do so as soon as you get home. Maybe you are deciding to opt out of the yummy meal you were looking forward to and have a Diet Coke instead.

To this woman I saw today and so many others. I see you. I hear you. I am you. I understand. There is freedom from this tortuous path. Even though it's challenging and it takes time, you can have a better relationship with your body, and with food. And it can be done in a way you never would have thought to pursue before -- going towards the pain rather than a circuitous path around. Being mindful rather than mindless and numbing out. Loving your way into a better relationship with food rather than simply having a black and white, "good" food, "bad" food attitude.
I've crawled my way out of these food and body shackles over the last two years and there is a tremendous amount of peace and freedom from that place.
Jenny is the founder and owner of Jenny Eden Coaching - a coaching practice devoted to help men, women and teens create a more healthy and sustainable relationship with food and their body image. She is an Eating Psychology Coach, a mindful eating instructor and health and wellness blogger. She specializes in kind and gentle weight loss, unique binge eating cessation techniques and mindful eating practices.
Jenny received her Masters from the University of Pennsylvania in Psychological Services from the School of Education and was a Health Educator at Health Management Resources for thirteen years prior to launching her practice. She earned her certificate from the Institute for the Psychology of Eating in 2015 and her MB-Eat certificate in 2016.
Having struggled with food and weight for her entire life, she has found deep peace with her relationship to food and her body and is passionate about helping others achieve this as well. She considers herself a "vegetarian" foodie and in addition to coaching loves to cook, bake and entertain as well as practice hot yoga and kettlebell training.

Calling all HuffPost superfans!
Sign up for membership to become a founding member and help shape HuffPost's next chapter