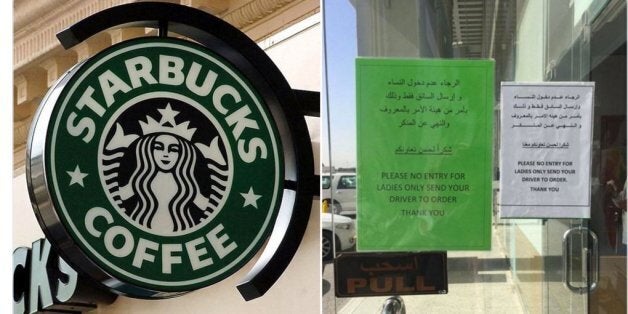 Women were banned from entering a Starbucks branch in Saudi Arabia last week due to the collapse of the gender wall. The coffee shop in the capital Riyadh had put up a sign that reads, "Please no entrance for ladies, only send your driver to order. Thank you."
The issue was first brought up by "Manar M" who tweeted last Monday, "#Starbucks store in Riyadh refused 2 serve me just because I'm a WOMAN & asked me 2 send a man instead."
Manal further complained of this treatment, comparing the sign on the store to a 1940 sign that reads, "This Park was Given for White People Only. Mexicans and Negros Stay Out."
The incident sparked reactions around the world, mostly of those condemning Saudi Arabia's "discrimination against women."
However, I would like to bring a side of a dialogue that defended the kingdom, and how an Arab-Canadian replied to them.
Palestinian-Canadian author Chaker Khazaal tweeted and posted the news, and raised a question, "what year is it over there? This brought to the conversation those who took offense in Khazaal's post. Some wondered what Khazaal's business was. Someone else tweeted, "You are not saudi and u don't live here so u don't have the right to judge us!"
On Facebook, Khazaal got similar comments, others going to the extend of accusing him of harming the reputation of Islam.
Among this dialogue and heated conversation, Khazaal replied today with the following statement replying to a woman who had defended her country:
I admire your passion for your country, and I thank you for your input in a dialogue regarding the banning of women from a Starbucks branch in Saudi Arabia.   It was not my intention to personally offend you. As a journalist and writer, I strive to bring attention to situations that need to be 'heard'.    In this instance, I read a tweet from Manar N, @manarn8, claiming that, due to the collapse of the "gender wall", she was refused service at a specific Starbucks branch  -- a blatant violation of women's rights.    Manar could only share her thoughts. I merely provided a global voice.    Opening such a dialogue collaborates opinions, facts, and the democracy of choice. For example, because of this approach, Saudi Arabia allowed women to vote in a local election this last December, for the first time.   Although you have a right, as a Saudi citizen, to question my 'weighing' into this issue, I believe that, as world citizens, we have a duty to share our thoughts about any issue happening - in every corner of the world.   Social media is a platform to hear voices, not silence them.

Sincerely,

Chaker Khazaal 
In this incident, there was a complaint, from a Saudi female resident, about what Khazaal called [and I agree], "a blatant violation of women's rights." Questioning Khazaal's "business" is like questioning our business when a child drowns on the shores of Europe, or when a blogger is flogged for sharing his opinions like it is the case of Raif Badawi in the same country, Saudi Arabia.
I hope this incident brings to the Kingdom another step forward in human rights, following the step they had taken last December when they allowed women to to vote in a local election this last December, for the first time. It is our duty to raise awareness, and in an ideal democratic society, it is up for the people to choose the way their country runs.
Calling all HuffPost superfans!
Sign up for membership to become a founding member and help shape HuffPost's next chapter