And a Recipe for Traditional Far Breton
Each month as I sift, measure, fold and pipe out perfect little domes of batter and whip up deep, dark chocolate ganache for my French macarons, my husband, French himself, storms through the kitchen, ranting about the inexplicable popularity of what he refers to as a "snooty snack for snobs" (or some such phrase). He simply cannot wrap his head around the whole concept of food trends. The recent renovation of a nearby chocolate and pastry shop of a now-renowned local chef to allow for a special macaron room where the display of his creations takes pride of place, front and center, amid the chic new ultra-modern design of the boutique, had my husband seething! How, he wondered, can a fantastic pastry chef succumb to the passing fancies of a snobbish public and turn his back on the simple goodness and traditions of French patisseries, relying on his talent and creativity instead of falling pray to a fleeting fad?
As a food blogger, I am on the front lines of observing what fads and foods ripple through the blogosphere, the crazes that sweep through kitchens everywhere, whether professional or home, and I myself have mixed feelings on the subject. All the food world is abuzz with this food or that, trends, fads, favorites that have everyone chiming in with their own, non-stop flow of interpretations and recipes. Cupcakes, bacon, pork butt, red velvet cake or whoopee pies, once a particular ingredient or culinary creation hits the scene, we have nothing to do except stand back and watch it take over. Days, weeks, months roll by with this never-ending display of passion for one particular food item until interest wanes and the next, new, more exciting fad takes hold. A flood of not only recipes, but contests, events and challenges, magazine articles and even series of cookbooks as well as concept restaurants or specialty bakeries focused on this one particular food pop up in an interminable succession, each whirling around the latest trend, taking this one food or ingredient and turning it upside down and inside out and using it endlessly.
As part of the expat community, an American living in Europe, I quickly came to the conclusion that food trends are almost completely an American phenomenon (or should I say anglo-American?). There does seem to be a continental divide when it comes to food. I watch from afar as Americans discover the joy of home gardens, raising their own chickens, shopping at farmer's markets or going organic as if each is a stunning adventure, a newfound secret or innovation. Potatoes or turnips, pomegranates, heirloom tomatoes or rhubarb overflow from my computer screen in a frenzy of recipes as one or the other is held aloft like some dazzling prize. I must admit that I tire easily and quickly get bored with all of this creativity and attention paid to one single item; I mean, how many recipes for pumpkin do I need in just a matter of weeks? Will I really buy a cake pop or macaron at Starbucks? I fight against each trend, refusing to concede, adamantly declining to use bacon as a dessert ingredient or make one single whoopee pie, cupcake or red velvet anything.
Is there really a cultural divide in how we look at food and at the whole food trend thing? The longer I live in Europe, the more I am aware that whereas Americans view food and cooking as a lifestyle choice, food and cooking in Europe is just a way of life. Traditions, whether recipes or how we share a meal and gather our ingredients, are handed down from generation to generation, simply day to day habits. Popping over to the neighborhood market to purchase a basketful of local asparagus, tomatoes, lamb's lettuce and strawberries, oysters and scallops gathered not much further and throw in a bottle of wine, produced practically on the outskirts of the city, is a custom well-ingrained into the European mindset. Gathering friends and family together around the table for a shared meal is natural and normal. As soon as my in-laws retired and could finally move out of the crowded city and their apartment and return to the countryside, their potager, kitchen garden, found its place in the village's communal garden plot alongside all the others that had been there for decades. Our neighbors in the Parisian suburb where we lived, a truly bourgeois, professional city couple, kept chickens.
One can argue that Europe gave birth to the earliest and biggest food trends: France is, after all, the birthplace of La Nouvelle Cuisine while British chef Heston Blumenthal and Spain's Ferran Adrià are forever linked with Molecular Gastronomy. Olivier Roellinger brought exotic spices into the kitchen and Alain Passard of Paris' l'Arpège brought vegetarian cuisine to the heights and popularity of the Michelin-starred. And let's not forget Pierre Hermé and the macaron! But are not each of these simply extensions of traditional cooking, movements towards the modernization of their long-established cultural dishes rather than fads that quickly fade into another? I have watched while French chefs have attempted to lighten the old standby French dishes, replacing butter and heavy cream with vegetable broth or olive oil. I have experienced the blending of exotic spices into soups, stews and even desserts yet without an attempt at either changing the basic properties of the food itself or trying to create a fad. What I have seen in Europe is a natural and timely evolution of national cuisine based upon a better understanding of health issues, an embracing of technology and the welcome changes of a more modern palate and the discoveries of what other cultures have to offer.
Once in a while a particular food fad does grab the French public's attention and both food blogs and magazines offer a flurry of interest and recipes. Pretty, decorative cupcake papers can easily be found in most baking supply shops. Le cookie and le muffin are now permanent fixtures found nestled in every boulangerie's glass case next to the croissants and pains au chocolat. Yes, the novelty of these scrumptious all-American treats fascinates Europeans for a short time, but in a quiet, subtle way. Women's magazines flirt with anything pretty and feminine, yet in the end those cupcakes or cookies simply take their place alongside the regular and the traditional. Of course, every pastry chef worth his salt, whether for his shop or restaurant, is making macarons, but again, are the French even half as enamored of this elegant delicacy as Americans? Are the French standing in line at Pierre Hermé or Ladurée, gawking at all of the colors and flavors, craving, yearning for a taste? I have yet to receive a box of macarons as a hostess gift. French friends still seem to be offering a box of chocolates, a bottle of wine or a bouquet of flowers.
Organic everything, from meat to fruit and vegetables and wine, is making both waves and headlines in Europe but one wonders if this a food fad or if it is simply an effort to return to their traditional, natural way of life and food production, along the lines with the banning of hormones in meat, something even bordering, some may claim, on the political. The organic movement fits in alongside the proud and bold display of everything "du pays", local products from vegetables to wine, cheeses and sausages, and is less a trend than the intrinsic, confirmed pride of anything local and a continuing support of their region, both goods and business, a way to preserve their food culture and the local aspect of traditions. And I can safely say that as American blogs and on-line magazines flood with special foods, finger foods, party foods, barbecue foods for events such as Super Bowl Sunday, Cinco de Mayo or the Kentucky Derby one just does not see this happening in Europe.
So why this cultural divide? And are fads in France, whether those sushi shops now popping up on every street corner or macarons, aimed at college students and tourists, those most inspired and excited by anything trendy? It is rare to find anyone outside these two groups really swept up in the latest food mania. Is it because European countries have better defined, more consolidated and older food traditions and dishes as opposed to Americans' scattered and diverse culinary customs and history? Is there simply more room in the American repertoire for the new or more interest in the novel? One could look at it from both sides, the whole food trend phenomenon as something spontaneous, spurred on by a cultural curiosity and a broad-mindedness towards anything new or as something fleeting, a sign of a short attention span and the need for constant stimulation...
Cake pops, cupcakes, whoopee pies, gourmet burgers and maple- or chocolate-covered bacon, all food trends extraordinaire, now what do you think?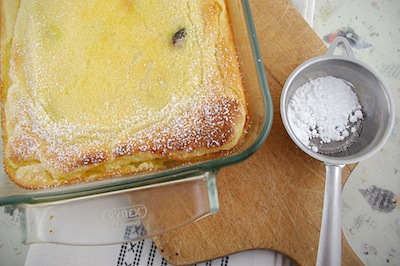 The Far Breton aux Pruneaux is a deep-rooted tradition in the Brittany region of France, a dessert specialty enjoyed since the 18th Century. Neither fancy, cute nor particularly trendy, the Far is a dense, oven-baked, barely sweet, custard-like flan, creamier and lighter than a traditional flan and it is usually studded with sweet prunes macerated in rum. All one needs to make a fabulous Brittany Far is the best quality eggs, butter, salted of course, sugar, flour and whole milk along with the prunes and a splash or two of rum. Preparing the batter is as easy as and similar to crêpe or pancake batter and while it is resting simply toss the prunes with rum and let the fruit macerate as you wait. Then just bake! Nothing is easier, nor can you find a tastier, homier, more traditional dessert than the Far Breton!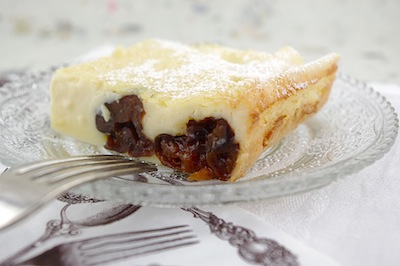 FAR BRETON

1 heaping cup (approximately 175 g) pitted prunes
2 Tbs rum*
3 large eggs
½ tsp vanilla
4 Tbs (60 g) sugar
4 gently rounded (not heaping) Tbs (75 g) flour
Pinch salt (add 2 pinches salt if using unsalted butter for the dish)
2 cups (450 ml, just under ½ litre) whole milk
1 Tbs (15 g) salted butter for the baking dish

* if you prefer not to add rum, simply replace with hot water to soften and plump the prunes, but feel free to increase the amount of rum in the recipe as well or add more prunes for a fruitier, sweeter dish. If omitting the rum, increase the vanilla to 1 teaspoon.

Prepare the batter and the prunes about 2 hours ahead of baking.

Place the prunes in a small bowl and add the rum or the hot water. Toss and set aside. Toss the prunes in the liquid occasionally so all are evenly macerated.

Break the 3 eggs into a medium-sized mixing bowl and whisk until very well blended. Whisk in the vanilla and the sugar. Gradually and carefully whisk in the flour and salt combined, whisking in a few tablespoons at a time and blending until you obtain a smooth, lump-free paste after each addition. Once all of the flour/salt is blended in and the batter is very smooth, creamy and thick, stir in about a third of the milk to loosen the batter. Stir or whisk in the milk in an additional 2 or 3 additions, being careful not to splatter!

Cover the bowl of batter with a plate and set aside at room temperature to rest for at least 2 hours.

Preheat the oven to 425°F (220°C). Put the butter in a glass/Pyrex or terra cotta baking dish measuring approximately 12 x 8 x 1 ½ - inches (30 x 21 x 3 cm) - my second Far was baked in an 8-inch (21-cm) square baking dish - and place in the hot oven until the butter melts. Carefully remove the hot baking dish from the oven and swirl as to spread the butter around the dish. Brush to evenly coat both the bottom and the sides of the dish. Spread the macerated prunes (do not add any of the liquid that remains in the bottom of the bowl) evenly over the bottom of the baking dish. Whisk the batter to blend then pour the batter over the prunes.

Place the baking dish in the oven and immediately lower the oven temperature to 375°F (190°C) and bake the Far Breton until just firm, puffed and golden around the edges and bottom, about 30 minutes.

The Far Breton is best eaten warm, dusted with powdered sugar. Once it cools to room temperature or is chilled in the refrigerator, it firms up further and has a slightly denser consistency like that of a good flan yet still remains creamier than a classic flan.
Jamie Schler lives, eats and writes in France. To read more of her work visit Life's a Feast.

Calling all HuffPost superfans!
Sign up for membership to become a founding member and help shape HuffPost's next chapter