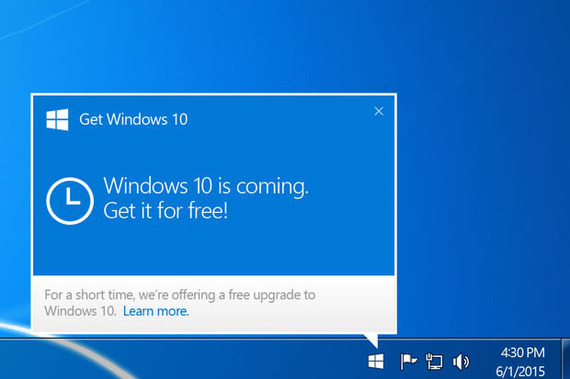 The deadline of 29th July is around the corner! That is the day Microsoft will stop offering Windows 10 as a free upgrade to users of Windows 8.1 and Windows 7 SP1. Those of you who may not have availed this offer yet, and not upgraded to Windows 10, need to pause a bit and decide whether they want to take the free upgrade offer or not, for after this date, Microsoft will charge you to upgrade to Windows 10.
Why you should upgrade

It is always a good idea to be using the latest version of any software or operating system, and the same applies to Windows 10 too. The new OS comes with most of the features you are familiar with. The Start Menu is back, and this is one compelling reason for many to upgrade. The new operating system also comes packed with several new features and is also very secure. And the best part? Windows 10 is completely free!
Why you may not want to upgrade

If you are comfortable using your existing version of Windows, you may not want to move out of your comfort zone so soon. Moreover you may have heard of the several issues that user who upgraded to Windows 10 have been facing. All this, may be pulling you back from upgrading to Windows 10.
One point to note is that Mainstream support for Windows 7 SP1 has already ended. Microsoft's Extended Support for Windows 7 SP1 ends January 14, 2020, whereas for Windows 8.1 Update, the date is January 10, 2023. This means that till this date, Microsoft will release security updates for the respective operating systems. So if you are using Windows 7 now, you can continue to use it safely till 2020, while Windows 8 users will be able to use it till 2023.
What will happen if you do not upgrade now?

If you do not take the free upgrade offer, then after 29th July 2016, if you decide to upgrade to Windows 10, you will be required to pay. Windows 10 Home will cost you USD 119, whereas Windows 10 Pro will set you back by USD 199.99.
I asked Anand Khanse, a Windows expert who runs TheWindowsClub.com, about what he had to say about this:
I am aware that quite a few users have faced problems after upgrading to Windows 10, and this can be a deterrent for regular home users who have no time or inclination to search online for solution to fix issues. Nevertheless, given the state & nature of today's online threats, I would still recommend that users take the free upgrade now.
The best way to do this would be to back up your data to an external hard drive, disable your antivirus software and then go for the upgrade.
There is one other thing you can do. After upgrading, if you do not like Windows 10, you can always roll back to your earlier Windows version. Even if you do this, you will have got the free Windows 10 license, and you will be able to upgrade that device to Windows 10 any time in the future. This can surely be a win situation for the user.
Well the bottom-line today, as we see it. If you upgrade today to Windows, you will be eligible to get all future updates for free, for the supported lifetime of the device - including the Anniversary update. If you do not like it, rollback to your old Windows - the free license is still yours to keep.
Calling all HuffPost superfans!
Sign up for membership to become a founding member and help shape HuffPost's next chapter