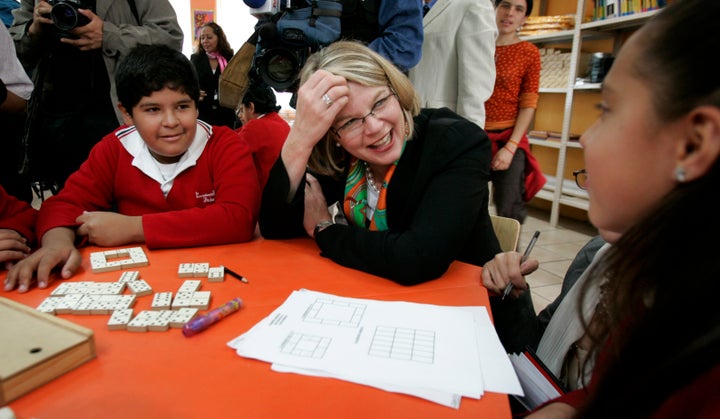 This is the first of a series of posts former U.S. Secretary of Education Margaret Spellings is writing for The Huffington Post over the next few weeks through back-to-school season on U.S. Education.
Hopelessness and lack of confidence, spending dominating policymaking conversations, angst at all levels of government, and a public disgusted, disconnected and disappointed -- descriptors of our current economic situation? No, (well yes), they're descriptors of the current state of American education.
As such, Education Secretary Arne Duncan is trying to promote policies that change this dynamic. But he's found himself between a rock and a hard place. On one hand, he is trying to appease education special interests for whom President Obama promised during the campaign he would ease accountability standards. On the other, he knows that these standards are delivering real results for the nation's students, especially minority children, particularly in states that have embraced this hard work.
I appreciate the pressure he's under. He's being pushed by the same states that urged me time and again to thwart the No Child Left Behind law. Most have tried to skirt this law since the day it was enacted. But the reality is, like a bad job review, you can't just ignore poor performance.
Secretary Duncan can and should use his authority as a way to transition forward, but he must do so carefully -- and legally. He should help states move to more sophisticated accountability systems that take annual student growth into account and make better distinctions across the range of school performance to enhance achievement. These ideas have broad bipartisan support and will likely be part of a new law.
I understand fully the need to update this law. We've learned a lot in 10 years. I also understand his frustration with the lack of political will to reauthorize it. But he must not give up on students by giving the adults in the system an excused absence in meeting their needs. Let me explain.
Today, the law requires schools to do something simple, yet profound: Educate students to grade level. Not just your kid and my kid, but every kid in America. To get this done, states were given time, money and a lot of authority to set the curriculum and standards for students to meet. In fact, states were given a dozen years -- from 2002 to 2014 -- to meet these modest standards. Again, we're only talking about making sure our kids can read and cipher on grade level. Yet, the pushback from some began immediately.
Sadly, in response to such complaints, the Obama administration is throwing in the towel and admitting defeat for kids. They want to give waivers to states that have not -- and apparently never intended -- to educate their students despite receiving billions of taxpayer dollars to fulfill this most basic of promises to our children.
The administration should resist calls to retreat from real reform. Further, the Secretary should be mindful of the bounds of the law, as enacted by Congress. He should not substitute his opinions about what constitutes good policy (like eliminating tutoring for struggling students or mandating national standards) as a quid pro quo for federal waivers.
REAL LIFE. REAL NEWS. REAL VOICES.
Help us tell more of the stories that matter from voices that too often remain unheard.