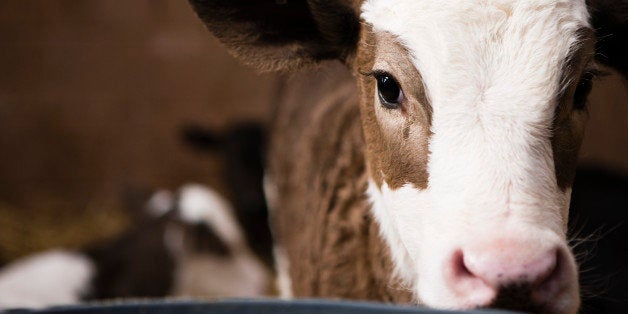 As a stay-at-home mom, who had to return to the lagging labor market after my divorce, finding work was a challenge. I was a homesteader for many years. I grew food, I preserved food, I made things with my hands, I cared for my sons -- all skills that somehow had to translate into employment. The glaring hole in my resume was not just my spotty employment history but also my lack of up-to-date computer skills. I was also trying to find work that was flexible enough to accommodate my new single parenthood, paid enough to take care of my mortgage and still allowed for some quality of work/life balance.
Initially I tackled this with a "take anything" sort of mentality. Fortunately, rural Maine has lots of opportunities for odd jobs I could do while I sent one resume after another into the brave new ether known as applying for jobs online.
First I had to assess my skills. I know how to get a sheep to go where it needs to go. I know how to muck out an animal stall. I know when a pea is ripe to pick. I know how to weed a long bed of tomatoes. I know how much hay to give a goat. I know the best time of day to water a garden. I know mulch like the back of my hand (just don't look at the dirt under my nails). I know how to throw a bale of hay over and over again. I know hay itch...er.. sting. I know the ache of my body after a physically challenging day and the satisfaction that comes with seeing the measure of your work in a loaded hayloft, a pantry full of the season preserved.
So I took whatever farming job was available. The alpaca farm in town needed someone to take care of their alpaca while they were away. Later that spring, I helped this farmer shear these sweet beautiful animals. Well, sweet until they spit on you. That first summer I hauled hay for this farmer, as well. Several hours in the back of a hay wagon hauling 50 pound hay bales in the heat is better than any bootcamp fitness program you have to pay good money for.
I have cared for just about any animal that Old MacDonald could challenge me with: goats, chickens, ducks, turkeys, pigs, sheep, horses, and cows.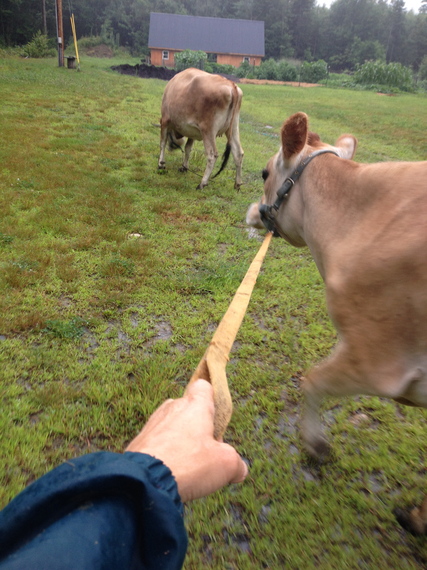 While I did eventually land a book selling job, rural Maine is still a hard place to earn a living. So I occasionally will work for a local farmer during harvest season. I still pick up the odd farm sitting gig to get a little money put away; which provides opportunities to expand my skill set, thus vastly improving my resume.
I arrived at the farm this morning. In the pasture is a round bale of hay and one cow. This is a problem because last night there were three cows. I stood at the fence looking out over the pasture hoping that perhaps my eyes were not working correctly when the one cow looked up at me and gave me a look as if to say, "Don't ask me. I'm the good cow."
I drive over to the barn and see two cows returned. Relieved I know I still have a challenge because while there is water for them, there is no food. I will have to move two animals,who have a combined weight of 1800 pounds, the distance of two city blocks to get them to pasture. I am 5' 2" tall. A slight person. Phone calls to the traveling farmers assure me that this is a job I can do myself, "just get the leash out of the barn and walk the mother over, the babe will follow." There was some reluctance on the cows part. I did not come bearing grain, a stern voice was out of the question. Gentle persuasion, much like coaxing a two year old to do something, is what was needed.
It has been three years since I sat staring at a blank computer screen wondering just how I was going to create a resume that would land me a job and keep a roof over my head. Yesterday, I know I can add another title to the varied titles I have...just call me cow whisperer.