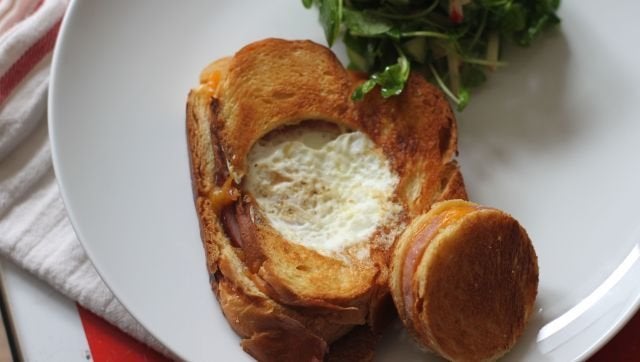 One of our favorite breakfast dishes of all time has a recurring problem: no one can agree on what to call it. We have always called this genius invention -- an egg fried inside a piece of toast -- Toad in the Hole. Or Egg in a Nest. Egg in a Basket? You see the problem, right?
Recently, Reddit user astrodog88 confessed that their family, from Western New York, had always called this "Spit in the Eye," which is hilarious and gross. When asked where you are from and what you call it, the Reddit community really rallied.
Here are few of our favorite answers and their origins:
kennemar8: Peekaboo toast. Not sure if it's an Oregon thing, or just something in my family.
MrPandabites: I'm from South Africa and we call it "toad in the hole" here, too.
kmwhite: "Egg in a Hat". My grandmother called it that and it stuck.
milqi: We always called them One-Eyed Jacks growing up.
ctpalm: Winkie -- North Carolina
PollysLithium: Birdie in a nest -- from Western Washington State
kilo89: Egg in a Hole -- Vancouver, BC
Bowtiesarecool: Once I was spending the night at my friends house and his mother woke us up and offered us breakfast consisting of these bread and egg treats. She posed the question, "who wants a one-eyed monster?"
dorsiares: Tiger's Eye from western Canada, though my mom is from England!
rottinguy: I am from upstate NY and we call it a popeye, or eggs in a basket.
skellener: Always known it as a bullseye here in So. Cal.
TofuMignon: Bullseye (Maryland)
jetpacktuxedo: Am I the only one that has always known it as a "Barn Yard"? Southern Indiana here.
What do you call it? Let us know in the comments!