Many of South Africa's townships have come a long way since the dark days of apartheid when these marginalized residential areas assigned to non-whites were bywords for despair, poverty, disease, oppression and violence.
While still largely poor and crime ridden, they are nonetheless developing into viable suburbs with thriving local economies. Some are even becoming cultural hotspots, drawing locals and tourists to their festivals, trendy entertainment venues and authentic eateries.
Township tours to legendary locales like Soweto near Johannesburg and the Cape Flats and District 6 on the outskirts of Cape Town are an increasingly big draw for culturally curious visitors wanting a taste of the real South Africa. They also offer powerful history lessons on how far this country has come since Nelson Mandela became president.
Glamorous in Gugs
One township that's rapidly rising on South Africa's tourism radar is Gugulethu, a contraction of igugu lethu, which is Xhosa for our pride. This sprawling collection of mostly concrete and corrugated iron houses and shacks in the shadow of Table Mountain just twelve miles from downtown Cape Town is one of South Africa's oldest townships.
"Gugs", as Gugulethu is frequently called, was originally established in the 1960s to provide shelter for migrant workers who relocated to Cape Town from the rural Transkei region in the Eastern Cape. Today, this community of nearly 350,000 hosts one of Cape Town's trendiest tourism events - the Gugulethu Wine Festival.
"The festival's main objective is to bring Capetonians together in order to break the idea of segregation in the post-apartheid era," explains Cape Town Tourism Marketing Services Coordinator Inge Dykman, who has invited me to attend the 2nd annual festival's opening night festivities. "It's also meant to expose both the people from Gugulethu and some of the other local areas to some excellent wines while they enjoy an authentic township experience," she adds. Since 1994, there has been a huge growth among black consumers when it comes to wine appreciation.
Held on the rooftop of the sprawling Gugulethu Square Mall, the festival has attracted nearly fifty premium exhibitors keen to show more than 3 000 festival goers how to appreciate their wines and properly pair them over two festive evenings.
Sipping and sampling my way through an enticing selection of over 300 varietals and vintages from all over the Western Cape, I'm quickly swept up in the welcoming, celebratory vibe. Yet as I mingle amid this laughing, dancing mix of culture and color in the Western Cape I have to occasionally remind myself that I'm in the middle of one of South Africa's most notorious townships.
The Gugulethu Wine Festival is the brainchild of Mzoli Ngcawuzele, owner of Mzoli's Place, a popular gathering spot for Cape Town residents. A self-styled "do-it-yourself" butchery and eatery, Mzoli's sells meat to patrons who then hire people on the grounds to grill it and prepare meals. Mzoli's also offers live entertainment, specializing in deep house and kwaito music.
"Wine is the nectar of love and hard work, from those who make it for those who drink it, and it has a way of bringing people together," explains Ngcawuzele, a business mogul and local legend determined to show outsiders that South Africa's townships can actually be safe places to visit.
Safe and also scintillating with live entertainment. Among the acts performing onstage inside the event tents are homegrown Afro-operatic pop sensations the Gugulethu Tenors, who've become a household name in South Africa since the release of their self-titled debut album in 2011.
Popular South African singer, actress and radio personality Unathi Msengana is also here."I don't think we fully understand the impact this festival is having on the people of Gugulethu, says Msengana when we chat backstage. "It really highlights the importance of people here investing in themselves and building their own society rather than relying on others to do it for them," she adds.
Bodacious in Bantry Bay
From Gugulethu it's just a thirty minute drive but a world away to Ellerman House, a posh boutique hotel overlooking Bantry Bay. Built by a wealthy shipping magnate, this Edwardian era mansion perched on the slopes of iconic Lions Head enjoys sweeping views of the Atlantic. It also offers the kind of intensely private, quietly glamorous ambience that draws the rich and famous. That's assuming they can even get a reservation, as the hotel is often booked out a year in advance.
A member of the exclusive Relaix & Chateaux club, Ellerman House boasts a huge heated outdoor pool set in landscaped gardens, a spa and a 7500 bottle wine cellar. But its greatest claim to fame is its private subterranean art gallery carved out of the mountainside that houses one of the finest contemporary collections in South Africa. That, and the separate, three-bedroom villa that's among the finest of its kind in all of Africa.
Ellerman's website calls this ultra-luxurious abode "a discreet getaway for the discerning traveller'. Indeed, the rich and famous no doubt love the hotel's spectacular location and its staff's hyper attention to guarding their privacy. Clint Eastwood and Oprah have reportedly recently stayed here, as have the Clintons, among other global celebrities. But I have no luck prying any names of famous guests who've occupied my room from general manager Ella Cuyler as she gives me a tour.
"There's no formal reception area because that would create a hotel atmosphere," Cuyler explains as we take a sudden detour through the kitchen. "You've got the same freedom to come and go as you have at home. You can open the kitchen door and speak with the chefs. I think this is the only five star hotel in the world where guests come back of house," she adds.
Each of Ellerman House's sixteen opulent rooms is unique in design and furnishings, and all are ocean facing with sweeping private verandahs. That's where I head straight after returning from Gugulethu.
After pouring myself a generous glass of premium single malt whiskey from the complimentary room bar, I step out into the sea breeze. Gazing down at the waves crashing ashore beneath Cape Town's illuminated seawall, I marvel at how utterly beguiling and full of surprises this beautiful city on the southern tip of Africa can be after my memorable night on the township.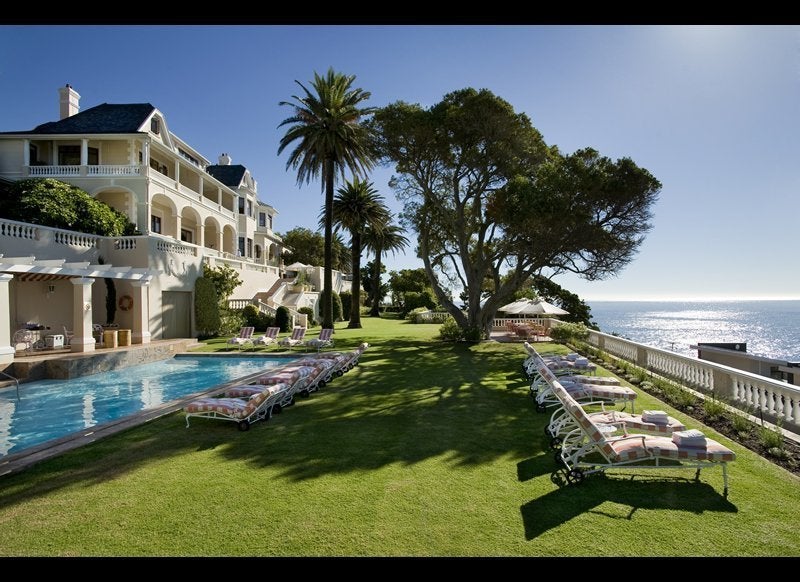 Cape Town's exclsive Ellerman House, perched high above Bantry Bay