For the past three years, couples have flocked to Miami's oldest bar, Tobacco Road, to get married by Elvis on Valentine's Day weekend.
The bar is holding its fourth annual Valentine's Wedding Bash this Friday. As usual, Elvis will officiate and there will we be wedding portraits and tents filled with flowers.
"We do everything except the $135 marriage license," organizer Oski Gonzalez told HuffPost Miami.
And because the vows aren't legally binding, Gonzalez says he's able to marry same-sex couples as well couples who come back year-after-year to get re-hitched.
When people ask Gonzalez if the marriage is real, he tells them, "Of course it is. If you in your heart know that this is the person you want to be with for the rest of life, what's the difference between that and a piece of paper? There's no difference."
Gonzalez told HuffPost Miami he was inspired to organize the mass weddings after he and his own wife secretly eloped in Las Vegas five years ago on February 10. "We didn't tell anybody. We said a year later we would get married in front of our families and we would save up and have a big wedding."
So they organized a big party at Tobacco Road, invited a bunch of bands, and an Elvis impersonator to officiate. "That year, we married 32 couples. Since then, we've married over 100."
Gonzalez is known to give out tickets on Miami's streets, saying "Look you guys should married. Here's a pair for you mom and dad. Here's a pair of tickets for his or her mom and dad. Here's one for best man. Here's one for your best woman. Here are invitations to invite your friends. I just paid for your wedding. All you have to do is come and say "'I do.'"
Gonzalez told HuffPost Miami that his favorite couples are those who never intended to get married at all.
Last year, he says he noticed a couple fighting inside Tobacco Road. When he approached their table and asked how they were doing, the man tried to order a beer from him.
Gonzalez said, "No, I'm not the waiter. But I'll get you a beer. I have something even better. Why don't you guys get married? At the end of the night, they came up and said 'You know what? This was really nice. And we're going to hold this marriage certificate dear to our heart.'"
Gonzalez, who marries his wife every year on February 10, adds, "I'm a hopeless romantic and everybody loves to be in love. This would not be the fourth annual if it didn't work."
Valentine's Day Wedding Bash 4 starts at 6 p.m. on Friday. There's no cover before 9 p.m.
Here are some of the happy newlyweds from the past three years:
Related
Before You Go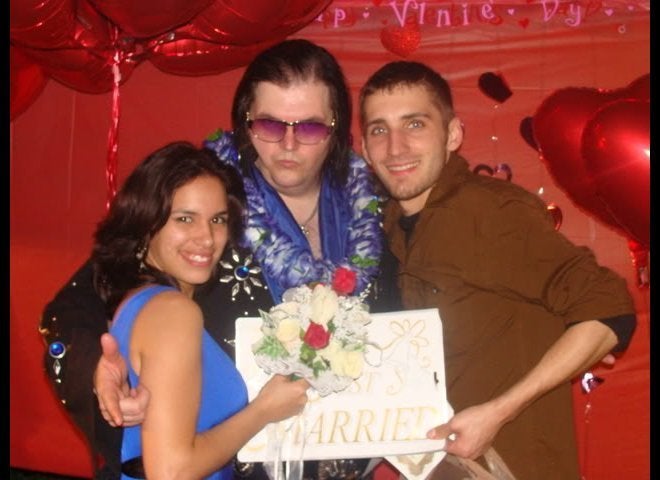 Tobacco Road's Valentines Day Wedding Bash With Elvis
Popular in the Community