Trinidad is legendary for its joyous, festive, 'round-the-clock, hard-partying Carnival celebrations, but what goes on in Tobago? This serene haven is where Trinidadians and smart travelers go when they want to decompress on beguiling beaches.
A festive atmosphere defines Trinidad, population 1.5 million, which is long on parties, bars, dancehalls, concerts and restaurants. You can hear a pin drop on Tobago, population 60,000. Trinidad's bustling capital city Port of Spain is a business hub for natural gas and banking and its locals are harried. Tobago's quaint capital Scarborough has a few government buildings, small businesses and calm unhurried citizens. The people of Trinidad are ethnically varied: descendants of Africa, India, China and Europe. Most of the locals on Tobago have an African background. Trinidad has business hotels and is short on beaches. Tobago has resorts, bays, beaches and picturesque shorelines.
Coco Reef Resort is minutes away from Tobago's A.N.R. Robinson airport, and is one of the island's premier hotels. The hotel's 135 rooms, suites and villas are surrounded by 10 acres of manicured lawns with tropical flowers and bamboo and palm trees.
The resort sits by crescent-shaped Coconut Beach, where the waist-high Caribbean Sea water, protected by a rock reef inundated with loquacious seagulls, rarely moves. What tide? The water is so smooth guests float up and down the shore on air mattresses with a Margarita in one hand, an iPad in the other, never getting their hair wet. And if you stand up and wade, it's like you're walking on soft flour. What the venerable resort lacks in modern amenities (Wi-Fi in every room, state-of-the-art spa, refurbished interiors) it makes up in grandeur, service and ambience.
Breakfast at Tamaras restaurant consists of fresh fruit, made-to-order omelets, fried local fish, assorted breads and Danishes. Lunch at Bacchanals features curried dishes several days a week. Swim, snorkel, kayak, take a speedboat ride or a fishing trip. There are tennis courts where on-call tennis pros will hit balls with you until you drop.
Coco Reef is within easy walking distance to the ice cream stand, Scoops (try the homemade Cherry Coconut ice cream) and to what is one of the top restaurants on island, Kariwak. A short cab ride away the Fish Pot restaurant specializes in local foods: start with a sweet-tasting Carib beer, try the Jerk Fish with Sweet Plantains appetizer, followed by Fish Soup. A main entrée of Rib-Eye Steak is surprisingly tender and for dessert the Chocolate Cake with a scoop of Mango Sorbet is perfect.
The Main Ridge Forest Reserve: A cool dude named Junior Thomas, decked out in a green safari outfit, leads hiking tours through the world's oldest, legally protected (since 1760) rain forest which covers around two thirds of the island. Trees shoot 165 feet into the sky. Bright red/orange birds of paradise flowers and wild orchids peek out through bushes. Raccoons, wild hogs, snakes and red squirrels sneak around. Hummingbirds buzz. Mosquitoes and fish-eating bats fly. Junior exchanges mating calls with some of the 200 bird species, as you walk through streams and pass by waterfalls. He charges $4 for renting rubber mud boots--you'll need them.

Tasting real unadulterated chocolate: The genesis of chocolate starts with cocoa pods on a tree, at places like the Tobago Cocoa Estate Plantation, which grows 20 varieties. Tall banana trees shield the delicate tiny blossoms of the cocoa tree from the sun. The blossoms grow into mahogany brown-colored pods, which protect a vanilla colored string of seeds that are covered by a gooey white sweet-smelling substance that tastes more like vanilla/mango than chocolate. The seeds are fermented, dried and made into a pure chocolate that is sent to France, and then blended with 80% milk and sugar, and voila chocolate candy. As part of the tour you'll get a sample of Tobago Cocoa Estate W.I Ltd's award-winning, flavonoids-rich chocolate that is so dense it tastes like espresso. Eat it slowly, then wash it down with aged rum.
The main port city of Scarborough: Ferryboats to Trinidad and a few cruise ships use the harbor port in the city of Scarborough, where only 1,000 people reside. For the most part, locals walk the streets and head to the central markets, 5AM to 12PM Thursday to Saturday, to buy or sell fresh fruit (mangos, yellow cherries), fish (red snapper, mahi mahi) and goods. Fort King George, an 18th century fortification, houses an archeological museum. A performing arts center, which has been under construction for many years, will become the island's first large scale auditorium and present concerts, dance, theater.
The Blue Waters Inn is the Isle's Most Romantic Destination
The ultimate getaway-from-it-all excursion to Tobago should include a drive around the island. As you cruise, you'll notice that the homes are immaculately kept, streets are clean and cows graze on the edge of roads. Goats and look-a-like short-coated brown sheep graze by the road. Here's a clue: goats' tails up, sheep tails down.
A main road in Tobago circumnavigates the island up the west coast to the north; just as you hit the northern tip of the island, heading south, you'll run into a gorgeous cove area called Speyside. Back in 1860, British photographer and naturalist William Sanger Tucker owned the property, and today 46 acres are home to the boutique hotel Blue Waters Inn. The 38, all oceanfront rooms provide an isolated, private retreat for vacationers, naturalists and scuba divers. Drinks like Bananabird, The Big Blue and thirst-quenching LLB (Lemon, Lime & Bitters soft drink) are served at the Shipwreck Bar along with Flying Fish Sandwiches and Cow Heel Soup. The chef favors local fish for the main restaurant The Captain's table. Lie on Batteaux Bay Beach, or lounge by the elegant pool. Try tennis, bird watching, hiking, yoga, mountain biking. The setting is idyllic, perfect for a romantic wedding or honeymoon.
Come For the Serenity, Enjoy the Festivities
Various festivals run all year long on Tobago, and arguably the annual Tobago Jazz Festival, with night concerts at Pigeon Point Heritage Park and a Sunday Jazz on the Beach party at Mt. Irvine Bay Beach, is the island's most popular event. The 2012 roster featured popular Caribbean artists like Trinidad soca superstar Kes and the Band, reggae/dancehall legend Barrington Levy, Trinidad calypso singer David Rudder, and the lively Barbadian jazz/reggae saxophonist Arturo Tappin. Britain was represented by the cool stylings of bleached blond chanteuse Emili Sandé, who sounds a bit like Rihanna or Desiree. R & B, hip-hop soul singer Angie Stone closed the festival with an electric set of her classics (Pissed Off) and new tunes (Rich Girl). Music lovers dined on BBQ and quaffed cocktails as they felt the good vibes.
Take it from hard partying Trinidadians; Tobago is where you go when you want to relax and taste a little bit of paradise.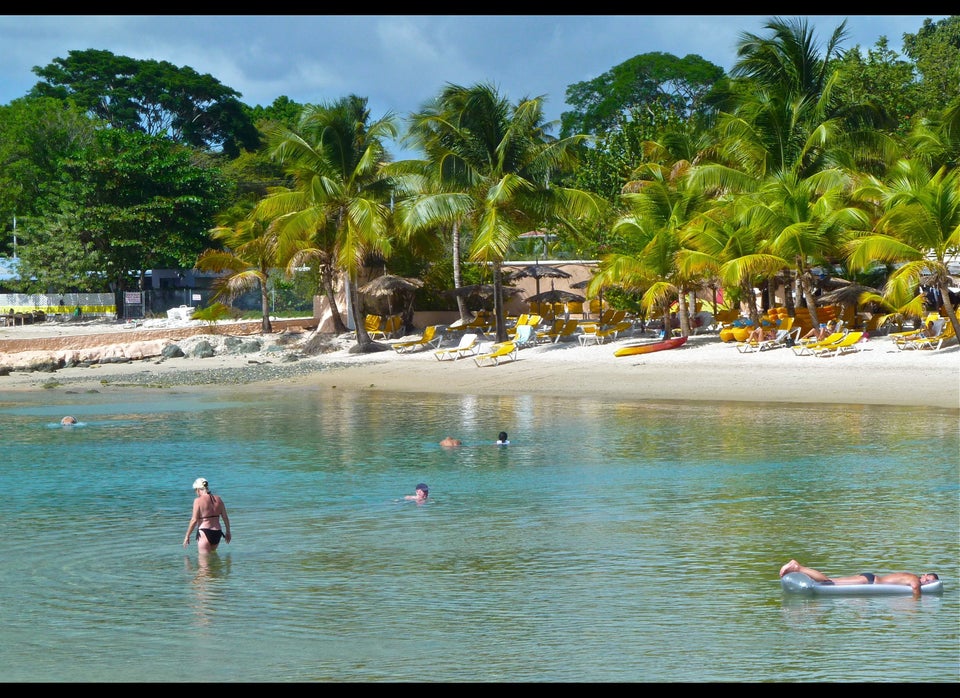 Tobago: Take in the Sun, Chill, Relax and Explore