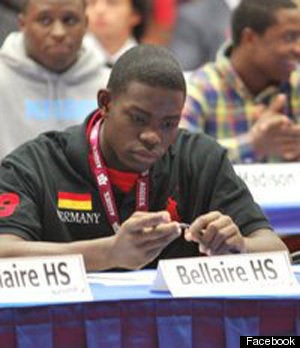 Tobi Oyedeji, a high school senior and Texas A&M basketball recruit, died Sunday in Houston. According to the Houston Chronicle, Oyedeji was involved in a car accident just past 6:00 AM after attending prom. He was 18.
Oyedeji was a star basketball player at Bellaire High School and had signed to attend Texas A&M in the summer. An only child, the power forward was first-team All-Greater Houston during the most recent basketball season and was a top 100 recruit at Rivals.
According to MyFoxHouston, Oyedeji's car collided head-on with an SUV Sunday morning. The driver of that vehicle was killed at the scene. The cause of the crash has not yet been determined.
Texas A&M basketball coach Mark Turgeon issued a statement on Sunday:
"The world has lost a great kid today. Tobi epitomized the term student-athlete. He was a very good student. He worked hard in the classrooms and on the basketball court and he was a terrific basketball player. This is difficult to understand and today is a very sad day. My heart aches for his mom and dad. Tobi was an only child and I would like everyone to pray for Tobi's parents."
The Aggies coach also wrote several tweets about Oyedeji's passing, calling on fans to pray for the teenager's parents:
Related
Popular in the Community