Tobias Picker's DOLORES CLAIBORNE is a brilliant musical incarnation of the novel by Stephen King and a momentous addition to the expanding canon of American opera. Picker creates a sound environment for a story that connects several lines of massive disturbance: the psychological fury deep within a family's secrets; the graphic depiction of and the intense probing into the anatomy of two murders / perhaps accidents; and the potent clout of a celestial mind-blower -- a total eclipse of the sun. Dolores Claiborne contains a variation on all the expected components of Classical Opera -- sex, greed, hallucination, violence and murder. The opening night performance at San Francisco Opera generated the loudest, most enthusiastic approval imaginable.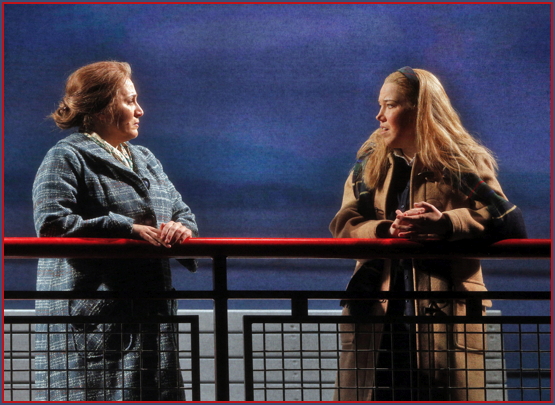 Patricia Racette (Dolores) and Susannah Biller (Selena). Photo, Cory Weaver
Throughout his score, Picker captures the bleak atmosphere, the always overcast mood that hovers above an island community in the northeastern coast of Maine. He weaves those sounds together with the gruesome action below: a dying old woman falling down a staircase; a man beating his wife and molesting their daughter then falling to his death in an abandoned well. All of it in plain view and like we've never seen before. Add to that, the composer furnishes each of the principal characters with compelling and challenging arias -- material that will one day be heard in the concert halls, in solo recordings, or used competitively by today's up and coming Classical talent. The future of opera is looking very secure, invigorated specifically by American composers. Tobias Picker's Dolores Claiborne, commissioned by San Francisco Opera's General Director David Gockley, is solid evidence.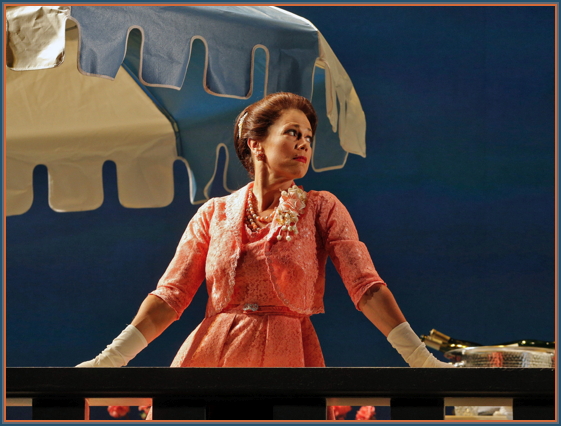 Elizabeth Futral (Vera Donovan). Photo, Cory Weaver
The music rises and falls through waves of cascading and pulsating chords as the characters reveal their inner turbulence through an electrifying plot. "Six pins, Dolores, not four," carps the ever-censuring Vera Donovan to her maid, Dolores Claiborne. "I want air in my linens, air in my dreams." But the air is bitter cold on the island and a clothes dryer will not be found on the luscious Donovan estate. "It's freezing out here," says Dolores (Patricia Racette) as she adjusts the pins. "My fingers is purple, my hands are raw." And the years pass on by. "What am I paying you for?" yells Vera (Elizabeth Futral) to her servant. "Do it till it shines. Do it till it hurts."
Unbeknownst to Dolores' husband, Joe St. George (bass-baritone Wayne Tigges), he has passed the day with a split seam down the seat of his pants. Joe is a brute and an angry drunk. Nobody tells Joe St. George what to do or what to think. "Nobody tells Joe St. George that he can't have no drink. This is my world, all of it!" Certainly none of his work buddies would have mentioned it. And today, by the time his young daughter Selena (soprano Susannah Biller) is home from school, Joe's already got a buzz going. "What's your Daddy to do, Selena? What's a father to do on this stupid rock of an island? All by his self, all a alone. Tell your Daddy how much you love him. Let's play our little game." Dolores arrives home, Selena runs upstairs. She sees the rip in Joe's pants and laughs, saying she will mend it for him later. He picks up a heavy split log and bashes her in the kidneys. After she's caught her breath, Dolores breaks a pitcher on his head. Joe picks up an ax. "Go on then, Joe," she says defiantly. "Be a man for once. Make the first one count."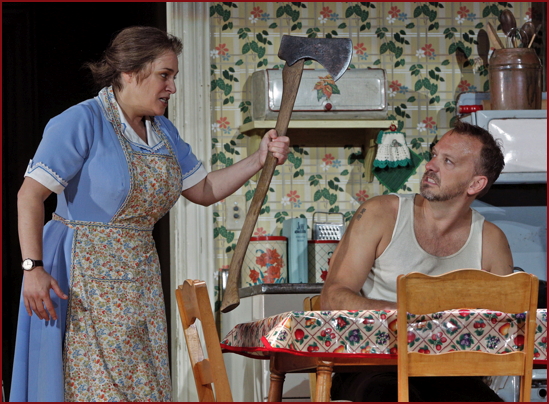 Patricia Racette (Dolores) and Wayne Tigges (Joe). Photo, Cory Weaver
Greed is embodied by the wealthy Vera Donovan. She also knows how to kill. She pays Dolores a paltry wage for carrying out meticulous orders and adhering to an unwavering myriad of rules. The position of her garbage cans is as crucial and consequential as the ironing of a pleat. Vera's shoes are to be shined with an imported cream, both top and bottom. It makes stepping on the world so much more gratifying. For her annual social, even Nature seems to bow to Vera's commands. "I must say it's ironic," observes one of her upscale guests, Mr. Knox. "Sun never shines in this foggy part of Maine." His prosperous friends, Cox and Fox agree. "Except for Vera's summer soirée."
Vera's next celebration will be a doozie. The brightest day of the year will find the moon blocking the sun -- exactly, completely. No errant ray shall suddenly burst forth on Vera Donovan's watch. What does come out, however, is Vera admitting she caused her husband's death. "Men have accidents," she says to Dolores. A turn of the screw on the brakes of his car, Vera is a wealthy widow. "There's an eclipse coming next week," she says. "Something rare, something strange. You'll think of something Dolores, something to bring it all to an end. Accidents can be an unhappy woman's best friend'.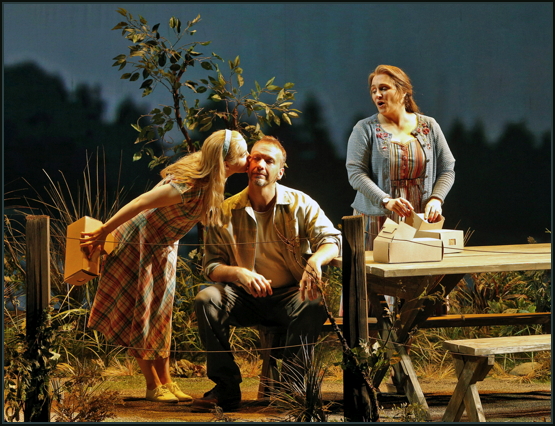 Susannah Biller (Selena), Wayne Tigges (Joe) and Patricia Racette (Dolores). Photo, Cory Weaver
Joe's incestuous relationship with his daughter is the crux of the plot. What that exchange actually is, when and how it happens was developed with great care by the composer and librettist J. D. McClatchy, and realized on stage by director James Robinson in a manner that was both artistically discreet and dramatically horrific. Dolores happens to catch them. Patricia Racette's reaction spoke for us all.
Tobias Picker's composition was shaped with a number of production challenges in mind, starting with Joe's fall into the abandoned well. The composer dealt with no less than eight separate locations and a full eclipse of the sun. Set designer Allen Moyer uses a substantially raised and revolving stage unit for the chase scene leading to the well. It was a brilliant choice and solved the notion of depth. At this point, the sun is in full eclipse and the image of it has been greatly enlarged and positioned center stage. Onto this huge circle of blackness surrounded in a halo of blood-red light comes a projection of Joe's dead and broken body lying at the bottom of the well. Lighting designer Christopher Akerlind and projection designer Greg Emetaz created picture perfect location shots including a nighttime view of the New York City skyline and a suggestion of the now-older Selena's apartment in the foreground.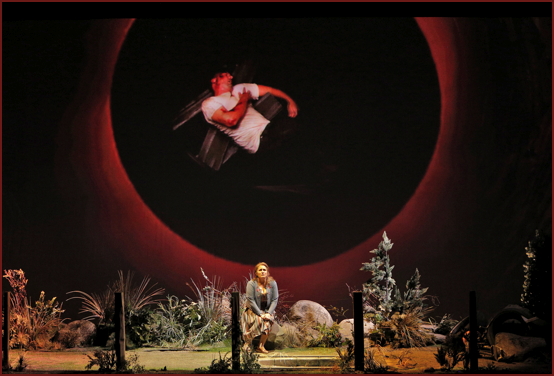 DOLORES CLAIBORNE. San Francisco Opera, 2013. Photo, Cory Weaver
The final scene shows Dolores alone on stage. The charge of murdering her employer has been dropped and the thirty million dollars Vera willed to her has been signed over to an orphanage. Her daughter has left her and the miserable island behind. "I did the best I could," says Dolores.
Lights out. No curtain. Lights up on Patricia Racette. And the roar of the crowd began.
Calling all HuffPost superfans!
Sign up for membership to become a founding member and help shape HuffPost's next chapter