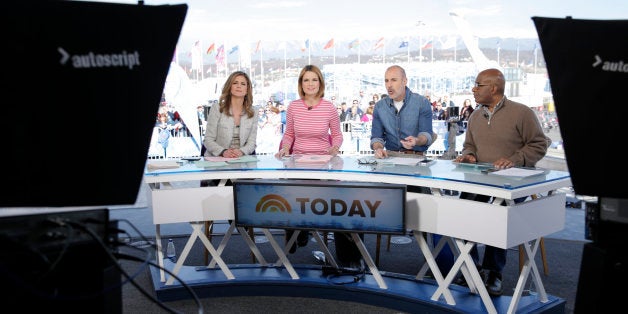 It took almost two years, but "Today" has finally beaten "Good Morning America" for a full week in the ratings.
The NBC morning show got a boost from the Sochi Olympics and managed to top its ABC rival in both the total viewer and A25-54 demo categories for the week ending February 14th. That's the first time "Today" has been able to do that since the week of August 6th, 2012 — which just happens to be the last time the Olympics were on TV. (That's a gap of 78 weeks, if you want to be precise.)
The margins of victory were relatively slim—"Today" beat "GMA" by 4 percent in the total viewer category and 8 percent in the demo—but Matt Lauer and company will take the victory. At the very least, it assures "Today" that there is no chance it will trail "GMA" in the ratings for 16 straight years, as "GMA" did before beating "Today" in 2012.
The challenge for "Today" is to ensure that its victory is not a fleeting, Olympics-connected one. Alarm bells were surely raised when "GMA" beat its rival for the first time ever during the Olympics last Tuesday. It was a sign that, all else aside, the morning race is as competitive as it's ever been, and that "GMA" will not go down without a fight. The true test for "Today" will be whether it has convinced viewers to stick around with it after the Olympics—or whether, once the Games are over, the ratings fall back to where they were.