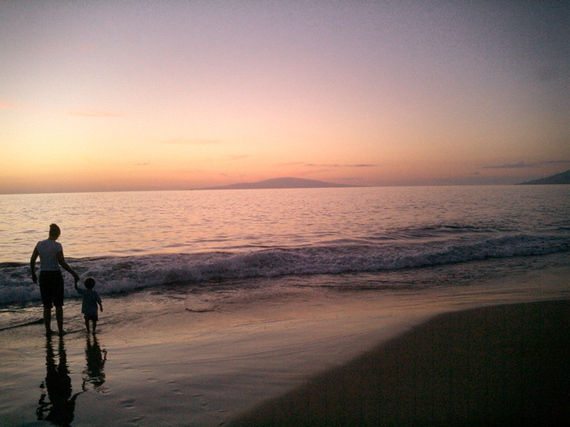 April 14 is National Ex Spouse Day. Who knew! I didn't, and now that I'm enlightened I want to positively celebrate my ex.
Sounds crazy, huh? You probably think I'm a lunatic to do this given all I've written about recovering from divorce, being a divorced entrepreneur, a single dad, etc.
To the contrary, I am well grounded in this notion. Time and maturity have taught me that I had plenty to do with why our marriage didn't work. And, not everything about our marriage was bad.
For those of you divorced: please allow me to celebrate the good from my 17 years of marriage. I hope it inspires you to feel some positivity.
For those of you married, read on. I hope this gives you reason to celebrate and appreciate your spouse.
Dena is a great person, not a "horrible ex." She's a great mom and is someone who strives to be happy in life. She's stayed fully engaged in our son's lives and we've successfully co-parented. That wasn't easy in the beginning, but I'm very glad those bumps smoothed out as we focused on the real goal: our sons' well being.
Do I regret marrying Dena? Absolutely not. And, I never have. If we had not married, our sons would not exist. Those two young men are the center of my life, the greatest gifts ever. Our marriage brought them about, and for that I am eternally grateful.
We certainly shared many years of great times before the divorce, of which we can talk about now and tell reminiscing stories with our sons. The vacations, the "firsts", the "you did what?" stories are plentiful.
Dena laughs often with plenty of smiles and humor. She loves to have a house full of guests over for dinner. She's active and fit. She has plenty of friends and is happily married.
Dena and I grew apart over the years. Plain and simple; life can do that. It happens in relationships of any kind. It certainly was not intentional. We didn't start out our marriage planning to become divorced, of course. We didn't want to grow apart. Yet, we allowed it to happen.
I believe we become what we think. If all I thought about was the negatives, the angry times, the stressful times during divorce, I would be bitter and blinded.
Instead, I chose years ago to look at the good. With that came positive thoughts and positive influences to our sons.
So, on this "celebrate your ex" day I celebrate Dena, and celebrate our sons.
After all, "Life is a Gift"!
30 years of strategic, entrepreneurial business growth along with two brushes with death have earned him the tag "ResilienceGuy". Bill Douglas is an accomplished Mentor, Coach & Speaker helping entrepreneurs & executives with growth and strength.
Popular in the Community