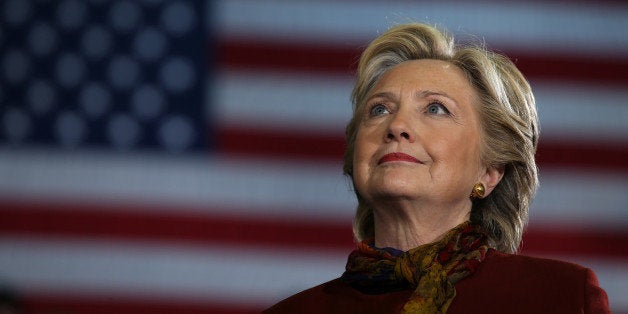 Ninety-six years after women won the right to vote, the first ever female presidential nominee of a major political party has a solid chance of winning her place in the oval office. I just voted for Hillary Clinton.
Some people may find fault with her, but I find her fascinating, brave, and a dynamic leader. Throughout this campaign, I've thought about how far women have come these past hundred years and still how far we have to go.
At times during this race, it seemed Ms. Clinton was held under a microscope. A modern-day witch hunt. We no longer burn women who don't fit the mold, so instead we tear them apart, their families apart, expect perfection, hold them to double-standards, and want more from them than we want from men.
But today isn't just about a woman potentially becoming president. It's about a woman taking our country into a brighter future--one that's inclusive and that shifts us away from the patriarchal world of our past. I'm ready for this change. I'm honored to be a part of this day in history.
However, I didn't vote for Hillary Clinton because she's a woman. I voted for her because she's THE woman. Although people may say she's hard to relate to or unauthentic, I disagree. I see a woman who has worked tirelessly to get where she is. I see a woman who balanced her dream career with having a family--and did so with aplomb. A woman who had to deal with spousal infidelity and who chose to save her marriage. Hillary is a woman who has been criticized, scrutinized, judged, called names, and has had to continuously prove herself.
I see a woman who has strategically planned her life for this very moment. How is this any different from the ambitious businesswoman, devoted mother, or dedicated wife? How is this any different from what we instill in our girls?
Maybe the reason why I respect Hillary Clinton is because I see myself in her and because of women like her, the world doesn't seem so limiting. Is she perfect? No. But who is? She's had to play by the rules of the Old Boy's Club. She's had to make deals, tough decisions, and act just as any other politician has had to in the past. But she's done it with heart.
Today I voted for Hillary Clinton because she represents every woman who has been told, "No you can't."
She stands for all the women who've been taught, "It's a man's world and you're just in it."
Today, I voted for her because I'm a woman who believes in a better tomorrow. And thanks to all the women who came before me and fought for this moment--I voted for Hillary Clinton because I can.
Calling all HuffPost superfans!
Sign up for membership to become a founding member and help shape HuffPost's next chapter