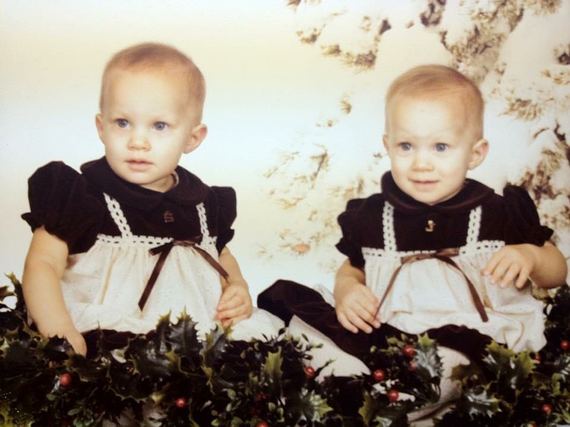 The house is littered with toys.
I clean up, and a new mess happens. The girls play together, and I'm unable to fully explain how relieved this makes me, since they are a few years apart, and I grew up with an identical twin.
We're eating when the UPS guy arrives, and my oldest daughter and I cheer together as we open up the two CD's I bought for her. We put on this new music, and dance while I pick up from lunch.
Snow builds up along the walkway that my husband cleared this morning -- when I walked down to greet the school bus a little bit ago, my boots sank several inches, and I could only see shovel lines in a few places.
Today is a perfect example of motherhood. It's little girls playing, and eating, and resting and learning to talk and read. It's me exercising while the baby plays around the free weights I have laid out in front of me, behind the leather chair that used to be my husband's throne, but is now covered with stuffed animals and little plastic parts from toys.
The baby covertly pops up beside my leg and says, "Hi," before running away again with a book in her hand. I get up to wipe her nose and hit my knee on the hard dining table as I sit back down on the corner of my chair.
I'm perched to hop up at any minute, and I only plan on taking a few minutes here to myself, to write -- feeling better able to explore my day after I've explored my own internal landscape. More, I'm able to fully appreciate this messy motherhood-chaos, and the snow that's falling frantically out the window while we easily spending time together inside.
My daughter's new album croons to me. She has her own style, and I've gotten into certain bands simply because she liked them. (Beach House is an example of that.) I'll be honest, I'm presently listening to Jason Mraz. I've never owned one single song of his, but now I apparently have two CD's. His singing in the background of my clickity-clacking fingers, and my baby playing with random toys, and my oldest daughter driving her red-and-yellow Cozy Coupe car along the carpet -- the best 50 bucks I've ever spent -- feels familiar, although I've never heard most of these songs.
I check to see if the baby is alright inside of the canvas teepee in the corner of the living room, and I put water in the tea kettle to boil for a coffee while I do this.
David Bowie has just died and his wife Iman shared this quote before it became public: "Sometimes you will never know the true value of a moment until it becomes a memory."
I get up again to kiss the baby where she's bonked her head and to help my oldest get her sock back on. These uncomplicated days are exactly the moments that I hope stay in my tissues for years; I hope they stitch themselves into the fibers of my being.
I want to feel forever a little corner of my mommy-heart, warm like a slow-burning fire, where love permanently resides; a gift from raising these two beautiful children and for spending so many simple days just like this with them.
I hope I can always retrace this tender spot that aches a little because I miss my husband so much, wishing often that he was here with us on these quiet afternoons instead of at work.
I hope my memory captures perfectly the dimple of my oldest daughter's smile as she laughs first from her eyes and then out through her lips, tilting her head back -- her curls dripping down her shoulders -- and the way the baby adorably says "cheechee" when she means those Gerber baby cheeto things.
The tea kettle whistles -- I'd almost forgotten I'd put on water to make a coffee. The girls are both looking out at the cold snow through the window.
Today is not yet a memory, so I click "save" and go into the living room with them to enjoy this moment while it's here.