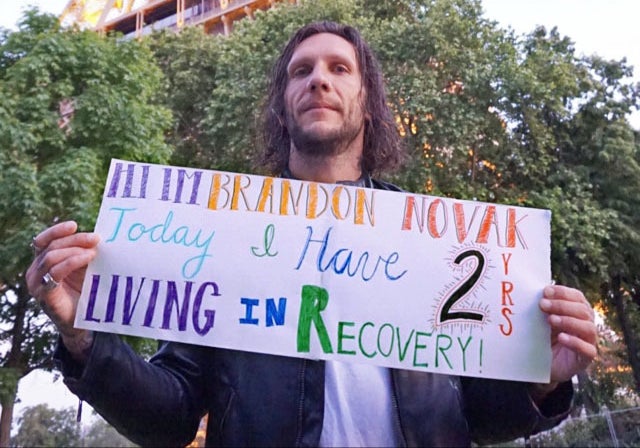 When he was in active substance use, Brandon Novak was a hurricane. A walking disaster. He's the first to admit it. Whether he was shooting heroin, drinking wine, or smoking crack, Novak left a trail of burnt bridges and broken relationships behind him. The pro skateboarder, bestselling author, and Jackass star was famous in part for his drug and alcohol abuse. Now, two years sober, he's challenging the mainstream media's perception of him—and of long term recovery.
What is long term recovery? Although the recovery community doesn't have a strict standard for it, the Surgeon General's report on addiction says, "It can take a year of abstinence before an individual can be said to be in remission." After five years, the risk of relapse drops to below 15%. At two years sober, Novak is one of 23 million Americans that have made it into long term recovery. Yet, most media focuses on the trouble he had getting here. Instead of looking at the success Novak has encountered in the past two years, the mainstream media likes to tally up the number of rehabs he went to, or drag out the old photos of him when he was in the pit of active addiction.
This focus on the drama and misery of one man's desperate attempts to get sober is unhealthy. It also demonstrates the typical attitude towards people who struggle with addiction. The media is quick to point out the person's past failures. "He'll never make it," they say. "He only lasted a few months last time."
If the person lasts longer than these horrible predictions, the media says, "It's only a matter of time. He's been through so many treatment centers. Why would this time be different?" They watch for any sign of a slip, from lunch with a friend who drinks to enjoying a late night industry event. Then, if the person does relapse, they say that they knew it was coming all along. Never once does the mainstream media encourage or support recovery. People with addiction are portrayed as ticking time bombs, accidents waiting to happen.
So what about the people who do get it? People who have firsthand experience with addiction, or whose families and communities are affected by the drug epidemic that's sweeping America? What about people like Novak?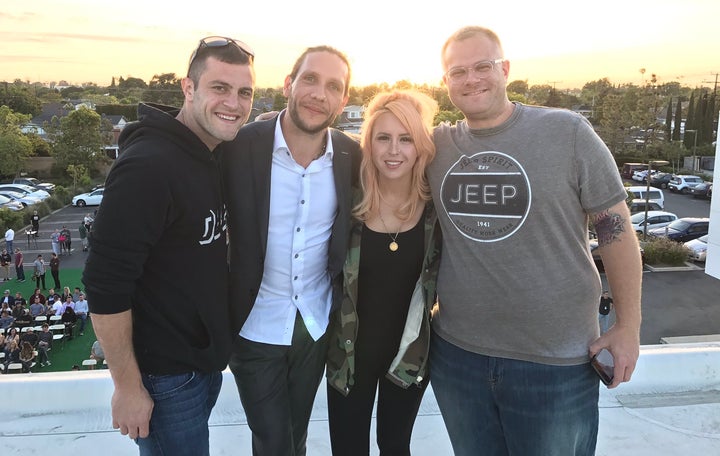 We tell a different story. It's a story of hope. Not just hope for the lucky, or famous, or rich. Hope for everyone with a substance use disorder. Hope that 100% of us will receive affordable, accessible medical help for our chronic brain illness—not just 10%, like now. Hope that we will decriminalize addiction and stop trying to roll drug policy back to the ineffective "Just Say No" campaign of the 1980s. Hope that our children, parents, friends, and coworkers will survive addiction and enjoy meaningful, fulfilling lives in recovery. Novak is so much more than his journey—and those of us who know what recovery is really about are speaking up.
Since getting sober, Novak has gone to great lengths to share the message of hope and recovery. He's spoken to high school kids and policy makers about the realities of drug and alcohol use. He's crowdfunding a graphic novel about his experiences with addiction. Most of all, he emphasizes the message that recovery advocates share every day: that addiction is a health problem, not a moral failing. "Maybe I got my addictive personality from my parents and maybe I didn't, but in the end it doesn't matter," he said. "I was brought up to be an addict and soon enough my addiction grabbed me by the ass and just refused to let go."
Those who know what addiction really looks and feels like know that making it to two years is an incredible accomplishment. They also know that addiction isn't a choice—but recovery is. Novak is one of many people who are speaking up and speaking out about recovery, showing that recovery is possible. His powerful message deserves to be shared. We've heard too many sad stories. It's time to talk about what we can do to help people with substance use disorder. It's time for the mainstream media to rally with us, and help end this public health crisis instead of demonizing and dramatizing people with addiction.
Novak, happy birthday. It's so satisfying to see you growing and succeeding in your recovery, and courageously sharing the message. We are not invisible. We will not be silenced. I've lost too many friends to this disease. I'm grateful to count you among the people I care about who have survived it. You lived to tell the tale. I hope you have many more years of telling it—to everyone who will listen. We are not beyond hope or help. We do recover.
Ryan Hampton is an outreach lead and recovery advocate at Facing Addiction, a leading nonprofit dedicated to ending the addiction crisis in the United States.