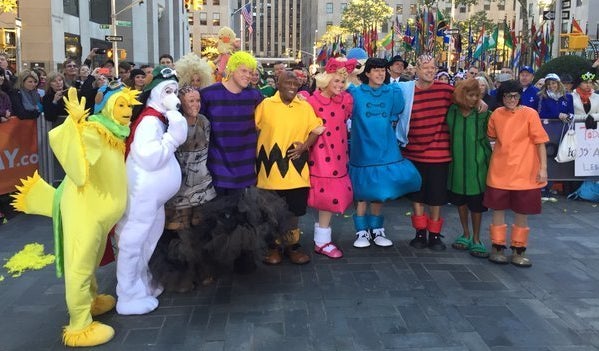 Knowing Halloween is at its core a celebration of death, the "Today" show anchors gave us a grim glimpse into what would happen if iconic characters we assumed to be ageless and immortal actually grew up.
If you're looking for this year's best celebration of how we're all going to die someday, look no further than this spectacle of existentialism at 30 Rock, where the anchors donned elaborate "Charlie Brown" costumes.  
Charles Schulz, the creator of "Peanuts," famously hated the name forced upon his Charlie Brown comics. In life, even our greatest triumphs may involve a great deal of settling. In life, you sometimes have to settle for Peanuts. In life, you certainly must settle for eventual death.
Thank you "Today" show cast for reminding us that the Grim Reaper's scythe is only a swing away.
You may wish to learn the piano more than anything, but there's no guarantee you'll ever save up enough money to afford more than a toy-version. Willie Geist gave a perfect representation of the inherent possibility that your dreams will die. Congratulate him on celebrating the true meaning of Halloween.
Erase from your brain the idea that all dogs go to heaven, no, the slow crawl to death will quite possibly bring no light. Hoda Kotb played Snoopy with Shakespearian angst. 
 If you want to scare the neighborhood this Halloween, don't go as the played-out Scream killer or a witch or some obvious choice like that.
Follow Carson Daly into the dark and teach the kids their inner skeletons won't last forever.
As "Today" taught us Friday morning, no security blanket can save you from the knowledge that life is just one big trick without the treat.
"The Peanuts Movie" comes out Nov. 6. 
PHOTO GALLERY
Halloween Photos From Way Back When That Will Creep You The Eff Out
Calling all HuffPost superfans!
Sign up for membership to become a founding member and help shape HuffPost's next chapter