The Today show's biggest problem could have simply been that Good Morning America (GMA) lusted more fiercely after victory. That GMA was hungrier. Consider that night in late November 2011, when GMA was still firmly in second place, and a freelance ABC producer spent a lousy night sleeping on the hallway floor outside Gary Giordano's room at the Ritz-Carlton. He was guarding against the possibility that the Today show might come in the night and try to steal Giordano. "Of course there's Robin, who's famous, George, who's famous, and these new hosts, and they are the show, no doubt," said Ben Sherwood. "But it is not an exaggeration to say that the kid who slept on the floor to protect that interview is a hero. That kid is the difference between winning and not winning."
Perhaps the other difference was on display not far from Lauer's home in the Hamptons on a Saturday afternoon in July, when Josh Elliott and Sam Champion attended an ovarian cancer charity event that counted Spencer as one of the hosts. Spencer brought her husband; Champion brought his boyfriend. (Champion got married in December, becoming the first openly gay cohost of a network morning show.) At the charity event Denise Rehrig bumped into one of her counterparts at Today, Debbie Kosofsky.
"I don't get it," Kosofsky remarked to Rehrig when she saw the three GMA hosts hanging out together on a day off. "Did everyone just meet here?"
"No," Rehrig said, "everyone came together."
Kosofsky gave her a quizzical look. She asked, "Are you shooting something for the show?"
It took a little while for Kosofsky to suspend her disbelief. But this was just a typical Saturday afternoon, not some setup for a future segment on GMA.
Then Kosofsky gave Rehrig this look of awe. She said, "That's why you guys are winning."
But Lauer attributed the Today show's ratings weakness largely to content choices, not chemistry: he still felt the show relied too heavily on sensational, scandalous stories of the sort that could be found all over GMA. A worldly man of fifty-four, he had basically zero interest in silly stories about performers who were often less than half his age. He wanted his show to concentrate on more substantial subject matter -- like the notably chimp-less 2012 presidential election -- and thereby raise the level of the competition. Arguably what he wanted was a return to the newsier Today of the 1990s, when he was the new cohost, Jeff Zucker was the producer, and the winning streak was born. The day of the meeting, Nash is said to have remarked, "I think he'd rather go to number two than have one more person tell him at a cocktail party that they do too many tabloid stories."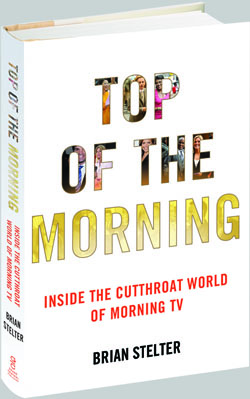 Producers like Nash -- who had to answer for the ratings just as the cohosts did, but didn't have twenty-five-million-dollar contracts to fall back on -- just wanted to win, baby, even if that meant bringing a stop-the-presses prominence to news of Jennifer Aniston's engagement, as Lauer found himself expected to do at the beginning of his first show after the Olympics. Natalie Morales's story about the actress's impending marriage to Justin Theroux led the seven thirty a.m. half hour. "Matt and Savannah, I'm sure you'll all be invited," Morales said, leading Guthrie to quip, "Matt has been so worried about this." Tellingly, when GMA cohost Lara Spencer covered the same engagement news ten minutes later, there was not a drop of sarcasm. "We are so happy for her," Spencer said before teasing a story about Miley Cyrus's makeover.
And that was the problem right there: Today was still covering celebrity weddings and lurid crimes and the like, but without the verve or sincerity of GMA. Today, in fact, wasn't all-in on any specific strategy, despite Lauer's wise admonition at one point that "we need to get on the same page" because "the guys across the street are already on the same page."
Excerpted from the book TOP OF THE MORNING by Brian Stelter. © 2013 by Brian Stelter. Reprinted by permission of Grand Central Publishing. All rights reserved.
Calling all HuffPost superfans!
Sign up for membership to become a founding member and help shape HuffPost's next chapter