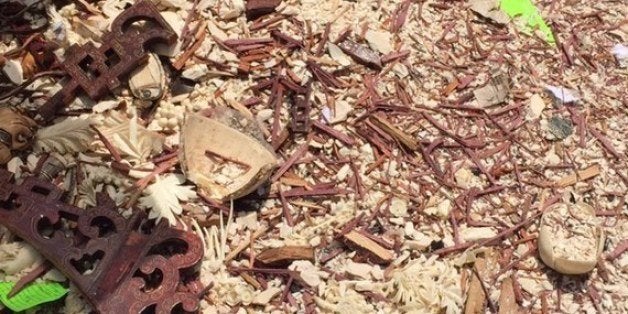 Today was a great day for elephants - and a really bad day for ivory traffickers.

Today more than one ton of confiscated ivory was crushed in New York City's Times Square, the "crossroads of the world."

I am proud to have been part of this historic event with my fellow colleagues: Jimmiel Mandima, from the African Wildlife Foundation; Iris Ho, representing The Humane Society of the United States; Azzedine Downes, CEO of the International Fund for Animal Welfare; Peter Lehner, Executive Director of the Natural Resources Defense Council; and Ginette Hemley, Senior Vice President of the World Wildlife Fund.

Together, we thank our partners in government for their leadership in this effort -- in particular Interior Secretary Sally Jewell and U.S. Fish and Wildlife Service Director Dan Ashe.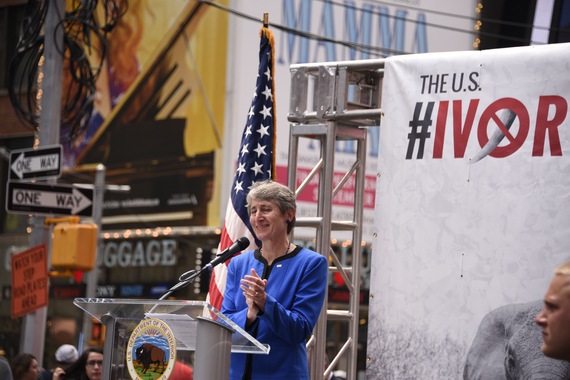 U.S. Secretary of the Interior Sally Jewell was on hand to witness the symbolic crushing of raw and carved ivory tusks and statues by an industrial rock crusher. Photo by Julie Larsen Maher © WCS

We are not only partners in this event but partners in the fight to end the global illegal wildlife trade. And here in the U.S. there is broader coalition of 197 organizations in 45 states working together on this very issue.

With the destruction today of more than one ton of confiscated ivory in the city that until quite recently hosted the largest ivory market in the United States, we send an important signal to the nation, as well as to other nations with active ivory markets, and to global wildlife trafficking networks that when it comes to ivory, the United States is closing for business. And not a moment too soon.

The global ivory trade is currently responsible for the brutal slaughter of as many as 35,000 elephants a year in Africa. That is 96 elephants per day, or 1 elephant every 15 minutes. Since this crisis began to escalate, our organizations came together more than two years ago to work in a coordinated fashion to stop the killing, stop the trafficking, and stop the demand.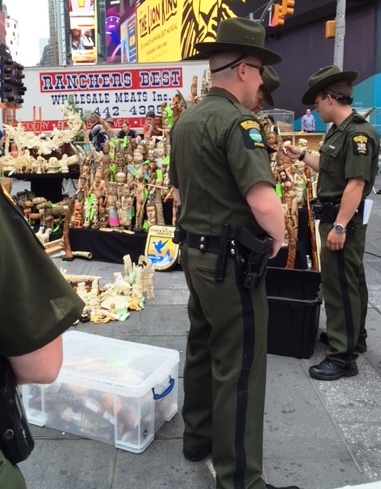 The Times Square ivory crush builds on momentum from the initial destruction of six tons of contraband ivory in Colorado in November 2013. Since then nine governments have followed suit and have publicly destroyed ivory. ©WCS

What we know is that demand for ivory is a key driver of elephant poaching. By destroying confiscated ivory, the U.S. Fish and Wildlife Service affirms the stated goal of the Obama Administration to bring the domestic ivory trade in the United States - one of the world's largest markets -- to an end.
Organized criminal syndicates have for years exploited the existence of loopholes in the legal ivory trade to peddle their illegal ivory, which is virtually indistinguishable from "legal" ivory that predates the 1989 CITES ban. As illegal elephant ivory makes its way onto the shelves of both legitimate and illegal dealers, commanding higher and higher prices, the killing of elephants in Africa continues.

It was to halt this very trade that the states of New York and New Jersey enacted bans on the sale and trade of ivory and rhino horn. Similar bans are now making their way through the legislatures of several states including California, the second largest ivory market in the US.
And just two weeks ago, China--home to the world's largest ivory market--signaled its intention to shut down its domestic ivory trade, a move that could truly be a game-changer in the effort to save elephants. The United States, China, and other ivory consumer countries must continue to work together to close their domestic ivory markets.

Today's crush demonstrates that the United States is doing just that.
Top photo: Ivory trinkets and tusks were pulverized during the crush in Times Square on Friday, June 19, 2015. Photo ©WCS
REAL LIFE. REAL NEWS. REAL VOICES.
Help us tell more of the stories that matter from voices that too often remain unheard.