As we kick off Women's History Month today, let's remind ourselves that it is a powerful time to be a woman. We now do it all, from CEOs, to scientists, teachers, mothers, small business owners, elected officials, activists, and volunteers. And so many women and men are uniting behind the belief that, both individually and collectively, today we will change tomorrow.
On March 11, 2009, President Obama took an important step for women and girls across the country and around the world when he signed an Executive Order establishing the White House Council on Women and Girls. From that day forward, the Council has engaged every agency and department throughout the Federal Government to ensure that in every policy, program, and legislation we support, we take into account the needs and aspirations of women and girls.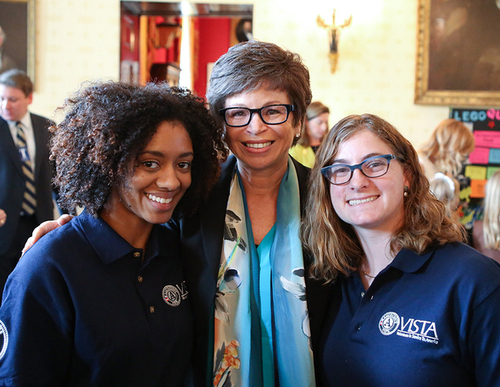 As the Chair of the first White House Council on Women and Girls, it has been my honor to lead the President's efforts to improve the quality of life for women and girls. Talent is ubiquitous, but opportunity is not. During the last seven years, we have focused on expanding opportunities for women and girls: from the very first bill President Obama signed, the Lilly Ledbetter Fair Pay Act, to making college more affordable, expanding opportunities for girls pursuing education and careers in STEM, ensuring women have access to preventive health care services, encouraging the adoption of family friendly policies in the workplace -- including equal pay, paid leave, sick days, affordable child care, and increasing the minimum wage -- working to end domestic violence and sexual assault, and much more. And around the world, we have worked to promote the economic and political empowerment of women through the Equal Futures Partnership, initiated a National Action Place on Women Peace and Security, and worked to combat gender based violence and human trafficking.
That's why, throughout this Women's History Month, the White House Council on Women and Girls will highlight the important progress Federal agencies have made, often in partnership with the private sector, not-for-profits, and other stakeholders. Every agency has challenged itself to seek and create new opportunities for women and girls in different and exciting ways.
So make sure to look out for highlights throughout the month. From Administrator Maria Contreras-Sweet of the Small Business Administration emphasizing the work we have done with women entrepreneurs, to NASA's Administrator Charlie Bolden, highlighting the first class of astronauts comprised of half women, to Secretary of Labor Tom Perez, who is working to ensure that women can thrive both at work and at home, we look forward to sharing the important work of our nation's public servants.
While we have made enormous progress, we realize we have plenty of work still to do. But as First Lady Michelle Obama has said, "There is no limit to what we, as women, can accomplish."
In May, we'll take that next step, with The United State of Women Summit. Convened by the White House, this summit will rally the Administration and leaders from every sector across the country and the world to celebrate what we have achieved, and how we will move forward, together. Covering key gender equality issues, we will make a powerful difference in our collective future.
We will tackle six topics at the Summit: ● Economic Prosperity ● Health and Wellness ● Educational Opportunity ● Violence Against Women ● Entrepreneurship and Innovation ● Civic Engagement, Leadership, and Visibility
We will not develop every solution in that one day. But by bringing together some of the best minds in the country, and from around the world, to share bright new ideas, we can change tomorrow. We can take the next step on our long journey toward perfecting our union - of making sure that in America, everyone has a full seat at the table.
So this Women's History Month, we are thrilled to highlight the progress we have made together these seven years, and chart a path forward into the future. Join us at www.theunitedstateofwomen.org and sign up to learn more - because today, we change tomorrow.
Calling all HuffPost superfans!
Sign up for membership to become a founding member and help shape HuffPost's next chapter