Speaking on the topic "National Parks, Environment & Climate" at Bates College in Lewiston, Maine early this month, I told my audience that the founding principles espoused in our Declaration of Independence on July 4, 1776 call us to heed our better nature, and we have responded positively for 240 years.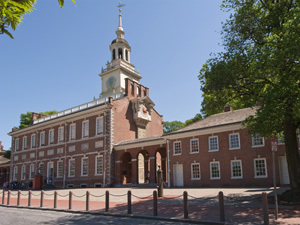 NPS photo.
What happened in Independence Hall 240 years ago can still be keenly felt and experienced in a visit to Independence National Historical Park, and should continue to guide us into tomorrow.

Issued at Independence National Historical Park in Philadelphia, the Declaration established "We hold these truths to be self-evident, that all men are created equal, that they are endowed by their Creator with certain unalienable Rights, that among these are Life, Liberty and the pursuit of Happiness."

I told the students that we have striven to address the deficiencies in our founding documents by signing the 13th Amendment recognizing the citizenship of Black Americans and the 19th Amendment recognizing the citizenship of women. Through the Civil War, the Civil Rights Movement and the burgeoning LGBT movement, the majority of us have held high the banner of a nation imbued with liberty, justice and equality for all.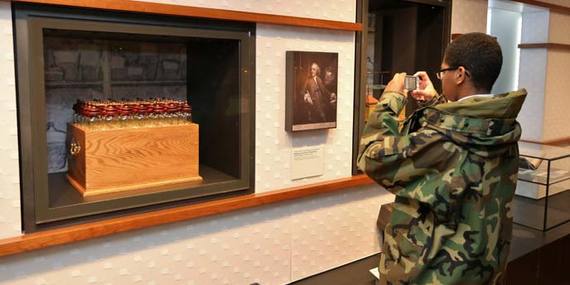 Black Americans and other non-white citizens have the privilege and responsibility of affecting every facet of American life because our country strove to live up to the ideals in the Declaration of Independence.
"So I'm not confused by the dissonance of our current political discourse," I said. "The test for any point of view or action is, does it support our founding values? If it does, I'm for it. If it doesn't, I must strive like President Lincoln and Frederick Douglass did to rouse our nation to defend our values. I must work like Susan B. Anthony and Harriet Tubman to achieve suffrage for women. I must lay it all on the line as Dr. Martin Luther King Jr. did to gain civil rights for Black Americans and others. These stories are alive in me, inspiring and motivating me because I've experienced them at the places where they happened in our National Park System."
I told the young people that there's never been greater need for the lessons from our national parks than in this Centennial Year of the National Park Service, when discredited ideas such as excluding people from our society based upon their origin or religion are once again surfacing. Park units such as Manzanar and Minidoka National Historic Sites where Americans of Japanese ancestry were interned in WWII stand as a reminder to our commitment never to repeat such atrocities, and they need to be publicized so every American knows we have tried them and moved away in revulsion.
As the Centennial Year coincides with President Obama's final year in office, I feel the urgency for citizens to come up with a new vision for our national parks and public lands system that the President can leave for his successor. The President has done a masterful job of creating new parks and monuments that add to our public lands treasury and also help expand recognition of diverse Americans' contributions to our country.
He has protected Harriet Tubman's birthplace in Maryland, the César E. Chávez National Monument in Keene, California; the San Gabriel Mountains National Monument near Los Angeles; Basin and Range National Monument in Nevada with thousands of ancient petroglyphs; Chimney Rock in Colorado and the Organ Mountains-Desert Peaks in Las Cruces, New Mexico with cultural significance to Native Americans, among many others. The President led negotiations for the Climate Accord in Paris and advanced a comprehensive US Climate Plan to curb pollution and mitigate the effects of climate change.
Having traveled through 175 of our 410 units, I consider myself that citizen Director Stephen Mather had in mind when he said at the birth of the National Park Service 100 years ago, "He or she is a better citizen, with a keener appreciation of the privilege of living here, who has traveled the national parks."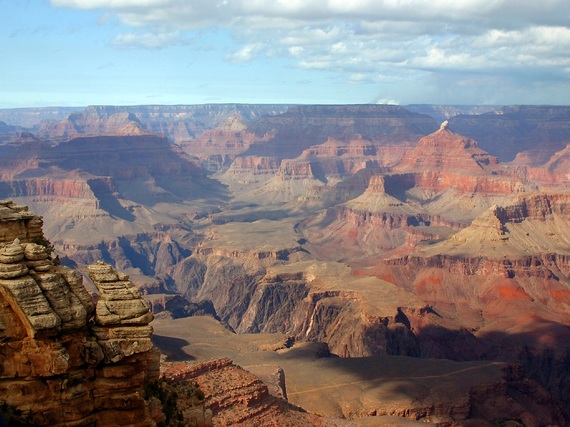 Imagine the mind that would seek to mine uranium near the Grand Canyon, with attendant negative effects on the environment and people.
Every day I get dozens of e-mails from environmental organizations imploring me to sign a petition to protect a national park - such as Grand Canyon against the threat of mining - wolves in Idaho, bison in Yellowstone; oppose a potentially damaging oil pipeline; save the Environmental Protection Agency and push back against 'leaders' who are bent on removing lands from the public domain. We are spending so much time pushing back against and resisting bad proposals that I yearn for us to develop a coherent vision of conservation to guide our next 100 years.
That vision must be developed with participation from all demographic groups, so probably one of the first things we must do is find ways to engage constituents who are markedly absent from the public lands system and the discussion. With so little time left in his tenure and a big disparity remaining in the information and engagement of Americans of Black and Hispanic descent and young people from urban areas, President Obama might engage a metaphoric SWAT team of advocates who are skilled in this arena. The team could speedily develop a plan that can be easily implemented this pivotal year.
With our country embroiled in a noxious internal conflict, it's vital that Americans know the lessons of our past that are protected in our National Park System. I believe that walking in the footsteps of our ancestors is the speediest way for us to become enlightened about the history and evolution of our country so we can choose a way forward that prioritizes "equality, liberty and justice for all."
Calling all HuffPost superfans!
Sign up for membership to become a founding member and help shape HuffPost's next chapter