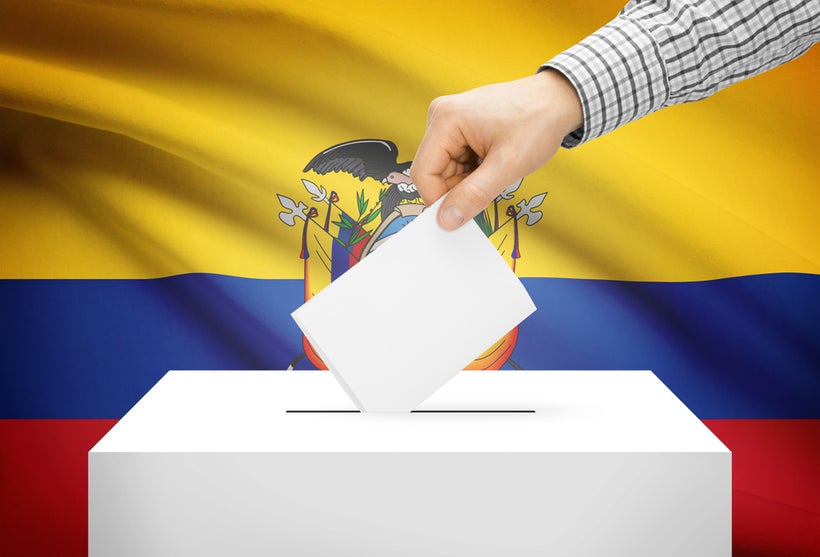 My native country of Ecuador is holding run-off presidential elections today.
Back in February, leftist leaning Lenin Moreno, former deputy to the outgoing, left-wing President Rafael Correa (and Correa's hand-picked successor), did not receive the super majority needed to defeat his conservative opponent, Guillermo Lasso, a pro-business former banker, in an eight-way first round.
Thus today, in the run-off election between Moreno and Lasso, the voters in Ecuador get a second chance to make their votes count.
The people of Ecuador have the greatest stake in the outcome of the elections. There is great concern about the economy which has entered into a recession, weakened by Ecuador's reliance on oil exports as prices have fallen and there are also concerns over corruption, censorship, civil liberties, "Correa's iron-fisted rule."
France 24 calls it a race that "is also a barometer of the political climate in Latin America, where more than a decade of leftist dominance has been waning."
But there is one person, holed up in Ecuador's embassy in London for the past five years, who must be watching the elections very closely and very nervously, for the outcome may decide whether he finally gets to go "home" (wherever that turns out to be) to face justice and possible imprisonment.
We are talking about the 45-year-old Australian WikiLeaks founder Julian Assange who is facing extradition to Sweden to fight allegations of sexual assault, but who is also very much wanted by the U.S. on suspicion of espionage for his organization's disclosure of massive amounts of classified information.
Assange leaked hundreds of thousands of secret US military and diplomatic documents in 2010 and released thousands of hacked emails from presidential candidate Hillary Clinton and the Democratic Party during the 2016 elections, possibly influencing the outcome of that election.
Most recently, Assange's WikiLeaks claimed it had obtained CIA "hacking tools" and threatened to provide technology companies access to them.
Assange has enjoyed refuge in the Ecuadorean embassy at the pleasure of President Rafael Correa, a vocal critic of the United States.
Presidential candidate Moreno has said that he would let Assange remain in the embassy, albeit with conditions: "We will always be alert and ask Mr. Assange to show respect in his declarations regarding our brotherly and friendly countries…"
On the other hand, the conservative Lasso has promised that, if elected, he will l evict Assange from the Ecuadorean embassy: "Ecuador has no business spending a single cent protecting someone who definitely leaked confidential information...I will take on the responsibility of inviting [Señor] Assange to leave the Ecuadorean embassy at the latest 30 days after the start of our government," Lasso has said.
Should Lasso win the run-off elections and should he keep his promise, there do not seem to be "be further possible options open to Assange through the UN, after the UK and Sweden categorically rejected a finding by a UN working group that the Australian's time in the embassy, where he first sought asylum in July 2012, amounted to 'arbitrary detention,'" according to the Guardian
The Guardian quotes a Foreign Office spokesman saying, "Mr. Assange is not, and never has been, a victim of arbitrary detention…He entered the Ecuadorian embassy of his own volition and is free to leave whenever he wishes," and the Guardian adds:
British authorities are equally adamant that, should Assange leave the embassy under any circumstances, he will be immediately arrested and sent to Sweden, which has been seeking to extradite him over an allegation of rape dating from 2010, which Assange denies.
From a possible Swedish "home," it is a short eight-hour flight to New York, where a trial for espionage and other offenses and a "second home" await Mr. Assange.
The election is expected to be close.
Calling all HuffPost superfans!
Sign up for membership to become a founding member and help shape HuffPost's next chapter
This post was published on the now-closed HuffPost Contributor platform. Contributors control their own work and posted freely to our site. If you need to flag this entry as abusive,
send us an email
.