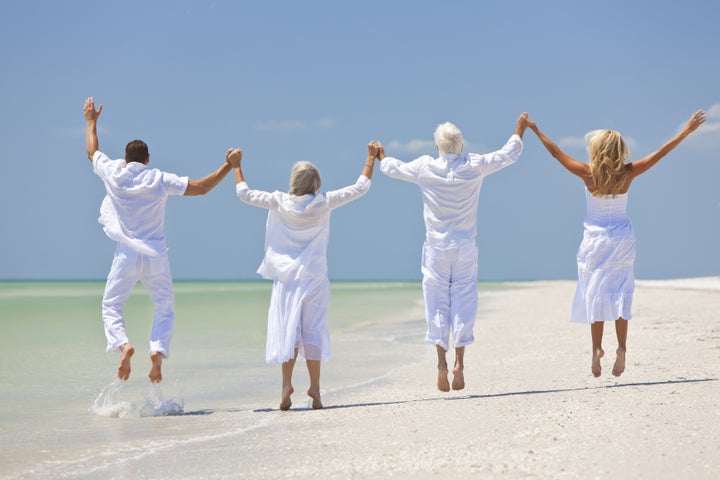 One of my favorite scenes in the film, 'The Best Exotic Marigold Hotel', is the one where a British Judge (acted gracefully by Tom Wilkinson) is attending a retirement reception for a colleague. Several guests approach Wilkinson and ask him, 'when are you retiring?' He demures by saying the focus on the celebration is not on him, but on the honored guest. But before the end of the party, he puts his wineglass down and announces to himself: 'Today's the day.'
I love that scene and will drop in to the movie just to watch it. While it is typical to assume we are on a gradual trajectory to our significant life benchmarks, often these moments often come in a eye blink when we realize we are ready to move on to our next phase. This happened to me recently.
Dr. T. Berry Brazelton, with his colleague Dr. Joshua Sparrow, wrote about these aha moments in the development of children and called them touchpoints . Dr. Brazelton suggested that contrary to popular thinking, our human development is not necessarily a slope upward, but rather a series of stairsteps. When we take the next step up, we have arrived at a touchpoint. I believe this theory can be applied to any stage of life.
My first retirement occurred in 2013-14 when I stepped away from my duties running a nonprofit in San Francisco. After easing the organization through the economic difficulties of 2008 (from which we struggled to recover for five years), I realized the time had come for me to move on. I wrote about this change at that time, and termed the life phase 'Inspirement' because I was not fully ready to be retired. My friend, Nan Keaton, suggested the term and I found it applicable to where I was in life. I needed a change.
And change we did! We left San Francisco and returned to Reno, Nevada after a twenty year absence. The reasoning was logical: better housing prices; tax friendly; growing community; navigating the distance between our two adult children and their families. I found a very rewarding part-time teaching job at Career College of Northern Nevada and a volunteer role on the Board of the Reno Philharmonic.
My husband was fully retired! He reads, walks our aging black lab on trails near the Truckee River, putters in the yard, and follows his passions for history and film. We perked along like this for three years. And then this winter, it hit me. I'm ready to retire! I'm ready for days with no obligations unless I choose them. I'm ready to write more, including starting a second book having published my first last year. I'm ready to spend more time engaging in the arts which stimulate my soul. I'm ready to swim more. I'm ready to spend time doing nothing if I so choose. I'm ready to check in with my grandchildren more frequently before they find their grandma 'boring' to be with.
So in three weeks, I will retire for the second time and I will exit my extraordinary teaching job. I'll miss my colleagues, the students (who always teach me more than I teach them), and friends I have made at CCNN. Yet I will embrace the unobligated, leisure time which is part of this chapter in life. I will transition from a human 'doing' to a human being.
Included in my retirement is a move BACK to the San Francisco Bay Area in order for us to re-engage with the rich life experiences we so enjoyed when we lived there before. A blog about these two retirement moves is in the works. My husband and I both agree, this will be our last major move.
Let me say to any Boomer reading this column who is on the fence about when to retire: your touchpoint is coming. You will know when the time is right and will celebrate by saying, today's the day!
Related
Popular in the Community