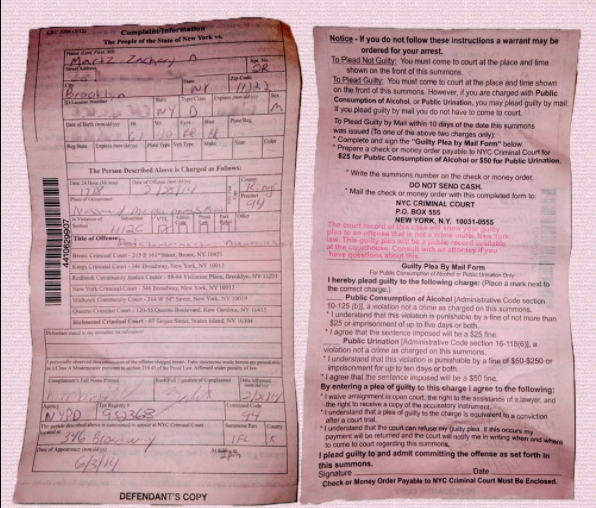 For years, New York City cops have dished out criminal summonses with such reckless abandon that local judges dismissed them and that a federal judge called them legally "lacking." In other words, they were straight up bogus.
And there were a lot of them.
Between 2007 and 2015, over 900,000 summonses were issued, mostly to people in communities of color for minor offenses like trespassing, drinking in public or disorderly conduct (the NYPD's catch-all charge for any behavior they don't like).
In 2010, lawyers filed a class action lawsuit, Stinson v City of New York, that said the police department was "selectively" summonsing in poor communities of color in order to meet police quotas, a charge that the City and that the NYPD always deny (but that active and retired cops have repeatedly spoken out against).
Earlier this year, the City settled the lawsuit and agreed to pay tens of millions to people who were given the illegal summonses.
The settlement, the second largest ever against the City, is another legal defeat for the NYPD. In 2013, a federal judge ruled against the NYPD's Stop and Frisk efforts, calling them "racial profiling." Stinson, in many ways, is the "Broken Windows" lawsuit. "Broken Windows" policing is the aggressive enforcement against so-called "quality-of-life" crimes that has been the centerpiece of the NYPD's daily harassment of poor people of color since the 1990s.
The Stinson lawsuit shows, among other things, that summonses handed out by police are not a good reform or alternative to arrests, as some lawmakers have suggested. The lawsuit shows that police can be just as racist and abusive when they hand out summonses as they are when they take out handcuffs.
If you or someone you know received a criminal summons that was dismissed between 2007 and this year (the settlement covers summonses up to 2017), you could be eligible to file a claim. You might have gotten a a letter in the mail. You can also check by phone or email but you have to hurry because TODAY IS THE LAST DAY.
Popular in the Community