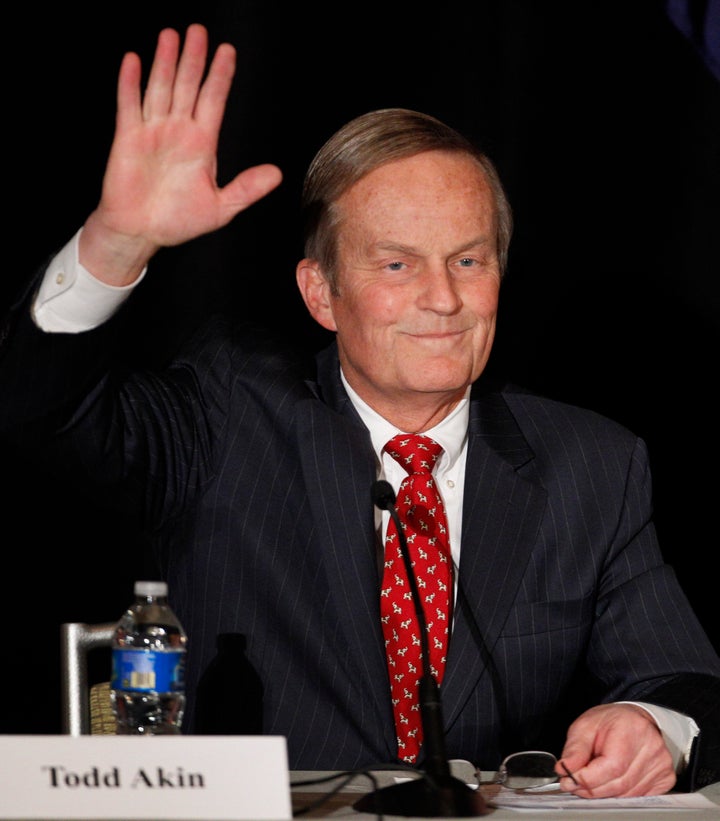 If embattled GOP Senate candidate Todd Akin was looking for support within the conservative media on Monday, he would have been very disappointed.
Akin, the Missouri Republican who caused a huge uproar with his comments about "legitimate rape," has been under intense pressure from GOP politicians to withdraw from the Senate race in his state. So far, he has refused to do so. Even though he went on Mike Huckabee's radio show to apologize and cut an ad begging forgiveness, Akin has found little quarter in right-wing media circles. With Rush Limbaugh away from the radio (presumably on vacation), the biggest voice in the conservative media has not weighed in. But there was nary an ounce of sympathy for Akin's plight from other big hitters.
Speaking to Akin on his radio show, Sean Hannity bluntly told the candidate to drop out. They mostly seemed concerned with the political implications of his decision, rather than his statements.
"If this becomes the defining issue in the campaign, and you lose this race and it impacts the top of the ticket in the state of Missouri, have you thought about the consequences of that?" he asked. Akin did not take the bait.
Elsewhere, radio host Mark Levin demanded that Akin go. "We must win the Senate, and in making his decision, Akin better put the interests of the nation above his own," he said, his voice rising. He added that, if Akin stayed in and lost, he would "never be forgiven, especially by me."
"He's got to leave," he said. "He's toxic. Nobody will touch him. Republicans aren't going to support him. He's not going to get any money. They've tossed away a seat that they could easily have won. It isn't only that it was offensive and toxic; it was unbelievably stupid. And there is enough stupidity in Congress that we don't need to add to it in this large amount. The guy's got to leave."
Of course, Akin's not getting much love from other corners of the media -- especially the corner inhabited by Piers Morgan, who showed an empty chair in the spot where Akin had just bailed on an interview with him on Monday night.
Calling all HuffPost superfans!
Sign up for membership to become a founding member and help shape HuffPost's next chapter
BEFORE YOU GO
PHOTO GALLERY
Political Reaction To Akin 'Rape' Comments