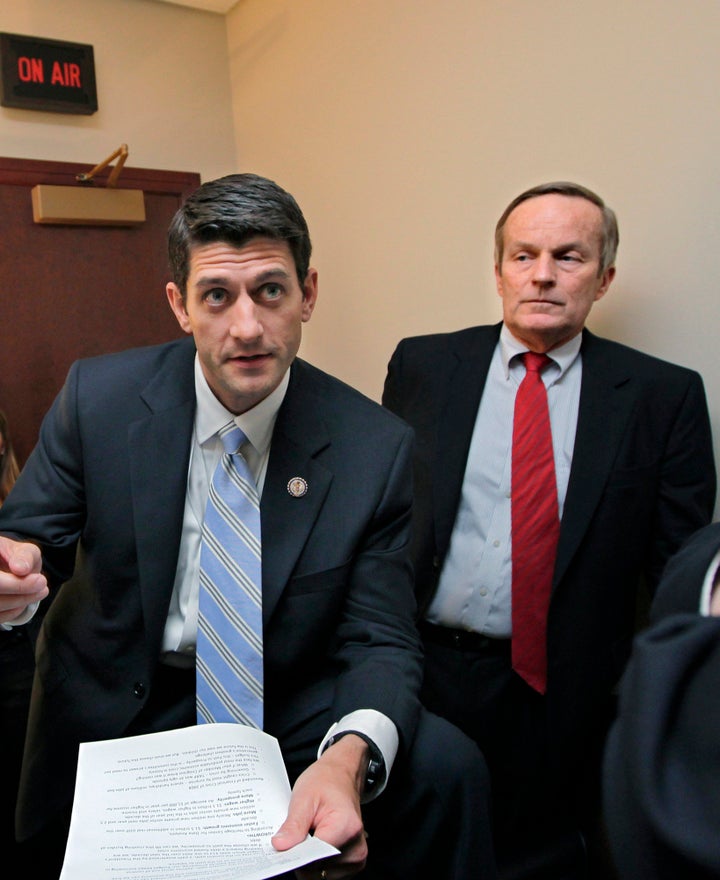 The Democratic Congressional Campaign Committee announced a new effort Monday to target 20 Republican members of Congress, including vice presidential candidate Rep. Paul Ryan (R-Wis.), for "their extreme agenda that they share with Congressman Todd Akin."
The DCCC will begin making automated phone calls to voters in the members' districts, calling Akin's recent statements "worrisome." Akin, who is running for Senate in Missouri, said last week that abortion was not required in instances of "legitimate rape" because "the female body has ways to try to shut that whole thing down."
Although several prominent Republicans came out in full force to condemn that remark, Democrats point out that many members of the GOP support Akin's belief that abortion should be illegal even in instances of rape and incest.
"By now, I'm sure you've heard Congressman Todd Akin's unbelievable comments about rape and his outrageous beliefs about women's rights," the call will say, according to text provided by the DCCC in a press release that uses Rep. Mike Coffman (R-Colo.) as an example. "You know what's even more worrisome? He's not alone."

"Republicans like your Congressman Mike Coffman share some of these radical, right-wing beliefs -- that the government should take away a woman's access to making informed decisions about her own pregnancy," the calls will continue. "It's outrageous."
The ad later gives contact information for the member of Congress' office.
The full list of members to be targeted in the calls:

Dan Lungren (R-Calif.)

Jeff Denham (R-Calif.)

Mike Coffman (R-Colo.)

Bill Young (R-Fla.)

Vern Buchanan (R-Fla.)

Robert Dold (R-Ill.)

Bobby Schilling (R-Ill.)

Roscoe Bartlett (R-Md.)

Vicky Hartzler (R-Mo.)

Charlie Bass (R-N.H.)

Joe Heck (R-Nev.)

Nan Hayworth (R-N.Y.)

Chris Gibson (R-N.Y.)

Ann Marie Buerkle (R-N.Y.)

Pat Meehan (R-Pa.)

Mike Fitzpatrick (R-Pa.)

Pete Sessions (R-Texas)

Scott Rigell (R-Va.)

Paul Ryan (R-Wis.)

Sean Duffy (R-Wis.)
Calling all HuffPost superfans!
Sign up for membership to become a founding member and help shape HuffPost's next chapter
BEFORE YOU GO
PHOTO GALLERY
Political Reaction To Akin 'Rape' Comments