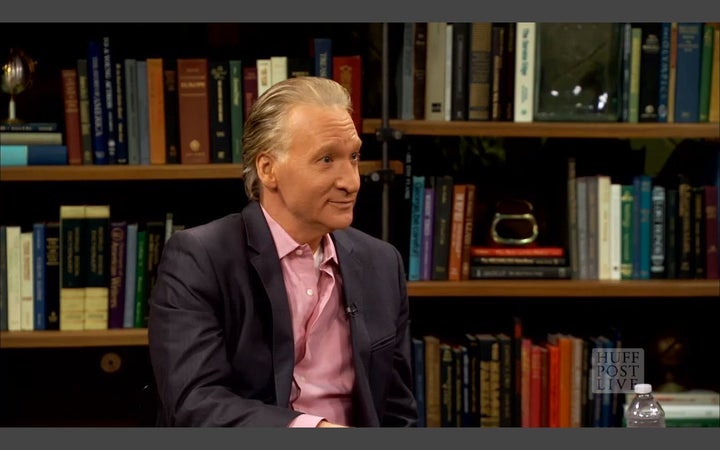 New Rule: If your entire party tries to get rid of you, and you stay in, you can't talk about how easy it is for a woman to push a stupid prick out of her body.
I don't want to waste another second thinking about Todd Akin, and his theory that you can't get pregnant unless your eggs are asking for it. Here's the only thing you need to know about Todd Akin and human anatomy: he's an asshole. What I want to talk about is how it's not a coincidence that the party of fundamentalism is also the party of fantasy. When I say religion is a mental illness, this is what I mean: it corrodes your mental faculties to the point where you can believe in tiny ninja warriors who hide in vaginas and lie in wait for bad people's sperm.
Evangelicals might like to pretend that the magical thinking that they indulge in at home doesn't affect what they do at the office, but it absolutely does. The brain that believes in angels and miracles and Jesus riding a dinosaur is trained to see the world not as it is, but as you want it to be.
Republicans would like to pretend like Congressman Akin's substitution of superstition for science is a lone problem but it's not: they're all magical thinkers, on nearly every issue. They don't get their answers on climate change from climatologists, they get them from the Book of Genesis. Hence Sharia Law in America is a dire threat, and global warming a hoax.
Or take the issue that consumes the right these days, our sea of red ink: Republicans are united in their fervent desire to reduce the deficit, but they want to do it in some magical fashion that doesn't involve raising taxes or cutting any spending. When given a choice in polls between these two options, a majority of Republicans check "none of the above" as a way to reduce the deficit. That's like deciding to pay off your student loans by daydreaming.
Or as it's known on Capitol Hill, supply-side economics. Remember that magic beans theory? That you actually bring in more revenue by bringing in less? Ronald Reagan believed it. But at least back in the '80s it was new. The thing is, we tried it, and it doesn't work. Yet, Paul Ryan, who every shit-for-brains pundit in America keeps telling us is a "serious" guy, still believes in the supply-side theory. All the Republicans do. They all believe in something that both science and history have shown to be pure fantasy. The symbol for their party shouldn't be an elephant -- it should be a unicorn.
Paul Ryan is their tough guy on spending but he doesn't want to touch defense -- that's right, a budget hawk who doesn't think there's anything bloated about the Defense Department's budget. It's like being a health inspector and finding nothing wrong with the Asian place that has the chicken hanging in the window. This is how low we've put the bar for political courage -- that you can just write, "I want a pony" in a binder and call it the "Plan For Restoring Vision For the Future of America's Greatness" or some shit, and then everyone has to refer to you as the serious one in Congress. It reminds me of health care. Republicans are for all the popular things, like covering people with pre-existing conditions, but they're not for the part where you pay for it, like the mandate. Just like they were for our recent wars, but not for paying for them. For the prescription drug bill, but not for paying for it.
How do they get away with it? They know that, because we're already such a religious country, our minds are primed for magical, fantasy thinking. The gullibility comes factory-installed. They've learned that you appeal not to an American's head, but to his gut -- it's a much bigger target. But here's the problem: life is complicated. I mean, I know we know some things for sure, like why Jesus put us here on Earth: to watch Here Comes Honey Boo Boo on a 50-inch TV screen. But what about the Chinese slaves who made the TV? What about carbon from the coal that generated the electricity? What about the Walmart where we bought it, where the workers don't have health insurance? What about racism, or the oceans turning into nail polish remover? The grown-up answer is: identify problems scientifically, prioritize and solve. The Republican answer is: there isn't a problem. And anyone who tells you different is a liar who hates America. We don't have to make hard choices. We just have to ignore the science and the math -- that's why God gave us values.
If rape babies throw a monkey wrench into the whole right-to-life pitch, just make believe rape babies don't exist. If you want to cut down on teen pregnancy, just tell curious kids with raging hormones to practice abstinence. Until they get married. Because everyone knows, that's when the fucking never stops. Health care? Not a problem if you just keep repeating, "We have the greatest health care in the world." Even though the U.N. ranks it 37th.
What's the solution to global warming? It's that it isn't real, and even if it is, big whoop, just buy an air conditioner, you pussy. Republicans also believe that putting the word "clean" next to the word "coal" creates something called clean coal. Even though there's the exact same amount of evidence for clean coal as there is for Todd Akin's mistaken baby makin' theory.
Republicans also believe if they kick all the Mexicans out of the country, the strawberries will pick themselves, and that if they cut the safety net all the poor blacks are "resting" in, they will fall gently to the ground, stand up, dust themselves off, and get good-paying jobs as Olympic gymnasts.
Next week in Tampa the Republicans must admit that the difference between a GOP convention and Comic-Con is that the people at Comic-Con have a much firmer grasp of reality.
Bill Maher is the host of HBO's Real Time with Bill Maher.
Related
Popular in the Community