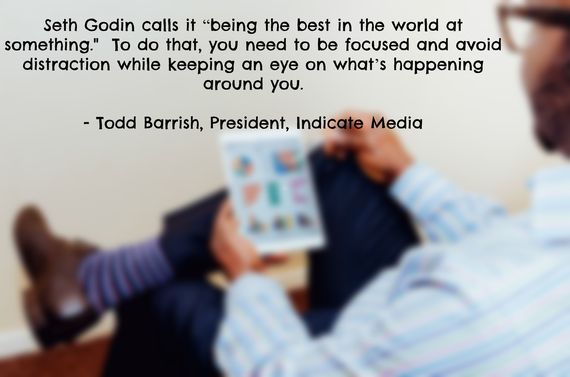 Todd Barrish is the president of Indicate Media. The company is a personalized public relations firm, which focuses on telling powerful stories to drive their clients message. But before you can become a successful entrepreneur you first need to develop the skills necessary for success.
The Internet is in part responsible for lowering the barriers to entry and in some cases removing the gatekeepers. If you want to start a life changing business, become a New York Times best selling author, or simply create a lucrative second income as a personal coach -- the opportunity is available.
Unfortunately, while the opportunities are available the work still needs to be done. And the journey needs to be undertaken by you. Furthermore, because the level of noise today, the entrepreneur needs to work harder to out hustle the other guy.
And there is only one way of doing that.
Barrish quoted Seth Godin as saying "being the best in the world at something."
I agree with Godin. Many entrepreneurs feel they need to be experts at many things. While that is a worthwhile endeavor, it's a misplaced use of your limited energy.
Bearish continues to explain, that to be the best in the world you need, "to be focused and avoid distraction while keeping an eye on what's happening around you."
While the focus is critical, the question of what to focus on is elusive. So how do you narrow your lens? Simple -- focus on those skills that will give you the most freedom in the future. Once you have identified what those skills are, you need to create a learning map and then make learning a priority.
You don't have to become an expert, but you do have to master the skills.
It does not make a difference where you are in your entrepreneurial journey. But it's your duty to stop and review where you are -- checking in on your progress and making sure that you are solving problems. You need to make the review a weekly event, which is scheduled on your calendar.
By taking this type of action, you will slowly become what Seth Godin describes as the lynchpin -- the person that is necessary to...
These are strategies that Barrish has fostered through his entrepreneurial career.
Tell me about a project that forced you to be innovative and creative?
Innovation and creativity are the bedrock of any successful public relations campaign. Clients not only expect this kind of thinking, it's also the best way to build relationships with the media and other outside influencers.
The best example of a project that forced me to be innovative and creative wasn't a specific campaign at any agency – it was actually the creation and launch of my own agency, Indicate Media. After starting the business as young entrepreneur, the secret sauce to building brand credibility from the ground up and securing new business centered on our ability to differentiate our services from others.
Innovation and creativity are two principles that have never left us over the past four years and continues to guide everything we do today.
Discuss a specific accomplishment of yours in a previous position that indicates you will thrive in this position?
The interesting part of this question is that the term 'accomplishment' is meant to portray something positive. Yet in life, as I am sure we all know, accomplishments can also take on different meanings. In a previous life, I worked for an agency where I was tasked with helping to build out their regional operations.
Through some strategic reorganization and a focus on new business, we were able, in a very short amount of time, to bring on a significant amount of businesses. By all measures that is a great accomplishment because new business is the lifeblood of any PR firm.
However, through the process, it became clear to me that new business is only one part of many things that need to go right in building a business. Employee morale, compensation structures, adequate resources, etc. also have to be in sync.
So, the accomplishment of knowing how to secure business, coupled with the life experience of understanding the multiple moving parts that make a successful business has made me a much stronger entrepreneur and prepared me to execute better in my current business.
Solving complex problems often requires a re-framing of the problem. So what is your process of re-framing the problem so it can be resolved?
Problem solving is a key attribute for all successful entrepreneurs. In fact, one could argue 'problems' are an everyday part of business. At Indicate Media, we practice a 4 pronged approach to problem solving.
Step 1: Thoroughly identify the problem and the root cause of the problem.
Step 2: Discuss solutions. This includes potentially reframing the conversation. Usually the best solution is one that you can act on quickly. There is a rule that says that "every large problem was once a small problem that could have been solved easily at that time."
Step 3: Assign responsibility of the solution. In other words, who is going to manage moving things forward.
Step 4: Set a measurement of the solution so you know when and whether the problem was solved. Success is defined by a person or organization's ability to solves problems.
By being tactical in our approach to problem solving, we are better able to deal with whatever is thrown our way.
What would you say to someone who wants to take the plunge into entrepreneurship?
Being an entrepreneur is one of the best decisions I have made in my professional life. While it is true that entrepreneurs are able to take more pleasure in the good days and feel more pain in the bad days, at the end of every day, knowing you are working towards a goal that uniquely belongs to you and your team is extremely satisfying.
My advice to those thinking of taking the entrepreneurial plunge is 'go for it'. Jump right into the water. The very worst that happens is you might have to go get a job. But the very best that can happen is endless … and that is the point.
How can entrepreneurs find success in a marketplace that always seems to change?
Over time all marketplace's change. It just so happens that today - thanks to technology innovation - it is changing at a faster rate than ever before in history.
The world of public relations is certainly no exception. The best way to find success in an ever-changing marketplace is to have a mission, be strategic in your work, work hard and pay attention to the things happening all around you.
Seth Godin calls it "being the best in the world at something." To do that, you need to be focused and avoid distraction while keeping an eye on what's happening around you.
Fights are healthy, how you get through them is another the question. How do you deal with conflict? Compromise?
At Indicate Media, we encourage everyone to say what's on their mind. It's the only way to identify problems and mismatches in thinking and allows us to push past them.
We work hard to set the tone for everyone that starts from a place of respect. If you start from a place of respect and mutual admiration for your co-workers, then when conflict arises, even though sometimes it can include passionate discussions, everyone in the end is able to move past it.
Business is and isn't personal. It just depends on which side of the table you are sitting at any given time. In any organization, on any given day, decisions need to be made. The best scenario is when those decisions are made on compromise and respect for the other side of the argument.
Reader Question: As an entrepreneur what strategies do you have in place that will help you learn those skills that will give you more freedom in the future? Share your answers on Twitter.
REAL LIFE. REAL NEWS. REAL VOICES.
Help us tell more of the stories that matter from voices that too often remain unheard.