"Instead of serving their home towns, they served only themselves at the expense of everyone else," Schuette said in a statement. "With the filing of these charges, it is my hope that citizens of Michigan see that no one is above the law, not even those who walk in the halls of power; that no one is beyond the reach of the law, not even those who make the laws and when laws are broken, that justice can and will be delivered."
Schuette accused Gamrat and Courser of engaging "in a pattern of corrupt conduct." They are both accused of lying to the House of Representatives Business Office during an official investigation.
The criminal charges stem from a bizarre scandal, first exposed in August when the Detroit News published audio of Courser talking about his extramarital affair with Gamrat. In the recording, he instructs an aide, who secretly taped the conversation, to send an anonymous mass email accusing Courser of paying a man for sex: the fake story was intended to distract from the actual affair.
The staffer, Ben Graham, said he refused to send the email and was later fired.
Josh Cline, another former staffer, said his bosses created a hostile work environment and ignored his requests that they behave more professionally. He claimed the lawmakers would often embrace, skip meetings, go on long walks together and that Gamrat would "tuck in" Courser when he napped in her office.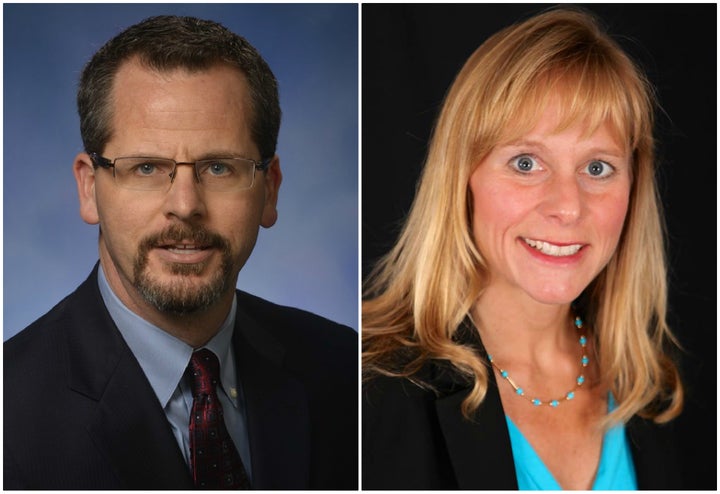 Gamrat apologized for her behavior but said she believed an "open and honest" investigation would vindicate her. She said she was not aware of the email Courser planned to send.
Only Courser was charged with misconduct for allegedly soliciting a state employee to send a false email to the public.
The criminal charges underscore the need to hold elected officials accountable, state House Minority Leader Tim Greimel (D-Auburn Hills) said in a statement Friday. He called for the Freedom of Information Act to be extended to include the legislature and governor's office, "so that we can finally eliminate Lansing's culture of corruption."
Courser's perjury charge carries a maximum sentence of 15 years in prison; the misconduct charges each come with a 5-year maximum. Arrest warrants have been issued for the former lawmakers.
Courser blasted the charges as ridiculous in a statement on Saturday.
"These baseless criminal charges are political in nature and have come at a time to take heat off the misconduct of others," Courser said in a statement posted on Facebook. "After months and months of investigation, spending tens of thousands of your dollars, and claiming that Todd Courser misused taxpayer funds, Attorney General Schuette has charged him with a nonsensical claim of perjury and three counts of misconduct under a rarely used and vague 'catchall' statute."
UPDATE: This piece has been updated to include Courser's statement.
Popular in the Community