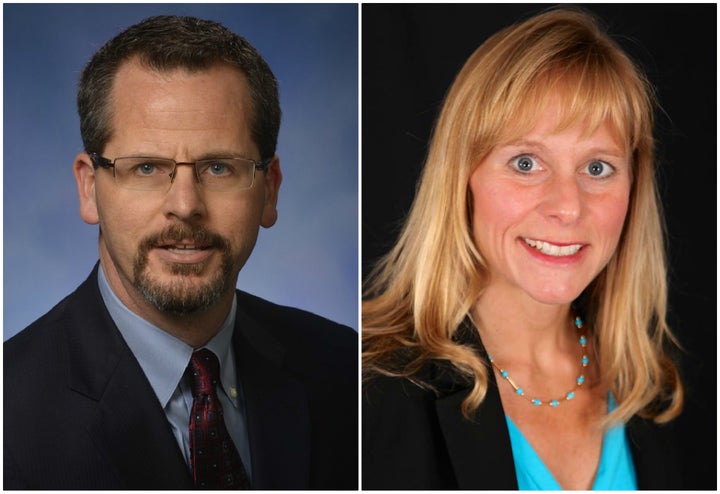 A Michigan lawmaker is claiming that he was blackmailed in a "clandestine operation to control public officials" after local media revealed his attempt to conceal an affair with another lawmaker last week.
The Detroit News reported on Friday that state Reps. Todd Courser and Cindy Gamrat, both tea party-backed Republicans, were having an affair, and were making a bizarre attempt to cover it up.
Both lawmakers, who are each married with children, are now being investigated for violating House rules and misusing state resources. 
On May 19, Courser allegedly instructed his former aide, Ben Graham, to email other Republicans with an anonymous accusation that Courser was paying for sex with a man behind a nightclub. The lawmaker indicated that he hoped the false story would minimize the blowback if news of his affair later spread. Graham, who secretly recorded his conversation with Courser, refused to send the email.
While Gamrat has yet to address the affair or its aftermath, Courser wrote a short Facebook post on Sunday and posted a 27-minute audio statement on his website on Monday apologizing to the public. In it, he acknowledged that it had been a bad decision to send the emails, which called him a "bi-sexual porn addicted deviant" and Gamrat a "tramp."
Courser also suggested that his office might be bugged and said a "blackmailing ring" had sent anonymous texts that threatened to expose him, leaving him no choice but to act. The lawmaker said he had the email sent because he wanted to rattle the blackmailers. He also accused Graham of being one of the blackmailers, though Graham and other former staffers have denied involvement to MLive. 
"I feel it is absolutely, absolutely essential for the cause of liberty to have these clandestine operations to control public officials exposed," Courser said. "Nothing prepared me for the caustic nature of the Lansing mafia … In Lansing, you either go along and play along, or they set up to destroy you by doing what they can to malign, smear and undermine you -- in essence, get rid of you." 
Courser has been at odds with many members of his party since starting his term this year. He claimed in his personal statement that he was targeted because of the fact that he didn't let the "establishment machine" sway his beliefs or votes.  
Courser's allegations of wiretapping and blackmail, coupled with Courser and Gamrat's possible misuse of taxpayer money, require an independent investigation by state Attorney General Bill Schuette, House Democratic Leader Tim Greimel said in a statement urging Schuette to take action. 
Courser and Gamrat's computers and records were seized over the weekend as part of the House Business Office's review, House Speaker Kevin Cotter (R) told The Detroit News on Monday. 
Cotter is currently handling the investigation into the lawmakers' misconduct, but the attorney general could also choose to get involved, reported the Detroit Free Press.  
Courser said in his audio statement he does not plan to resign.
"That was pushed on me from many directions … and yet I felt no calling from God to move that way," he said.
CLARIFICATION: References to state Rep. Todd Courser as a "congressman" have been removed.
PHOTO GALLERY
Politicians Mess Up Science
REAL LIFE. REAL NEWS. REAL VOICES.
Help us tell more of the stories that matter from voices that too often remain unheard.