With a new photography book in the works, Pilsen artist Todd Diederich is already aiming high -- but don't think he's stopping there, and don't think he's limiting himself to being deemed solely a "photographer."
Comprised of 70 pages and crafted entirely in Illinois with the help of Diederich's pals at LATITUDE lab and The Perch, the book -- titled "Luminous Flux" -- builds off the artist's work as showcased on his blog BE (T)ODD DIE (DE)RICH and in various publications local and otherwise in offering a glimpse into the lives of everyday Chicagoans at some of their most raw and beautiful moments.
No, this isn't your typical street photography. But what about that would be interesting?
In order to help get "Luminous Flux" off the ground -- or, essentially, to pre-sell it, Diederich launched a Kickstarter page offering three version of the forthcoming book among its rewards: a softcover version in exchange for a donation of $35, a limited-edition hardcover version for $125 or a deluxe hardcover model in a clamshell case for $225. Donations of $75, too, come with an exclusive DVD of the artist's film work.
HuffPost: Based on your blog and published work -- at the Reader, Vice, Oyster magazine and elsewhere -- you have been quite prolific as of late. What inspired you to publish this book at this time? How long has it been in the works?
Todd Diederich: I guess it's been in my mind forever, but I don't think I've fully felt like I was there with my work to present myself to the world like this before. Prior to that, I just feel like I'm a kid from Chicago who's not willing to move to New York or Los Angeles to make money, so no one's going to point a finger at me, deem me important and tell me they'll publish my work. I started my blog to be my own way of production and Internet, too, is kind of interesting in being able to produce work but not have a physical copy. I'm such a fan of zines and all that stuff that I felt like I was ready. I felt like my life experiences were valid and real, I understood them and I'm ready to put all that into a box, put a bow on it and move on.
HP: Tell me about how you first started getting into photography, as a kid?
TD: As a really young kid, I was obsessed with the flash. I would just walk around with it and shoot it at things, but for some reason I was too young to really see it as much of a sign or a message. But my freshman year of high school, I somehow didn't sign up for all my classes and they called me the day before school saying I had one more class hour to fill. I picked photography and sucked really bad. I got like a "C" and was really frustrated with it. But by senior year, I loved it so much. My mom was calling me in sick to school and I would actually go to school and stay in the dark room, ditching school but not, just to do photo work all day. That's when it occurred to me that I loved doing it.
HP: It seems like a lot of Chicago artists struggle with the decision to either stay in town or move onto possibly "bigger and brighter" things on the coasts. What keeps you here and continues to inspire you, as an artist, about your surroundings here?
TD: I question that all the time and one conclusion I feel like I arrived at was that I love the same things I hate about this town. The things I hate about this town have shaped the way I see and feel and has made me that much sharper, like having a rotten police force. I was charged with an armed robbery case I never even did -- I wasn't even there -- so, the education the CPD put me through at the age of 16 has been a valuable resource for me from that point on. I almost can't imagine not living through that.
I'm inspired by the organization of Chicago. It's a big city that has sidewalks that are fairly clean and has this kind of natural functioning that I'd call a cosmology, a Greek word for order. There's a balancing and functioning spirit of people just trying to do it for themselves and for Chicago. I've never lived in a place where so many people love the place they live and that radiates. I know we have our problems, but to be more exact, I like the block parties. I feel like that's something that doesn't happen enough in this world. The open fire hydrants, the ice cream trucks, the lakefront and being a flat city with so many bicycle riders. I just love it and there's so much for me to do. I have to stop or I'll start getting cheesy.
I believe in it here. I believe in the people, I believe in the space, I believe in the lake. People from Chicago constantly change the whole world and I think it's an important hidden energy point in our hologram of reality that actually creates and manifests more in reality than the world is recognizing.
Interview continues below the slideshow.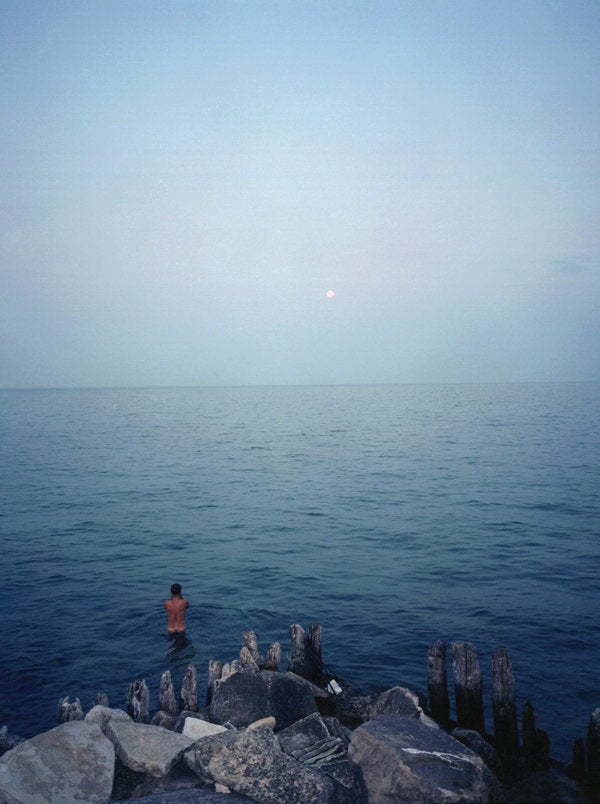 Todd Diederich's Work
HP: How many of the images in "Luminous Flux" were taken in Chicago versus elsewhere?
TD: Probably like 85 or 90 percent. It literally would have been all Chicago were it not for a last-minute trip to Los Angeles when I photographed in Las Vegas and LA. The book is about Chicago, but a lot of it is taken out of context. That's my story. When you look at the work of people like Garry Winogrand or Robert Frank, some of the great street photographers, you're looking at their personal magic, I feel. I'm just trying to be kind of a channel to show the truth in the locations and who the people are -- and that ends up being beautiful.
HP: You're turning to Kickstarter to help fund the creation of this book and it looks like it's going well -- you've almost met your goal!
TD: Originally with the Kickstarter, I had this dream -- that's not on the Kickstarter page because I felt like it was so grandiose that I'd start losing people -- to really revolutionize books and I'm still working on that aim. I've started making books that glow and have light covers that also have self-sustaining battery sources. While the book sits on the shelf, it can harness the sun's energy to power itself and also could have an adapter you could plug a cell phone into. My real idea was that books can be batteries.
TD: I foresee greenhouse libraries using the books with solar power bindings that harvest energy and send that energy back out to big batteries for the community's energy use. That was the main goal behind the scenes. I love photography but I'm not a photographer by any means. I don't want to be labeled as that. It's just one of my crafts, one of the things I do. This is a way to kind of represent that and maybe slowly move onto other realms of creating and inventing.
If you have a Chicago-based Kickstarter or IndieGoGo project that you'd like to see featured in "Can They Kick It?"? Get in touch at chicago@huffingtonpost.com.
Popular in the Community