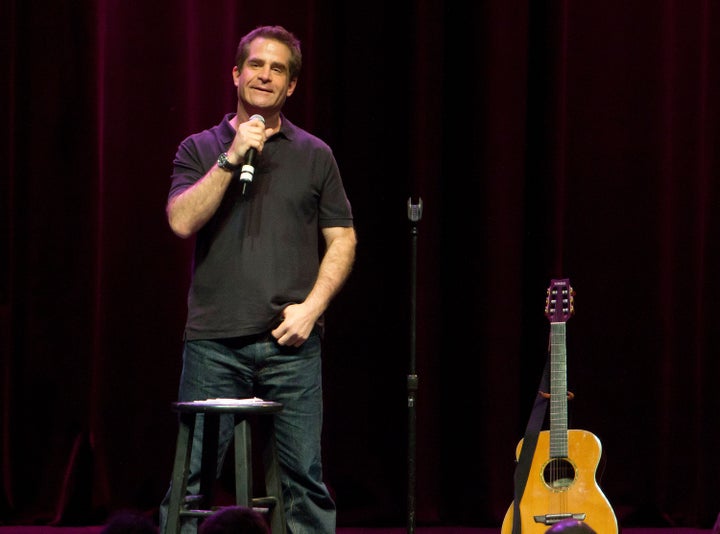 Glass, 47, hosts the podcast "The Todd Glass Show" on the Nerdist network and boasts a bevy of TV credits (including recent appearances on "Louie") as well as the 2009 stand-up album "Thin Pig" on Comedy Central Records. He had previously appeared on an early episode of the popular "WTF" podcast, also in 2009, to discuss his life in comedy. But he recently approached Maron again to ask to use his show to reveal that he had not been totally honest about his sexual orientation outside of a few close friends, and felt a social responsibility to use his profile as an example.
"I cannot listen to stories about kids killing themselves any longer without thinking [to myself], 'When are you going to have a little blood on your shirt for not being honest about who you are?'" said Glass with clear emotion in his voice.
WATCH: Todd Glass takes down a heckler in 2008.
Glass and Maron discussed what it was like for Glass to live largely denying that he is gay, even to friends in the comedy world who had known him for years. He also addressed the larger issues of gay rights in America, even disagreeing with a comedy legend's assessment of the often-made comparison between gay rights and African-American rights.
"This came from a very intelligent person, and a comedian I really admire. Dave Chappelle said once, 'I don't know why gay people compare themselves to black people,'" Glass recounted, citing and rejecting Chappelle's argument that "You can hide [that] you're gay, but you can't hide that you're black."
"Empathy is not a competition," Glass said. "If it is, then I would say, [gay people have] had it harder. If we're having a competition, I would say, but how about in the area that you're not afraid that your parents will hate you? Or your friends will hate you?" Ultimately, Glass and Maron agreed that all people deserve equal rights, and that comparing one group's plight to another's is wrongheaded.
According to Glass, who said he has been in a non-public relationship for 15 years, the only enemy is the confidence that homosexuals are not living their life correctly.
"I always say, if you are homophobic, you better be positive you're right. Because is it going to blow [that] all these kids are killing themselves, and ... that in 20 years ... you get to write a book about how wrong you were. They're dead. So why don't you have a soul-searching moment now? Go into your house, shut the door, and make sure you're positive that you're making kids feel like crap for no good goddamn reason."
He was also "mortified" by some GOP presidential hopefuls, such as Rick Santorum and Rick Perry, who have made gay rights an issue in their quest for the Republican nomination.
"We're going to live to see where they're embarrassed about what they're saying. It's not going to happen in 50 years. In 10 years, they're going to have to show their grandchildren that, and look like fools. It's going to be mortifying!"
Support HuffPost
The Stakes Have Never Been Higher
Related
Popular in the Community