An expectant mom and dad in Nanaimo, British Columbia, are proving that childbirth can be a very alienating experience.
Nicole Cameron is due to give birth to her first child with her husband, Todd, on Wednesday.
Like many couples, the Camerons posed for a maternity photo before the birth. However, their version was inspired by the chestburster scene from the 1979 sci-fi classic "Alien," according to The Columbia Valley Pioneer.
"We brought some blood, splattered ourselves and basically just had a good time out there," Todd Cameron told the newspaper. "We just put it together to make our friends and family chuckle."
Todd said the idea for the photo shoot came up when Nicole was dealing with the body changes that come with pregnancy.
"Over the summer Nicole had been talking about this baby inside her, and how it was so weird to see it moving and she could feel its elbows and feet, hands moving all around her," he told The Canadian Press. "It felt like an alien entity inside of her and I kind of put two and two together."
In August, Todd struck pay dirt when he found a silicone model of the baby xenomorph at a local garage sale.
That's when he decided to ask Nicole if she'd like to do a nontraditional maternity shoot. It wasn't much of a stretch, since when they met on Halloween some years ago, she was dressed as a zombie with blood oozing out of her neck and face.
"She was in character so she wasn't talking," Todd told The Canadian Press. "I was just blown away."
The Camerons enlisted the help of photographer Li Carter, who said the Halloween-themed photo shoot was exactly what she would expect from the couple.
"I would say it's very Todd, it's very Nicole. They're very passionate for Halloween but also for costuming, crafting," she told CTV News.
Carter did say the chestburster is "super ugly," but she figures the Camerons don't mind.
"I'm sure they love him as he is and accept him as he is," she chuckled.
The photos have been shared more than 300,000 times on Facebook since Oct. 9. The reaction was so positive that the family has given their alien offspring his own Instagram page, BurstonOutCameron.
Todd Cameron is happy with the reaction, but says his wife deserves the majority of the credit.
"I have to give Nicole a lot of props being eight and a half months pregnant with me splattering fake blood on her while it's raining," he told Today.com. "She gritted her teeth to do what she had to do."
As for the actual baby they are expecting later this week, Todd is hedging his bets.
"We're not sure whether it's a boy or a girl but we're just hoping that it's human," he told the Pioneer.
Support HuffPost
The Stakes Have Never Been Higher
Related
Before You Go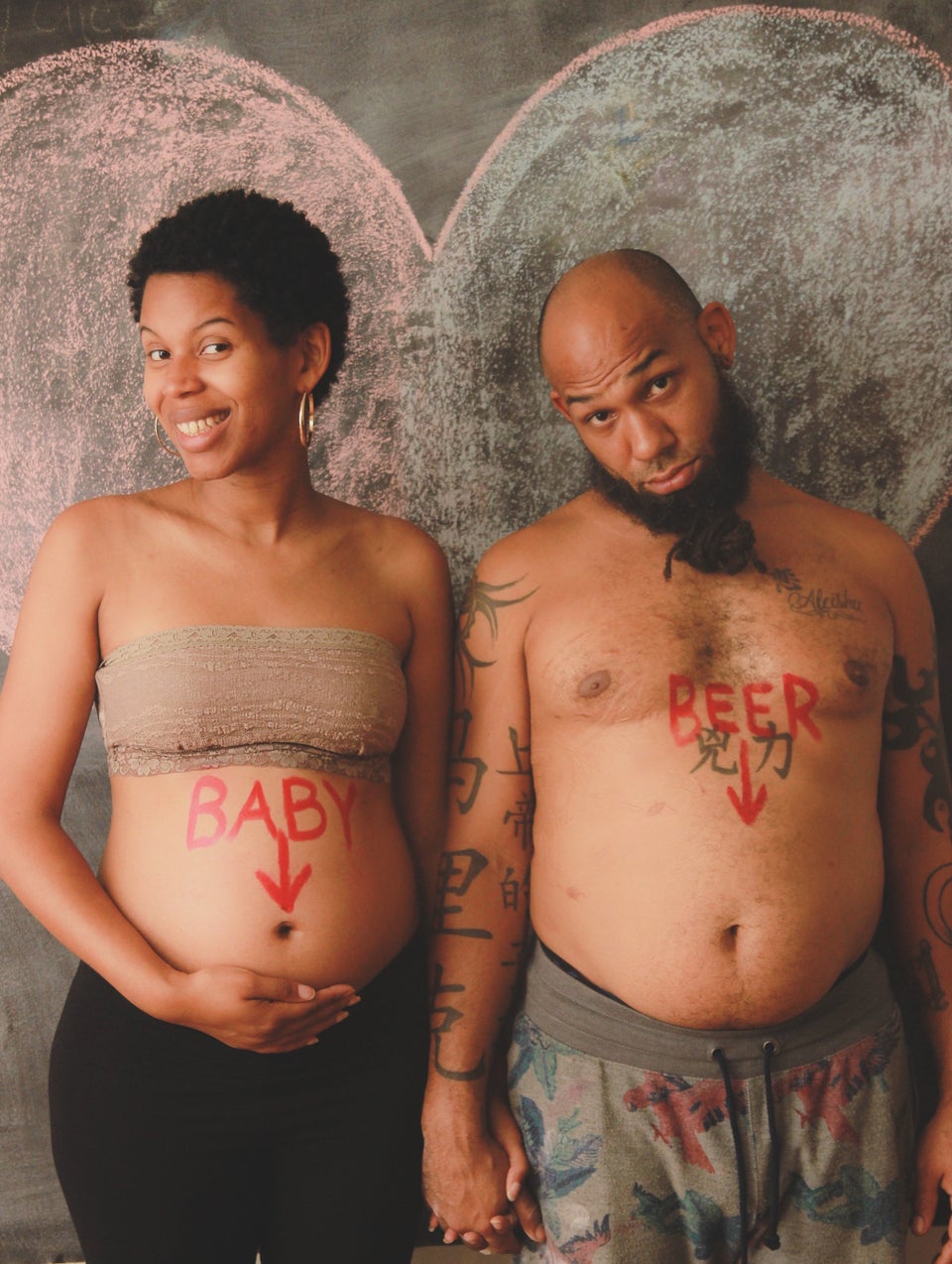 Parents-To-Be Pose For Hilarious Maternity Photo Shoot
Popular in the Community