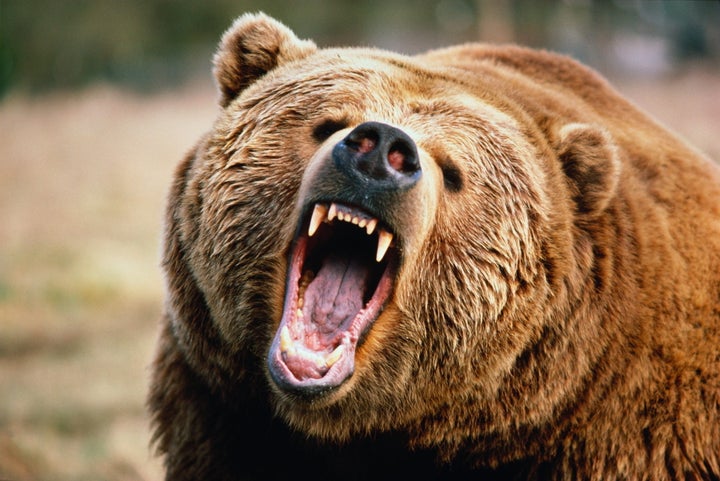 Todd Orr's story isn't for the faint of heart.
The 50-year-old was enjoying a solo hike Saturday near Ennis, Montana, when he was attacked by a grizzly bear.
Bitten and bleeding, Orr managed to start back down the trail toward his truck ― only to be attacked again by the same bear a few minutes later.
The encounter left him mangled and drenched in blood, but alive.
"Legs are good, internal organs are good, eyes are good," Orr says in a graphic 50-second video that he filmed just after the second attack. "I just walked out three miles and now I've got to go to the hospital."
In a lengthy Facebook post Sunday, Orr described the previous day's attacks.
"Knowing that bears are common throughout southwest Montana, I hollered out 'hey bear' about every 30 seconds so as to not surprise any bears along the trail," he wrote.
When he stumbled upon the grizzly and her two cubs, he gave the same call, but the grizzly charged him anyway. She blew clean through his cloud of bear spray, he said, and knocked him to the ground. Orr lay facedown and protectively wrapped his arms around the back of his neck.
"She was on top of me biting my arms, shoulders and backpack. The force of each bite was like a sledge hammer with teeth," he wrote. "She would stop for a few seconds and then bite again. Over and over. After a couple minutes, but what seemed an eternity, she disappeared."
Orr started making his way back down the trail. He didn't want to stop to examine his wounds until he was sure he was safe, he said.
The following video contains graphic imagery that may be upsetting to some readers.
After a few minutes, he said, he heard the grizzly behind him once more. To his horror, the bear once again pounced.
"I couldn't believe this was happening a second time! Why me?" he wrote. "I was so lucky the first attack, but now I questioned if I would survive the second."
"She slammed down on top of me and bit my shoulder and arms again. One bite on my forearm went through to the bone and I heard a crunch," he wrote. "I didn't move. I thought this was the end."
"She suddenly stopped and just stood on top of me," he continued. "I will never [forget] that brief moment. Dead silence except for the sound of her heavy breathing and sniffing."
Orr said he lay like this until the bear finally stepped off him and disappeared into the woods once more.
When Orr finally made it back to his truck, he filmed a short video describing his wounds. Then he drove himself to Madison Valley Medical Center in Ennis.
"It's like being struck by lightning twice in the same day; you don't get attacked by the same bear in one day," Thompson told the Billings Gazette.
"I think he did an excellent job under the circumstances, but he ran into a bear who wasn't happy with his presence — and he lived to tell about it," he said. "I think he should go out and buy a lottery ticket now."
In all, Orr said he sustained a chipped bone in his forearm, a five-inch gash along the side of his head and numerous tears, punctures and bruises, including some "in the shape of claws."
"Not my best day, but I'm alive," he wrote.
Related
Popular in the Community