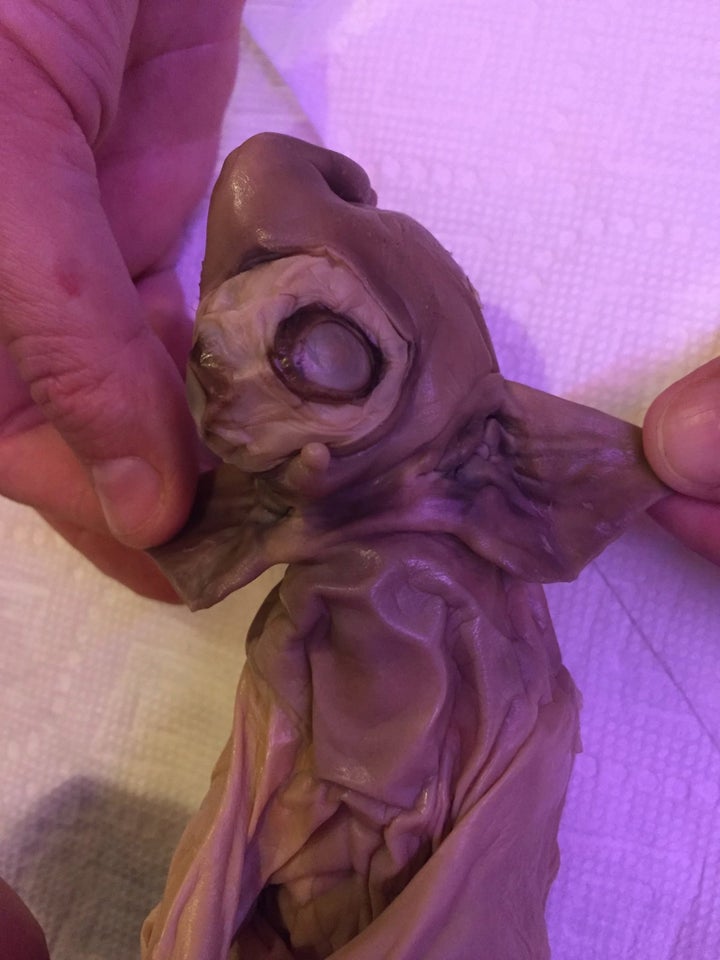 Todd Ray, the owner of the Venice Beach Freakshow, says the animal is so bizarre that he's not giving it a name like he usually does.
"I don't want to call it an alien, but it's definitely alien in form. It's about a foot long and has gill-like ear things below the head. It's got weird eyes and something out of its mouth that looks like a fleshy fang," Ray told HuffPost.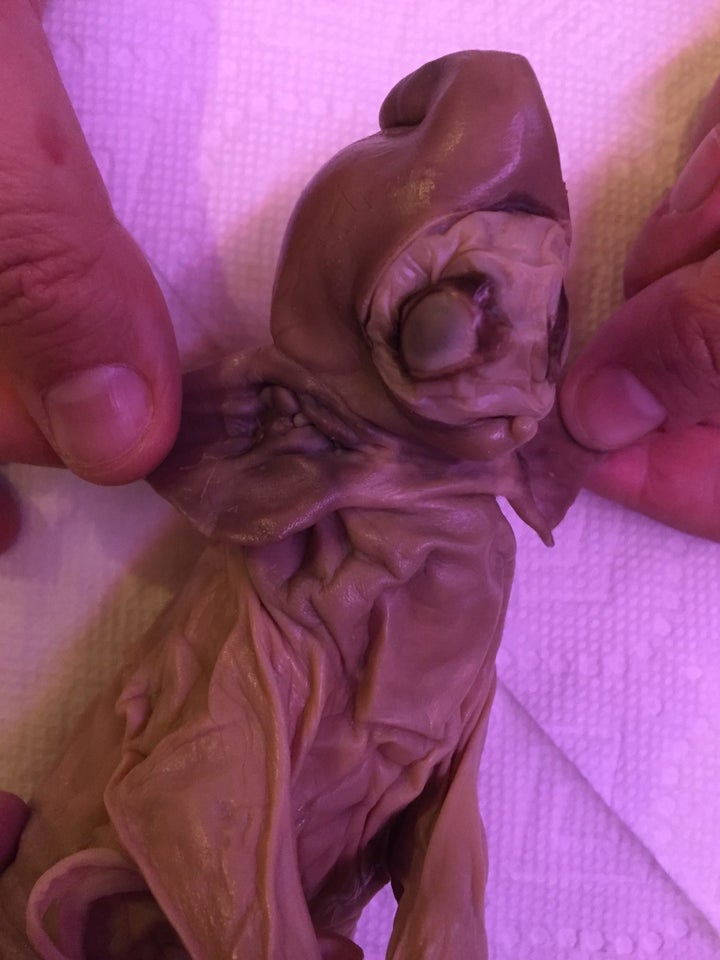 The circumstances over how Ray came into possession of this bizarre creature are almost as mysterious as the animal itself.
"I got a call from a guy in Arizona who said he found the dead creature in his yard," Ray said. "I get calls like this a lot."
Ray said he'd take a look at the creature, figuring the man would send a photo. Instead, the man sent him the actual animal soaking in rubbing alcohol.
Ray says he has tried to contact the man to find out more details, but he can't seem to find any contact info on the box it was sent in.
"If he reads this, I hope he contacts me," Ray said. 
The Huffington Post has contacted various animal experts for clues.
"It could certainly be an aborted/malformed fetus of any number of species but it appears to be an amalgam of different tissues," Cristina Simmons of the San Diego Zoo said by email.
"I can't help but notice that the tissue in the head appears to be embedded in the large "piece" around it (and does not match in consistency or color), eyes and body do not appear to be from the same source as the facial tissue."
PHOTO GALLERY
Todd Ray's Two-headed Animals
The Huffington Post also reached out to the Arizona Game and Fish Department, where the creature was supposedly found.
There was no consensus, other than the creature is mammalian. Theories ranged from a squirrel, to a deformed pig fetus to "a fetal bear still in the amniotic sac."
Department official Larisa E. Harding told HuffPost there was one unanimous conclusion: "You realize now he has to DNA test it just so we all get an answer! I'd like to see the whole carcass too!"
Ray is willing to get a DNA test. Regardless of the results, he says the reaction to the creature is proof there is always something strange under the sun.
Calling all HuffPost superfans!
Sign up for membership to become a founding member and help shape HuffPost's next chapter