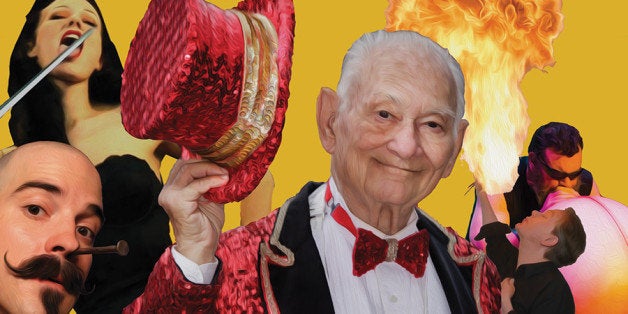 Seventy years ago, a 14-year-old boy ran off and joined the circus -- and the fun has yet to end.
Back then, Adolf Hitler had a grip on Europe, and gadget known as "television" was just starting to catch on.
It's amazing that anyone could be working the same job for so many years, and it's especially odd that this distinction belongs to Ward Hall, otherwise known as "King of the Sideshow."
The 84-year-old ringmaster flies to New York City today to celebrate his crazy life, working in circuses and sideshows across the country, sharing the stage with such acts as Percilla the Monkey Girl, Slitzy the Pinhead, men who lift bowling balls with their nipples, women who impale themselves, fire-walkers, glass-eaters and others who happily define themselves as "freaks."
These misfits not only found gainful employment with Ward, they found a way of life, an extended family where having a third leg or a conjoined twin didn't seem all that strange.
As Tim O'Brien documents in his new biography, "Ward Hall -- King Of The Sideshow," the Monkey Girl married Emmitt the Alligator Man, and they lived happily among carnies and sideshow stars in Gibtown, Florida, where Ward and his companion, Chris Christ, found a home.
HuffPost Weird News is hosting this event, in coordination with the Morbid Anatomy Museum, CoEd.com, Hendrick's Gin, Bulleit Bourbon, Narragansett Beer and Hobnob Wines. The performances are free, and all you need to come in is to say, "Sideshow" at the door.
But how do you salute America's oldest oddball? Tim Robbins got the celebration started two weeks ago when he toasted Ward with a fine Riesling and proceeded to eat the wine glass.
And if you're coming to the event, tweet your photos with #sideshowking
Calling all HuffPost superfans!
Sign up for membership to become a founding member and help shape HuffPost's next chapter
BEFORE YOU GO
PHOTO GALLERY
Ward Hall: King Of The Sideshows