At first glance, you might think he's out of his gourd. But one Massachusetts farmer says he had good reason for paddling an award-winning 817-pound pumpkin down the Taunton River earlier this month.
Attempting to set a Guinness World Record, Todd Sandstrum piloted the carved-out husk of the pumpkin seven miles down the river, from Raynham, Massachusetts, to Taunton, on Sept. 5.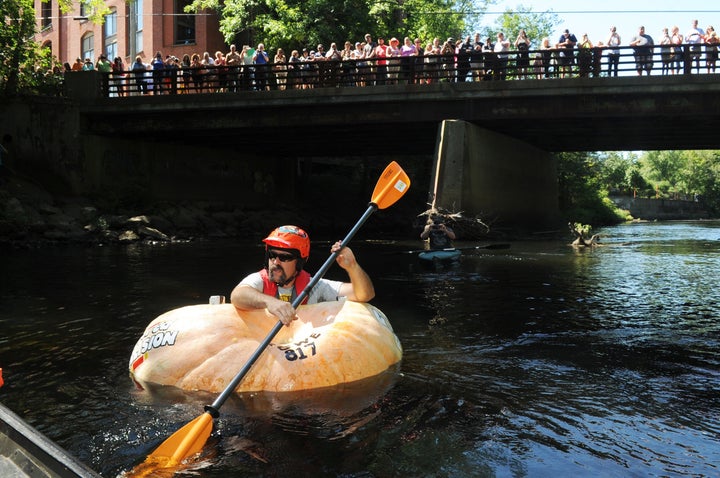 "If this made one kid want to get in the dirt, it was all worth it," Sandstrum, 42, told the paper. "It's about getting kids in the dirt and getting people to buy local and support local agriculture."
Sandstrum runs the annual South Shore Great Pumpkin Challenge, in which participating schools plant and take care of a giant pumpkin. The squash that became his vessel was the winner of a local weigh-off competition, donated by Brett Rowe of Plymouth, according to WCVB.
In 2013, a British man sailed to the Isle of Wight in a hollowed-out pumpkin that was equipped with an outboard motor. He claimed to have set a record for paddling the unlikely watercraft 100 meters in under three minutes, according to the BBC.
Sandstrum's journey wasn't easy going. Low water levels hampered his progress for the first half of the journey. After traveling about 3.5 miles, he got out of the improvised kayak and towed it from a boat the rest of the way.
"I'm still in awe of the amount of pain that I pushed through to get it done," Sandstrum told The Enterprise.
He thinks he may have set a Guinness World Record. Kristen Ott, a spokeswoman for Guinness World Records, told The Huffington Post on Tuesday that there was no standing record for "longest journey by pumpkin boat (paddling)," but that the minimum distance to qualify is five kilometers, or about 3.10 miles.
That means Sandstrum's 3.5-mile paddle-battle should be enough to qualify, although his attempt is still being evaluated by Guinness.
"He does have an application submitted, but we are still awaiting evidence for review," Ott said.
Popular in the Community