Recently composer/performer, Todd Schroeder was named BroadwayWorld.com's "Musical Director of the Year," and it's no wonder why. He has performed at Carnegie Hall, the White House, with the Boston Pops and the Mormon Tabernacle Choir and on The Oprah Winfrey Show and this weekend New Yorkers are in for a treat as he brings his fine musical touch to Sam Harris' fabulous one man musical, Ham.
I first caught Schroeder onstage at singer Joan Ryan's show last year at Los Angeles' Catalina Club, and then again last fall when Harris brought Ham to Hollywood. His work is stellar and his heart is committed to nurturing young talent as evidenced by the annual Young Artist Grant scholarship he created back in 1995 presented to graduating seniors from Sonora High School in Sonora, California who wish to pursue a career in the arts.
Todd Schroeder (Photo Courtesy of The P.R. Grapevine):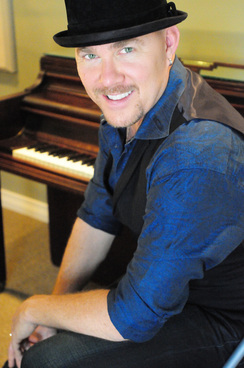 I was grateful to have a moment to ask Todd Schroeder about the great talent with whom he has collaborated over the years.
Xaque Gruber: I want to talk to you about some of the singers you've worked with in your career. Let's start with Sam Harris. Tell me about the evolution of his show Ham and how you came to be a part of it.
Todd Schroeder: I'm so delighted that the show resonated with you. Sam and I have been performing together for many years. Last year when we performed at the Los Angeles LGBT Center, the timing coincided with the release of his book, Ham. The show was part of a book tour we termed a "liter-usical." Suzi Dietz, a Broadway producer, was in the audience and subsequently approached Sam after the show with the idea for turning the book reading into a full-fledged theatrical production. After we finished the book tour, we quickly shifted our focus to stage the stories and they brought in Tony Award winner Billy Porter (Kinky Boots) to direct. I was particularly excited to work on this project because besides musical directing and accompanying Sam, I also act during key moments throughout the show. I portray Sam's father, his baseball coach and a few other voices in Sam's head.
XG: You worked with Tom Jones - tell me about that experience.
TS: I met Sir Tom Jones through a mutual friend and we starting performing together about two years ago. When Tom isn't with his full live touring band from England, I'm brought in to perform with him at private events. Besides singing his hits, he loves to sing the old classics. His knowledge of music and his repertoire are so vast. And he has some great stories, as I'm sure you can imagine, that he often shares with his audiences. I believe what has given Tom his career longevity is his passion for singing. Tom sings with a need and a commitment to every word, every note. And believe me, he continues to sing his hits in the original keys. This ongoing passion is the most important lesson I learned from him. His international superstar status happened around his passion for the music, but appears never to have superseded the passion.
XG: I loved Nell Carter, and you worked with her --
TS: I had the honor of musical directing for Nell Carter for what would be the last five years of her short life. She was probably the most amazing performer I have ever witnessed. Her ability to engage every single person in the audience was spectacular. My greatest lesson from Nell would have to be her perseverence in the face of adversity. She had knee problems and it pained her to climb stairs. But when she would hit the stage, her back would straighten up, her knees became strong and for 90 minutes she would strut all over the stage, owning each step with confidence. Then when the show was over, as she walked back down the stage, her knees would begin to hurt again. She was born for the stage.
XG: Rita Coolidge - I have been obsessed with her and her voice since I was a teenager. Please talk to me about working with her --
TS: Rita Coolidge is one of the loveliest human beings on the planet, and with a voice from the angels. She was one of the first I ever musical directed for. I remember the first time we rehearsed We're All Alone- she sounded just like the recording I heard growing up. My favorite memory was one night after a show, we went back to her place and her sister Priscilla was there, as well as Mary Wilson from the Supremes. At one point, we all sat around the piano and I was vocal directing them in harmonies to the song Love Letters. That is one of many once-in-a-lifetime moments I have had with globally recognized performers, and the lesson I have learned is to always savor those moments and never take them for granted.
XG: I have met Jason Alexander and I completely love him. He is brilliant.
TS: Jason Alexander is an immensely talented performer. Many people don¹t know that before he played George Constanza on Seinfeld, he appeared on Broadway and even won a Tony Award for Best Leading Actor in a Musical. He can sing, he can dance, he can write. We have performed together for many years and most recently appeared together with the Boston Pops. Jason is also very giving of his time to benefit non-profit charity causes, and we have had many opportunities to work together on those events. In fact, we will be working together for A Night at Sardi's to benefit the Alzheimer's Association next month in Los Angeles. We are currently creating a new storytelling show that we will be touring later this year. One of my favorite times shared with Jason happened when we were in Las Vegas doing a show. During some free time, we decided to do some gambling. The dealer looked at him and said, "You know, you look a lot like a very famous actor." Jason replied, "I hear that all the time. I don't see it." Jason's humility is very real, and my observations of how he navigates celebrity have provided me with many important insights and lessons.
XG: You have worked with one of entertainment's greatest treasures, Angela Lansbury.
TS: I remember the first time I worked with her as if it were last week. Angela and I clicked from the moment we started working together. She asked me to help her prepare for her TV musical, Mrs. Santa Claus. I went to her place to work, and there she sat at the piano with Jerry Herman. I was in awe. They were Broadway royalty, and I was there to collaborate with them. She has taught me so much about acting and storytelling. And at age 89, she is still out there performing with vigor and enthusiasm. I asked her back stage at Blythe Spirit in L.A. why she is still doing it and her reply was,"They are still asking me to." The inspiration in that statement is profound.
XG: Let's talk about some of the up and coming future legends of the musical stage. Tell me about Leslie Odom Jr. -
TS: I was asked by Leslie Odom Jr. to do some arrangements for his one-man show, I knew him from his acclaimed performance in Leap Of Faith on Broadway and of course the television show, Smash. He has the distinction of being the youngest person ­at seventeen and still in high school - ever cast in the Broadway phenomenon Rent. And his film and TV credits are as long as his Broadway credits! He will be winning his Tony Award very soon, I assure you.
XG: Shoshana Bean from Wicked --
TS: The first word that comes to mind for Shoshana is versatility. She is still best known for the role of Elpheba in Wicked on Broadway and the first national tour, however at her core, Shoshana is a blues singer. She has recorded a new album that showcases her very essence. I grew up listening to Ray Charles, Aretha and Etta James. So did Shoshana. We really found our "vibe" there, so when we perform together, it's all about finding the soul in the music. I am grateful to call Shoshana a friend.
XG: Okay last but certainly not least, Joan Ryan, who brought the house down last year at the Catalina Jazz Club in L.A. - that's where I first saw you. I loved the show and the work you did with Andrew MacBean.
TS: I have been collaborating with Joan for many years. Last year, she asked if I could help her create her new one-woman show. Together with Andrew Macbean, the associate director for Sunset Blvd, we crafted the show that garnered her BroadwayWorld¹s Best Female Cabaret Artist of the Year. It is rewarding to work with such great
talent and then to get recognized for all that work. I love Joan.
Check out Sam Harris in HAM: A Musical Memoir Friday, Jan. 23 at 8 p.m.; and Sat. Jan. 24 at both 2 p.m. and 8 p.m. Tickets can be purchased: https://web.ovationtix.com/trs/pr/941046
REAL LIFE. REAL NEWS. REAL VOICES.
Help us tell more of the stories that matter from voices that too often remain unheard.