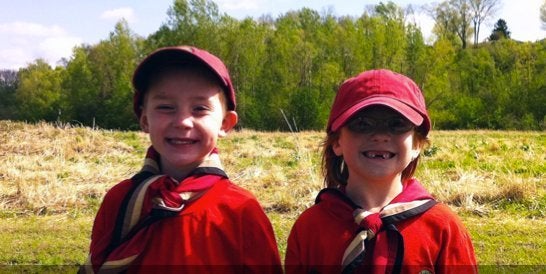 Just as the Boy Scouts of America motto preaches, Brooklyn, N.Y., dad Todd Schweikert likes to "be prepared."
His 7-year-old son is a charter member of the 5th Brooklyn Scouts, which accepts boys, girls and all sexual orientations while believing that prejudice is best snuffed out like an untended campfire.
"The tipping point was the BSA's approach to gay scouts and the gay and lesbian parents," Schweikert wrote in an email to The Huffington Post. "Any form of discrimination, no matter how small, is never ok and not something I can endorse and wish to teach to my children."
Schweikert told HuffPost that he has received a "great response from gay and lesbian parents, as well as straight."
The 5th Brooklyn Scouts were scheduled to hold their first open house Wednesday night, and, according to Schweikert's Facebook page, are planning overnight camping trips to New York's Catskills mountains in the spring.
The troop is associated with the Baden-Powell Service Association, which he called a more progressive organization that teaches community service plus similar outdoor and survival skills as the Boy Scouts, DNAInfo.com noted in an earlier story. Schweikert was a Scout and Eagle Scout who wanted to pass on the "positive experiences" to his son, DNAInfo wrote.
Schweikert told HuffPost he hopes his troop inspires other parents to charter their own groups.
"I felt like I had too much respect for scouting to succumb to the rules and polices of the [Boy Scouts of America]," he said. "So I looked for other alternatives."
Popular in the Community