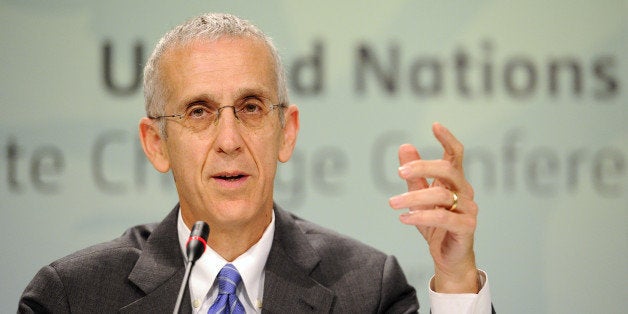 It is not easy being a high-level federal official these days. John Boehner must deal with tea partiers who voted against his reelection as Speaker of the House. Secretary of State John Kerry has to be jet-lagged and sleep-deprived as he commutes from one intractable world crisis to another. And every time President Barack Obama appears on camera, he seems to have acquired more grey hair thanks to the world's most thankless job.
At the moment, however, no job in government is more challenging than the one that belongs to Todd Stern, America's chief climate negotiator. Next month, the United States and more than 190 other nations are supposed to begin revealing their commitments to reduce greenhouse gas emissions - commitments they will take to Paris this December. If all goes well there, the international community will sign off on a long-awaited agreement to put the brakes on climate change.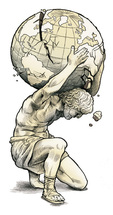 Consider the complexities of Mr. Stern's mission. First, whatever commitment the United States announces next month, hardly anybody will be satisfied. Advocates of aggressive climate action are likely to complain that America's commitment is insufficient. Climate deniers in Congress, far-right conservatives, at least some of the Republican presidential hopefuls and fossil energy lobbyists all will raise hell about the alleged impacts of a climate deal on the economy and jobs - a red herring they roll out at every opportunity. Some will brand a climate deal as a threat to American sovereignty, as though the United States is an island nation unconnected with and unaccountable to the rest of the world.
Second, the United States' negotiating leverage is handicapped by a Congress that is unwilling to make America's commitment to cutting carbon emissions a matter of law, let alone providing sufficient funds for the Obama administration to fully implement the President's climate action plan. Quite the opposite: Republican leaders vow they will repeal, defund or block regulations to control greenhouse gas pollution, or successfully sue the administration to stop it from creating such regulations.
Then there's the U.S. Senate, now controlled by Republicans. The president will not be able to ratify any climate treaty unless the Senate gives its "advice and consent." There is no indication that the Senate's position has changed from nearly 20 years ago, when it voted unanimously for a resolution that promises it will not consent to any treaty that does not contain sufficient commitments from developing nations or that would result in serious harm to the economy.
To many lawmakers "serious harm to the economy" means anything that would disrupt the present carbon economy. Yet disrupting the carbon economy is precisely what's required to achieve significant reductions in greenhouse gas emissions. We can expect treaty opponents to roll out studies claiming to show that any plan to cut carbon emissions will cost jobs and raise energy prices. But experience belies those claims. States began establishing renewable energy and energy efficiency standards in 1983; most now have them. The Department of Energy's National Renewable Energy Laboratory has concluded that based on analyses so far, the direct and indirect economic, environmental and social benefits of climate-friendly state policies are in the billions of dollars. And while the Senate resolution doesn't acknowledge it, any accurate assessment of the impacts of reducing carbon emissions must weigh the serious harm that will befall the economy, public health and national security without carbon reductions.
So Stern must finesse the diplomatic dilemma of making the United States a credible partner in an international agreement while everyone knows that the current Congress is unlikely to consent to any climate treaty, no matter what it contains or how artfully it is written.
Especially frustrating is the fact that members of Congress who oppose climate action do not represent the views of most Americans, and Congress is getting away with it. In a variety of public opinion polls last year, the majority of respondents said they favor action on global warming. An ABC News/Washington Post poll last June, for example, found that "7 in 10 Americans see global warming as a serious problem facing the country, enough to fuel broad support for federal efforts to limit greenhouse gas emissions - even if it raises their own energy costs."
Reviewing six public opinion surveys it has taken over the last three years, the Yale Project on Climate Change Communication found that 62% of moderate Republicans and 68% of liberal Republicans agree that global warming is underway. More than half of all Republicans, conservatives included, support government regulation of carbon dioxide as a pollutant.
Even the American Petroleum Institute (API), whose 600 corporate members come from all parts of the oil and gas industry, now acknowledges climate change and the importance of renewable energy. In its latest analysis of America's energy sector, API says, "Few things threaten America's future prosperity more than climate change. But there is growing hope. Every 2.5 minutes of every single day, the U.S. solar industry is helping to fight this battle by flipping the switch on another completed solar project."
While the conservative American Legislative Exchange Council tries to roll back state renewable energy standards, API concludes that the standards are making the economy healthier. "By any measurement, these policies are paying huge dividends for both the economy and environment," API concludes.
To make Stern's job even harder, the Republican Party platform, API and President Obama himself advocate an "all of the above" energy strategy that includes ongoing fossil fuel development with no indication of if or when oil, gas and coal will be phased out of the U.S. economy. Without a defined down ramp for carbon-intensive fuels, a bullish stance on the future of oil, coal and natural gas undermines any U.S. promise to do its part in slowing global warming.
To sum up, the world community - or at least most of it - continues looking to the United States for leadership on climate change. It would be in our best interest to assert significant influence on the outcome in Paris. But Mr. Stern will represent a nation that has been the largest carbon polluter of the last 200 years; that has no political consensus to suggest it will ratify an international treaty; whose lawmaking is controlled by leaders who stubbornly deny that climate change is even real; and whose president has limited time left in office to enforce whatever commitment the U.S. makes in December.
How does one represent such a country? That question is what makes Todd Stern's job so consternating - along with the fact that the outcome has enormous consequences for the future. If this were a Mission Impossible movie, this post would self-destruct in 10 seconds. In the real world, it is our hospitable climate and its many benefits that are in danger of being destroyed.
This is the first in a series of "Road to Paris" posts regarding the United Nation's 21st international conference to reach an agreement on climate change, scheduled for December.
Calling all HuffPost superfans!
Sign up for membership to become a founding member and help shape HuffPost's next chapter