February of last year, Jimmy Hilsabeck suffered a bleed in his brain stem. He was born with an arteriovenous malformation (AVM), an abnormal connection between arteries and veins, but was unaware of the condition prior to February. Doctors were unable to remove the AVM due to its location, Hilsabeck explained to HuffPost in an email. So, instead of surgery, he underwent a gamma knife procedure to shrink it.
After Hilsabecks procedure came the best medicine: his 2-year-old son, Brunson. "He got in the bed with me and gave me the saddest, sweetest hug while we argued over who loved the other more," Dad told HuffPost.
Two days after leaving the ICU, a heartwarming photo was snapped of the pair, walking hand-in-hand with matching eye patches, then shared widely on Reddit. Hilsabeck had to wear an eyepatch for a few months during recovery; Brunson just assumed he was a pirate.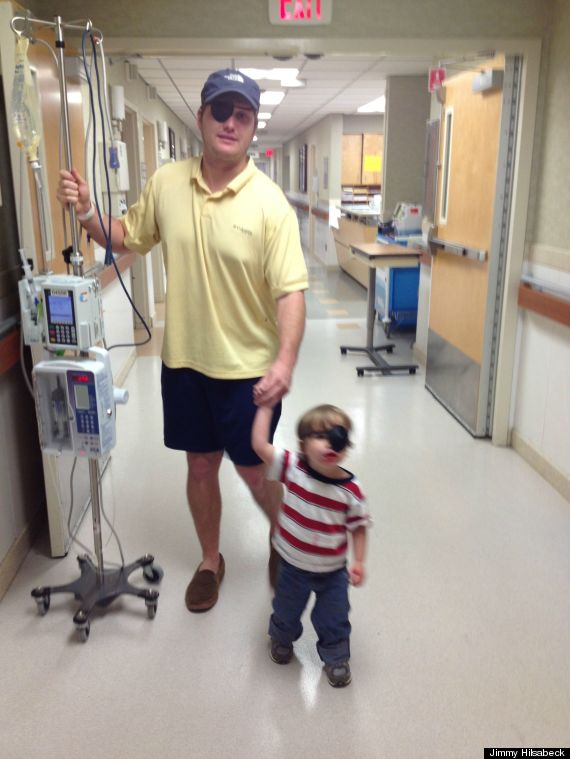 It was Brunson who helped his father learn to walk again.
"When I walked, he would grab my hand, pull me, and say 'Come on, Daddy.' I forgot about the difficulty of walking and just watched him, this innocent, perfect soul willing me to succeed," Hilsabeck recalls. "There is no way I could let him down."
Even through the pain, Hilsabeck says the bleed has made him appreciate his son -- and his role as a father -- so much more:
Seeing someone with such complete faith in you gives you the strength to get through anything. I owe him everything I am. The kind of love you see in your child's face cannot be described in words. It's a force that can drive you to accomplish what you thought you couldn't. It makes everything worth it.