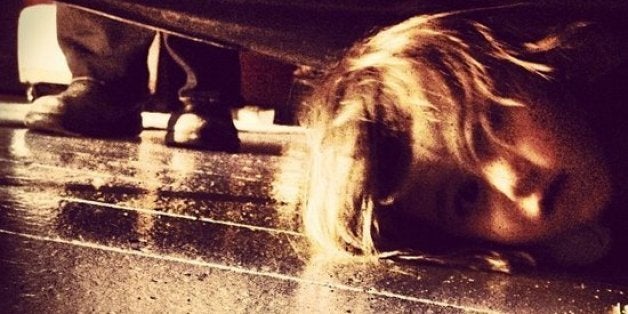 When painter Aaron Marable became a dad, he found it hard to carve out time for artistic endeavors while taking care of his daughter Edith. So, he decided to combine them.
"I was spending my evenings with Edith anyway, so I thought, 'Let's have some fun. Let's get you involved in something creative'," the Kansas dad told The Huffington Post. The two embarked on a fun Halloween project that has become an annual tradition.
Every October, Marable and now 3-year-old Edie take spooky Instagram photos in the spirt of the Halloween season -- they call it "October Fright." The pictures are admittedly a little scary, showing Edie confront monsters and ghosts and other supernatural happenings. The dad is quick to note, however, that his daughter knows it's all pretend and genuinely enjoys the project.
"She's just having fun with her parents and getting to be an actress and is in a place that she's totally comfortable in," Marable said, adding, "It's a family affair. My wife helps with lighting and taking photos too."
Edie's role in the project has evolved since she started two years ago. Her dad says it's been interesting to see her growth, especially in "her curiosity about what we're doing and wanting to see the photos." The 3-year-old has also assumed a little more creative control over "October Fright." "I'm a little bit more at her mercy," Marable said.
The dad also said he hopes other parents who see his "October Fright" photos will realize that "you don't have to spend a bunch of money" to bond with your child and make a creative project with them.
Clearly the spooky photos haven't affected Edie's choice of Halloween costume this year. "She is claiming that she wants to be a skunk," Marable said. "I think she got her influence from Pepé Le Pew."