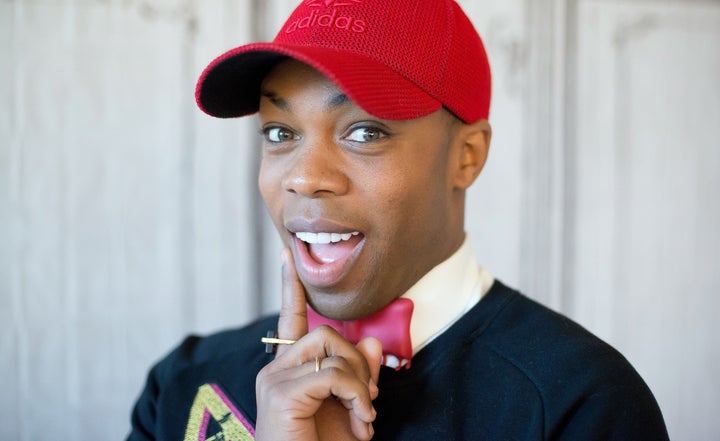 Dancing since the young age of 9, Hall is a classically trained ballet dancer who has traveled the world performing with Disney's Beauty and the Beast, The Radio City Christmas Spectacular, Royal Caribbean & Holland America Cruise lines, Walt Disney World and Disneyland's California Adventure. His Broadway credits include Oprah Winfreys "The Color Purple" and The 2010 Tony Award Winning Musical "Memphis!"
Hall joined the cast of the Tony-winning musical "Kinky Boots" beginning on November 1st into the role of Lola, the part created by Tony winner Billy Porter, and will continue through March 5, 2017.
In this interview, we sat down with Hall backstage in his dressing room at "Kinky Boots" to discuss his career, experience in the show, and his plans for the future.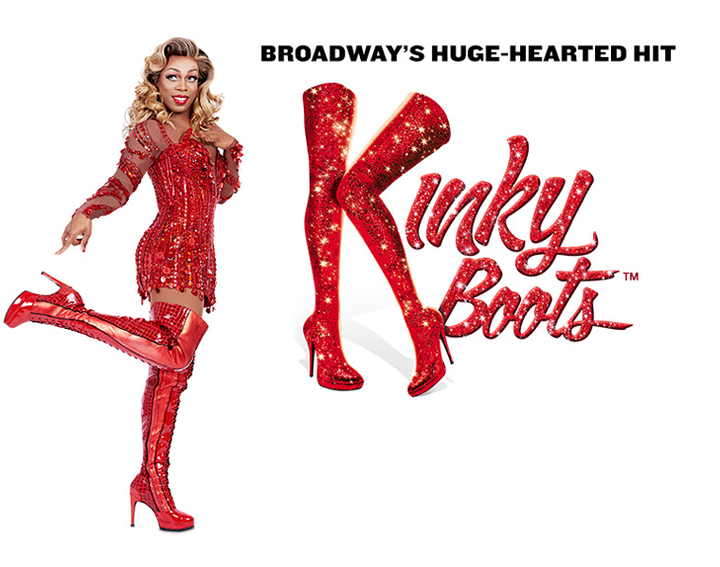 AB: Do you ever feel more nervous performing for friends and family rather than your regular live audiences?
TH: Absolutely. I get so nervous when I have family and friends in the audience. In fact, I just posted a status on my private Facebook telling my friends and family to not let me know they're coming. I am one of those people who give 115 percent every single-time I perform. I know I'm going to try my best everyday, and then there is the added pressures that sometimes my friends and family don't see.
But with that being said, sometimes you can't avoid having the knowledge that your friends and family are going to be in the audience. I still feel like I perform close to the same either way, but I just think there is a free quality about my performance when I don't know anybody in the audience. I typically tend to leave and feel like, "Wow. That was a great performance!" as opposed to there being pressure from their presence. For example, when RuPaul is in the audience, and you're playing a Drag Queen on stage, that's very nerve-wracking! When Taylor Swift is in the audience, it can kind of add a little bit of pressure. But luckily I tend to surround myself with friends that have nothing but positive attitudes and uplifting energy, so I never feel judged and that's a really good quality!
AB: What do you think the main difference is between making viral videos and being on a live stage?
TH: The main thing is that when I moved to Los Angeles, I had so much fun making videos! I think the people in Los Angeles are talented in a completely different realm than Broadway performers. But, Broadway to me, is the Olympics of performing. You have to be able to do it right then and there, and if you fall you have to be able to get back up and keep it going! That's the major difference, that everything is live and in the moment. Even the music is live. Sometimes things happen, we're humans. You're depending on twenty-five plus other humans to help you tell the story. We all have days where we might drop a line, or our voice is not where it could have been because we're doing eight shows a week. That's the aspect that I like.
I get this crazy adrenaline rush, and I'm so excited to perform with people who are so talented and push me to become a better performer, to truly be in the moment and to not give a stagnant and still performance. I also love the fact that every day my cast challenges me. My costar in "Kinky Boots," Killian Donnelly, is such a brilliant actor! He always throws me lines in a different way, so much so that it's like playing a game of tennis. I compare my relationship to Killian with the William sisters, who are so great that they can play with each other, and know that the other person is going to be able to bounce the ball back to them. I just think it's really awesome that this cast has such great comradery and everyone feels like a family.
For me, this is maybe the first time, dare I say, that I've done a Broadway show where I've felt like everyone truly gets along and supports everyone. It's just really, really awesome. I'm so grateful for this experience and this cast, crew and producers, everyone. It's just been really awesome!
AB: Why do the arts matter, specifically to the Millennial generation?
TH: The arts matter because there is so much that can be said in a book or in text, like reading a magazine. But music heightens every emotion. Day after day, I watch straight-men from middle America come in and sit down to watch this show. They walk out loving it more than the women they came with, because the message is so true and pure.
Also, in today's day and age, how often are we actually sitting down without our phones on? Even when you go and see a movie, there is no pressure to turn your phone off like there is when you're in a live theatre. I think that in a theatre, Millennials are really forced to take in the message of whatever the show is that they're watching, and there are not very many things that can do that. Even flying in a plane now you can be on the phone the entire time, so live theater is one of the only times I can think of where people are actually fully committed to something for two and a half hours without being on their phone. I just love that they're able to truly take in the message.
AB: What is your favorite aspect of performing on both screen and stage?
TH: With performing on screen, it's so cool because you're able to adjust the lighting and adjust all of the aesthetics to be able to manipulate a situation or tell a story in a very quick and specific format. In five minutes you can tell a major story, and also people are able to relive that same moment so you can get it perfect once, and then it can be shared with millions of people who can view it, and interpret it the way they want.
In theater, I think what's so special is that every performance is so genuine and special to every different audience. It's a very intimate moment that you share with one audience, and then you'll never have that moment again. Whereas with a video, it'll be the same every single time. I love theater because sometimes you have quiet audiences. It's like, "How do you perform the show for them?" Sometimes you have audiences that are erupting in laughter. We, as cast members, feed off of that energy, but sometimes the audiences that are quiet the entire time, it can feel like they're not loving it, but I've discovered that eventually they've accepted and embraced the story so much that they're the first ones to their feet at the end of a show. They just had a different way of responding to the work and I think that's really cool.
AB: Looking back on your life and career, what is something you wish you would have been told before going into the arts?
TH: I don't know that there is really anything I wish I had been told because some of the greatest work that I've created came from painful experiences. I was really grateful that when I started performing, no one explained to me that everything wasn't colorblind casting.
My first experience in performing I was Fritz in the Nutcracker Ballet, and I was the only black child in a completely white family. I didn't think anything was weird about that. I grew up watching the Cinderella with Brandy and Whitney Houston and also Bernadette Peters. For me, it was the first true colorblind casting. Whitney Houston called it a "rainbow cast." I think later in life I realized that even though I thought this notion was such a beautiful thing, that everything wasn't cast that way and that there were certain roles that you just weren't going to be right for because you are this type of person, and because people will only see you a certain way.
I think the beauty of being a performer right now in 2017 is that all of the barriers are being broken. African American people are playing roles that they would have never been able to play and there are shows, like Hamilton, that are featuring historically white figures that were the Founding Fathers of our country, but as all-minorities. I'm really glad that I wasn't told those things. I was encouraged by everybody that I was around to believe that I could be any role.
I've gone in kind of naive, and sometimes people did tell me being on Broadway would be hard, and I was like, "Eh. It probably won't be." People told me that, and instilled that fear in me. I might not have been able to book one of my first Broadway shows I ever auditioned for had I listened to them. I was on Broadway at twenty years old. When people say, "How is it to go from being on YouTube to being on Broadway in 'Kinky Boots?'" I've always said I wouldn't know. You'd have to ask someone who did that. Because I started on Broadway and went to YouTube, but now I'm back on Broadway as a leading role!
It's just a really cool transition, and it's really eye opening how different it is. I'm really happy people didn't tell me things, like what to be afraid of or what to beware of because I was able to create my own path, and find a really weird alternate route to get to this very special place I am at now.
AB: Being the lead role on Broadway seems like it could be everything someone has ever wanted. With that being said, what is something that you wake up every day and are just so grateful for?
TH: That's one thing that has been really difficult in my whole career because when I got on Broadway I was like, "This is it! I've made it! What else is there to live for?" When I met the cast members on my first Broadway show, which was an amazing experience, I realized a lot of those people weren't happy and I was like, "How could you be in this position and not be happy?" Maybe I wish that someone had told me that you're still going to be a human. You're still going to be performing on this stage and the venue and the cost of the costumes will be different and the audience's ticket price will be different. But I still feel like the same guy who got the start of his career in the Nutcracker, or my first time singing at Six Flags over in Texas. It still feels the same.
But what I'm learning every year is to be just so incredibly grateful, because people look at this position and say, "Wow. You must be having the time of your life." But it's hard work, and you can either make a conscious effort to wake up and be like, "Wow. My job is really hard." Or to walk through Time Square and see a billboard with your face on it and say, "Wow. You did all of this work. You've gotten to this place. Millions of people would love to have this opportunity." I've only missed two shows and I'm trying my hardest not to miss any more because I'm just so grateful that I have a platform where my fans are able to come to the shows. Many of my YouTube fans have never seen a Broadway show. I'm introducing people to the art form and it's just such a cool experience that I am so grateful for.
AB: Why is it so important to get Millennials out from behind their screens and into the seats of live theatre?
TH: I think that humans are creatures of habit and some people are like, "I'm not into theater." Maybe they've had one bad theatrical experience, or have seen an opera and not identified with it, or a ballet or symphony or musical they just didn't identify with. So many people come to the show and I think we blow them away because their expectations were so low to begin with. I love the fact that these young people are coming to the show and they don't know what "Kinky Boots" actually is. They don't care what the project is. They're like, "I'm coming to see Todrick." But they walk away having gained such a huge appreciation for the art form of what we do here on Broadway. Then they go to other theaters and see other shows because they liked this one. I'm creating these little patrons of the arts, accidentally, just because of YouTube. I just think that's really cool.
That was the way I was introduced to theater, through the live, filmed versions of Broadway shows. That's why, when I was in Memphis The Musical, we had this big cast meeting and everyone was on the fence about whether or not we should film the show. I was the person that stood up saying, "We absolutely should!" Had I not ever seen these live productions on stations like PBS, or wherever they are shown, I would have never known what Broadway was! There are amazing people living in the middle of nowhere, who have much bigger issues to worry about, such as how they're going to feed their children or family, than to try and expose their children to theater and the arts. I just think it's really, really cool that people are going on YouTube and realizing, "Oh wow! One of my favorite YouTubers is on Broadway!" That's why they're being introduced to theater. It's the same thing that I did when I was young, but just a different way of getting there. That is crazy to me!
When I saw the article that the ticket sales had jumped up so much from me being in the show, it was one of the proudest moments I've had in my entire life, because this was a risk for the Broadway community to bring me here.
I love also that the Broadway community has become so open to adapting some of the rules that were set in place for the Union twenty years ago before social media really existed. I applaud our Broadway community because we expect so many people to embrace us for so many reasons. I just think that it's good that we practice what we preach, and that producers would give someone like me, who is known mostly as being a YouTuber, the chance to lead a Broadway show. And not just any show, but a Tony Award winning show in a Tony Award winning role. The fact that they would trust me with such a huge responsibility is really cool, and I'm just trying to make sure that I step up to that every day and give my best swing at doing this role!
AB: You've played in Memphis!, The Color Purple, and now "Kinky Boots" on Broadway. All three of these shows are such beautiful, powerful, and inspiring pieces of art. Going forward, do you still have a dream role left to play on Broadway?
TH: I do! I would love to be Simba in The Lion King, just because that's one of my favorite shows. I also love Charlie and the Chocolate Factory, I would love to be a part of that show. I would love to be a part of Hamilton, that would be really cool. But my goal right now is Straight Out of Oz, my first album. It did pretty well, and there is a lot of interest in the theater community for me to make an adaptation for it and bring it to Broadway! That would be really cool to not only star in a show that I wrote, but to tell my story which so many of my peers and people in this show know as my life.
I didn't realize I was telling the story of so many people's lives, but there are so many gay men who have struggled with religion and had issues trying to find their way in this business, I just think it'd be really cool to share that on stage every single night because I identified with this character so much and it's not even me. If I identified with Lola in "Kinky Boots" so much that the idea of getting to perform as myself on stage every night, and tell a story that's really powerful would be really, really awesome. But I'm just excited to jump into any opportunity that comes my way and to face it head on.
I love "Kinky Boots" because it was a huge challenge, I was totally afraid to do it. I want to keep doing things that make me scared or that I never thought I could do, or break barriers and do roles that would never typically be played by an African American male. That would be really, really cool. And to do an exceptional job at them, not just to do them for the sake of doing it because I'm African American. But because it would be a different spin on a role for people to look at through slightly different eyes.
AB: During your time in "Kinky Boots," who have been some of the most memorable audience members?
TH: We've had really cool people, like RuPaul and Taylor Swift, who have come to see the show and a lot of my YouTube friends have come to support. But I think the coolest thing was the day after they announced who was going to be our next President. The energy in Time Square was just insane. I've never seen it so full of people, yet so lifeless. It was crazy. It felt like a bunch of zombies walking around. We had two shows that day, and it was really hard. I'd never experienced anything like that before. The audience got up and they were crying, like women from middle America, and families who were crying because they thought the show was so beautiful. That was really awesome.
A couple weeks after my opening, I met a lady from Utah who said that her and her husband were there on my opening night, and didn't know who I was but had just bought tickets, and had never experienced an energy like they had the night in the theatre. So, they ended up flying back the following weekend with all of their kids. They had four kids, and all of them came back and saw the show! That was such a cool thing because I came here thinking, "I can't wait for my fans to come and watch the show." Not realizing how many new fans I would make in the process. This has really helped me and my YouTube career, helping my fans find Broadway. It's been a win-win situation for both sides of my career.
AB: What do you think has been the rose and thorn of your experience in New York City, specifically coming from Los Angeles?
TH: The rose has just been proving to myself that I could do this. This was a huge chapter for me. There are people who have been like, "Yeah. He's not really an actor." People were concerned that I wouldn't be able to sing the songs, and that I would not be able to last through an eight-show week. They even offered me to do six shows a week. But I was like, "No. If I'm going to be on Broadway, it would be unfair for the ensemble to have to kill themselves to be able to do eight-shows and for me to not do the same."
But the thorn has definitely been the sacrifices you have to make. You can't go have a social life, because what's important is being Lola eight-shows a week and making sure if my fans and the patrons of the theater are spending all this money, that they get the best version of me that I can possibly present. It's something that I'm actually proud of, I've actually gone home and gone to sleep. I've been eating healthier and drinking a lot more water. That's a thorn! I go to bathroom eight-billion times a night because I drink so much water. My friends are concerned for me, because they're like, "You should really go to a doctor." If you see how much water I drink to make it through this show, you would understand why I can't make it through the night without going to the bathroom eight-billion times. But I literally couldn't be happier. I'm in such a good place, surrounded by really great people, I'm just having the time of my life. This has been truly a blessing and it came at the perfect moment.
AB: For any young person who wants to be in the arts, but society tells them that it's not a reliable career and not realistic, what do you have to say to these Millennials who have such big dreams, but such huge obstacles?
TH: I was one of those young people. Luckily, I had a mom who believed in me, even when we didn't know what I was going to be. I would just say to everybody, not even if you just don't want to be in the arts, that you get one life to live. One of the things that really helped me stay inspired to work hard is that I've lost a lot of friends to unfortunate deaths at very young ages, and it really is a constant reminder that life is so beautiful and fragile. It can be taken from you at any moment.
One of my favorite movies is Sister Act 2. That's the first thing that inspired me to sing and perform. Whoopi Goldberg says to Lauryn Hill at a certain point in the movie, "What is the first thing you think about when you wake up?" That's what you're supposed to be doing. If there is anybody out there who is reading this article, for whatever reason, maybe it's fate you need to see this at the beginning of a brand new year. But I think that whatever it is you want to do, I don't believe that you should have to have a backup plan. I think if you have a talent or a gift, and you go out and chase that every single day, like literally wake up and do everything you can in your power; like someone in the Army trains to be ready for the battlefield, that there is no way you cannot be successful. Maybe Broadway isn't your destiny, but maybe you can travel the world, singing on cruise ships, and touch people's lives that way. Maybe you can work at a theme park. Maybe you can work in your local theatre and inspire other kids that then go on to be on Broadway. You never know how your gifts are going to be used to change the world for the better.
I think if you really want it, there is a way that you can make money so you can live and survive. It's really important. It's the most important thing you can ever do. Just make sure you're living each day and being happy with the decisions that you make. Also, I'd tell those people to go out and absorb as much information about the thing that you love to do. Often times we're afraid to do things that scare us. So if we're a great singer, we don't want to try to dance or try acting. I think to be a great performer you have to be multifaceted and well-rounded. Don't be afraid to try new things and be good at as many things as you possibly can so when an opportunity comes knocking you will never have to say, "No. I can't do this." You can say, "Yes. I can!"
AB: When this role ends for you, do you see your relationship with Lola going forward in any kind of way?
TH: Who knows? Luckily, I got them to agree to give me my red boots early, so a piece of Lola will always be with me! But who knows? I'm the most spontaneous person. I don't like to plan too far in the future. If they ask me to come back, and if my schedule allowed it, I would for sure come back! I'd love to do the show in London or Australia or on the tour for a small stent. I think that would be really fun. I never say never to anything, because I'm having the time of my life right now and I'm sad that March 5th is my last show, but I'm excited to do new things as well.
REAL LIFE. REAL NEWS. REAL VOICES.
Help us tell more of the stories that matter from voices that too often remain unheard.
BEFORE YOU GO