The results from the tenth annual Toilet Paper Wedding Dress Contest are in and every ply is perfect on these runway-ready gowns. Contestants created stunning gowns made from nothing but toilet paper, glue, tape, and a needle and thread!
Cheapchicweddings.com hosted the Charmin-sponsored event at the Sanctuary Hotel in NYC, and bridal designer and Project Runway contestant, Kate Pankoke, lent her expertise as a judge. Dresses were judged on creativity, originality, beauty and the use of toilet paper.
Check out the ultra-chic designs:
Susan Brennan, a designer and former cheerleader for the Detroit Pistons, took home the grand prize of $10,000.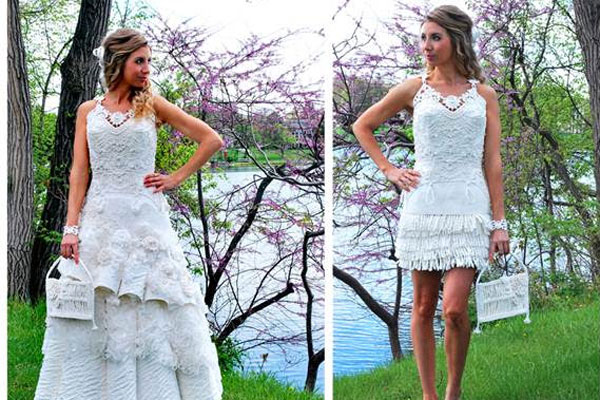 It took her a month and 17 Ultra Soft two-ply rolls of Charmin to create her romantic lace-inspired gown. The dress features an ornate bodice with a princess ball gown skirt, which detaches to reveal an adorable fringed frock. The Michigan native is no stranger to the yearly event, having cleaned up the competition in 2011 and 2012. See her winning designs here and here.
The second place prize of $5,000 went to Katrina Chalifoux from Knoxville, Tennessee.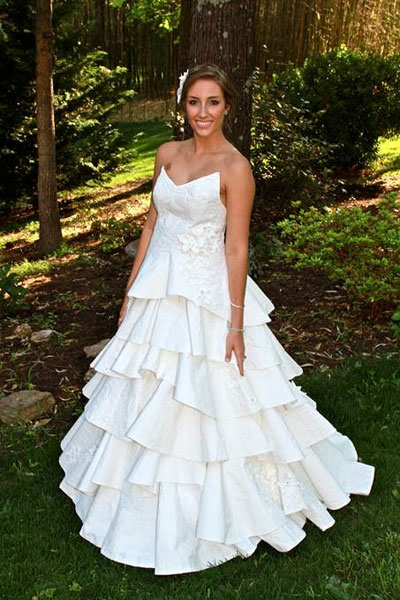 Chalifoux won the top prize in 2008. She used 28 rolls of basic Charmin and 7 mega rolls of Charmin Ultra Soft to design her strapless layered ball gown.
This year's third place winner is Amber Mills from Dallas, Texas who nabbed the $2,500 prize.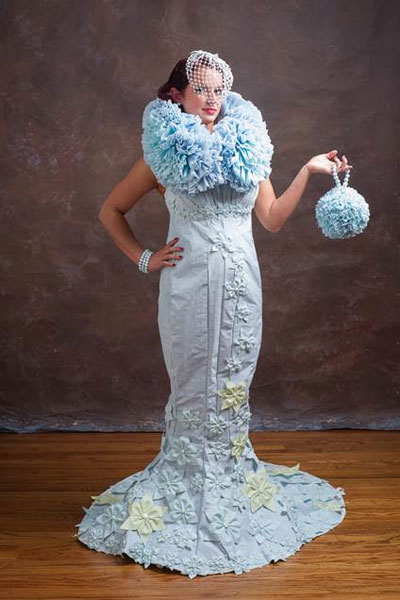 Amber's "something blue" trumpet gown took three months to create. She used half a roll of Charmin Strong, four rolls of Charmin Blue, four rolls of Charmin Aqua Blue, and one-third roll of Charmin Green to create her regal design. The resourceful stay-at-home mom tracked down all of the vintage green and blue toilet paper on eBay.
Cheapchicweddings.com founders Laura Gawne and Susan Bain commend this year's impressive designs. "The top dresses this year showed incredible attention to detail," says Laura Gawne. Susan Bain added that "We are continually amazed by the talent our contestants display!"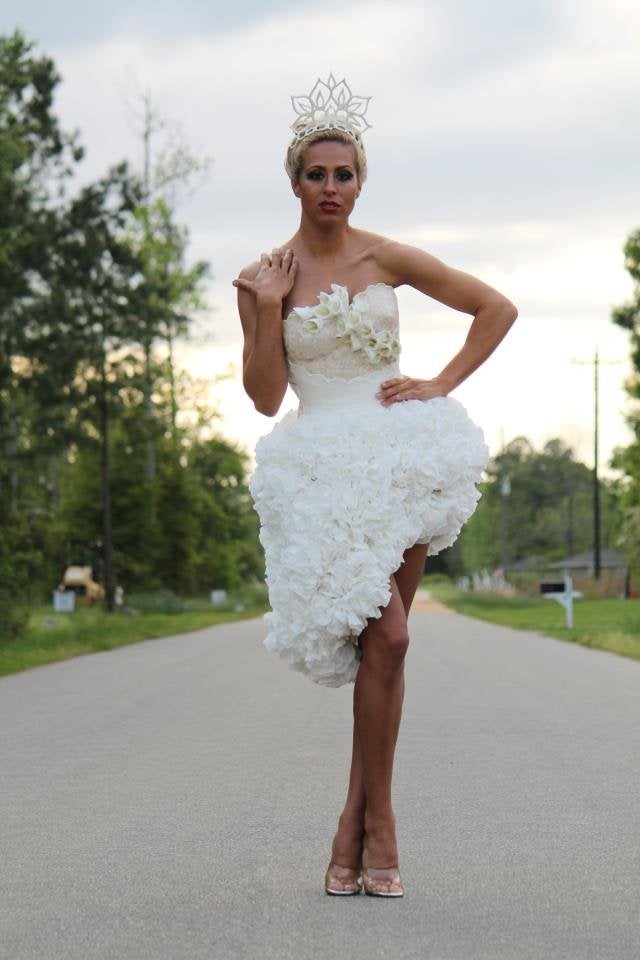 2013 Toilet Paper Wedding Dress Contest