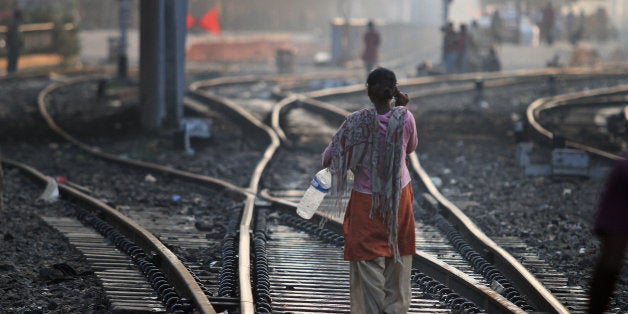 By: Congressman Charles Rangel and Hugh Evans
Getting a toilet into every home could be one of the best ways to promote equality for girls and women.
In a piece published on BBC India last year, newscaster Soutik Biswas explained that defecating in the open puts women in a dangerous position. They are stared at by local boys, threatened, and forced to endure sexual violence. One mother explained that, "We have had one-on-one fights with thugs in order to save our daughters from getting raped. It then becomes a fight that either you [the thug] kill me to get to my daughter or you back off."
Nearly half-a-billion Indian citizens -- or 48 percent of the country's population - lack access to basic sanitation and must defecate in the open. Women are the biggest victims of this sanitation crisis. Girls and women who are forced to defecate in the open become vulnerable to sexual violence when traveling to and from public facilities or open fields. Last year, two teenage girls in Uttar Pradesh were raped and hanged while going to defecate in the fields.
We applaud India's Prime Minister Narendra Modi for working hard to increase access to water and sanitation in his country and around the world. Prime Minister Modi has regularly promised, "Toilets first, Temples later." Creating a world that is open defecation free requires the support of not just Prime Minister Modi, but donor countries like the United States.
Thanks to the passage of the Water for the World Act in the U.S. Congress last year, the structures are in place to ensure that U.S. funding for water and sanitation programs have the greatest possible impact. Subsequently, our primary focus has been to work with organizations like WaterAid America, WASH Advocates, and World Vision to ensure that the Water for the Poor account is adequately funded. By increasing funding for water and sanitation to $425 million in fiscal year 2016, the United States can continue to expand opportunities for girls and women around the world.
This increase, from $382.5 million in 2015, represents a positive signal of support to countries like India as they make significant strides toward ending open defecation. Specifically, this funding increase will support USAID to provide long-term, safe drinking water, sanitation, and hygiene (WASH) services to an additional 425,000 people in Africa, Asia, and Latin America.

Lack of access to sanitation is a problem worldwide. Of course, increasing access to toilets is not a silver bullet. Heightened assistance is needed to see similar progress in countries around the world. We must call on world leaders to increase funding for water and sanitation.