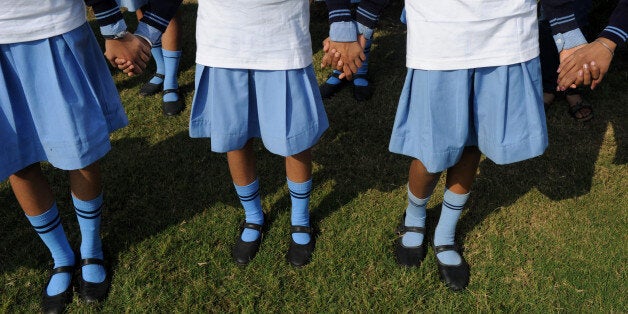 Less than one-in-three households in Indian villages have toilets, a dire situation that poses major safety risks for women who are often attacked while using communal bathrooms.
Lack of sanitation access has long been a concern in India, but advocates hope to make an intensive push for better facilities on the UN's inaugural World Toilet Day, a campaign that raises awareness for the fact that 2.5 billion people live without toilets.
Activists in India are particularly focused on this issue because women are often reluctant to relieve themselves out of fear and a number of NGOs have already devised safe and low-cost restrooms that can easily be introduced.
"They are taken away and molested by construction workers. A lot of times mothers don't say that things have happened to their daughters because it will lead to difficulties when they get married," Herma, a resident of Bhalswa –- a neighborhood in northwest Delhi –- told India Real Time.
In Bhalswa, for example, there are two community toilets that service 1,000 people. Women travel in packs in the morning to use the squalid restrooms, because that is the safest time to go, according to India Real Time.
Still, there isn't necessarily safety in numbers.
Women are usually teased, and often kidnapped and assaulted. Locals say that these incidents occur at least once a month.
"Men often gather around toilets and if we ignore them they try to touch and feel us," Afsana, a young female resident told the news outlet.
Women are particularly vulnerable while using these latrines because the roofs are open and the windows are low.
While the government has gotten flak for neglecting to improve the country's sanitation situation, some politicians aren't willing to turn a blind eye.
While speaking at a youth event last month, Narendra Modi, Chief Minister of Gujarat, openly declared the need for better sanitation, fully knowing his comments would incite controversy.
"I am known to be a Hindutva leader. My image does not permit to say so, but I dare to say. My real thought is-- Pehle shauchalaya, phir devalaya' (toilets first, temples later)," he said, according to dna India.
A number of advocacy groups are working to devise better sanitation options to improve the wellness and safety of India's most vulnerable.
Sulabh International, for example, has provided 1.2 million houses in India with its affordable pour-flush toilet since the organization was founded in 1970.
"In a civilized and cultured society how can you allow your mothers and sisters to go outside to defecate without safety and dignity? Bindeshwar Pathak, founder of Sulabh International, said in his remarks on World Toilet Day. "In Germany it was asked of Pt. Nehru, the then Prime Minister of India 'when will your country be a prosperous nation?' 'When every house in India will have a flush toilet,' was Pt. Nehru's reply."
Calling all HuffPost superfans!
Sign up for membership to become a founding member and help shape HuffPost's next chapter