Let me amend that. Top five things to see in Akihabara that do not involve a Maid Cafe. Because, come on, these costumed girls are all over Akiba handing out coupons. You don't need my help to find one.
Akihabara is much more mainstream than the you-will-never-touch-my-virginity Otaku enclave you might imagine. There are just as many ordinary people searching for light fixtures and large screen TVs as boys with badly cut hair clutching shopping bags from Mandarake and headed for the Gundam Cafe.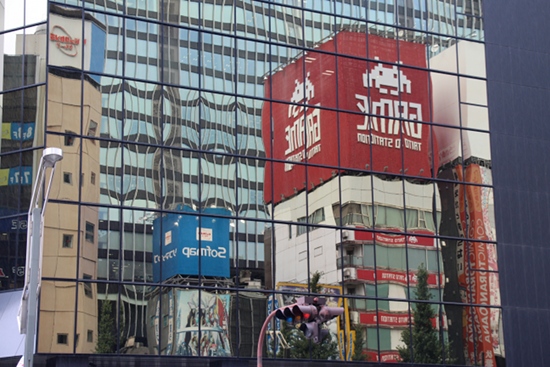 Blurring the lines between shitamachi and upmarket.
A carefully planned urban revolution has poshed the place up over the last couple of years. New high rises, open plazas, restaurants and cafes now spread out around the station. There are almost as many places to eat as shop. (Raise your hand if you remember when the only non-hole-in-the wall restaurant was Mister Donuts!)
This is still the best place to geek out and/or shop for tech. Here are five great stops in no particular order.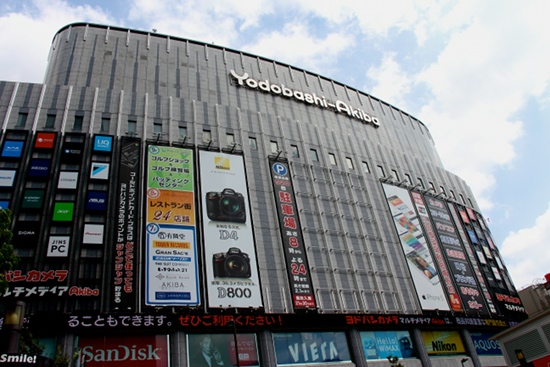 1.Yodobashi Camera: The Leisure Hive.
Ground zero for all things electrical. If you like gadgets, mobile tech, cameras, computers, want to make digital prints in any way, shape or form, or just want to window shop, you are going to love this enormous retail outlet. Why is there nothing like Yodobashi in the U.S.? Why?
Staff at Yodobashi know their products like a Vulcan knows math: up, down and sideways. Locals and foreign residents come to quiz workers before making a final decision on a big purchase. Some prices are open to negotiation, but keep in mind there's no incentive for staff to haggle with you over a 50 dollar digital camera.
I understand people who hate mega-store commercialism, but the Japanese were long held hostage to heavily inflated prices controlled by retailers associations that regulated competition. In some ways they still are. It's cheaper to buy a Japanese TV in California than Tokyo.
As a true Leisure Hive, there are many ways to enjoy your time at Yodobashi. Several cafes are scattered throughout the building. (I like the San Marc cafe next to Softbank on the 1st floor.) Collectible figures, cards and etc. are on the sixth floor. There's a reflexology salon on the seventh to soothe your weary feet. A tasty bunch of restaurants on the eighth floor. (My favorite is Xi'an, for Chinese.) And a golf shop and batting center on the ninth floor. Yep, a batting center. So you can man/woman-up for your date, showing off your sporty skills.
The Akiba Yodobashi website is only in Japanese. Floor guides are mostly in Japanese but with a few words of English -- enough to navigate by.
Access: Central exit. You can't miss it.
Store hours: 9:30 a.m. to 10 p.m., daily.
Restaurants: 11 a.m. to 11:30 p.m.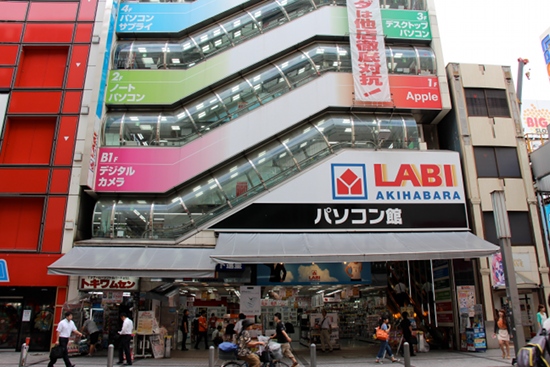 There are still lots of small electronic retailers around the station.
Of course Akihabara has many electronics stores besides Yodobashi. Though not as many as there used to be since the gamers/collectors started taking over. Sofmap is all over the place with branches for computer and tech gear. Yamada Denki has been around forever, as has Llaox.
Most electronics are designed for use in Japan, but many stores stock items for export and advertise duty-free prices for goods over 10,000 yen ($100). Shop around and keep a note of lower prices and the place you saw it if you want to negotiate. This website has info on some Akiba duty-free specialty stores. Remember to bring your passport.
Access: Yodobashi is on the opposite side of the station from the main 'denkigai' -- electric town -- exit. Take the central exit, the one that goes towards the Tsukuba Express. Yodobashi is directly in front of the station. When you want to go back to the main part of Akihabara, walk to the far end of Yodobashi, go to the left on the street under the overpass.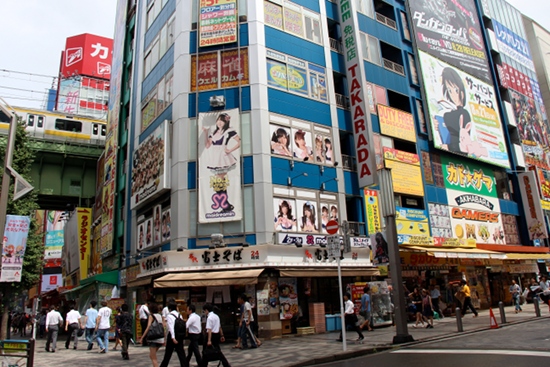 Game and hobby stores dominate much of Chuo Dori.
2.Walk along Chuo Dori
Chuo Dori (boulevard) is the main street through Akihabara and this is where you want to take your time to orient yourself before exploring all the alleys that branch off from this thoroughfare and the retail entertainment they have to offer.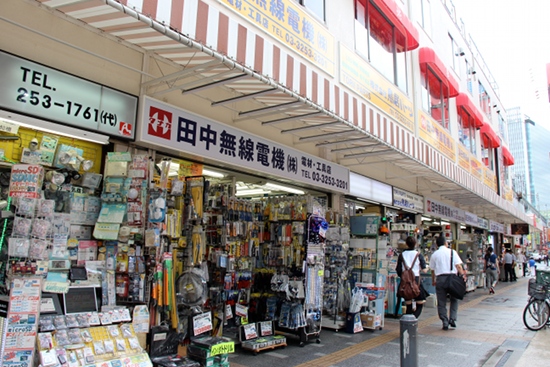 Akihabara Radio Center.
On the way from the station to Chuo Dori, you'll pass the Akihabara Radio Center. This is where Akihabara 'electric town' got its start after WWII. Tiny retailers sold radio and electronic parts at cut-rate prices under the Sobu line tracks. They are still here, crammed together. DIY done old school with parts in open boxes and plastic containers. Analog, digital, whatever. From the west exit, you can't miss it as you walk along the tracks to your left on the way to Chuo Dori.

The advertising is almost as much fun as the shopping.
The electronic shops big and small that used to crowd both sides of this street have been displaced by game centers and game/hobby shops. It's a great place to treasure hunt for old games at stores like Liberty or Retro Game (if you've got a Japanese game machine at home) and just enjoy the Akiba vibe.
Oh, one tip. Stay away from the UFO catchers at the game centers on Chuo. I'm not saying they're rigged but...they're rigged. Don't waste your money on these when there are so many more enticing things to waste your money on.
On weekends, the sidewalk is lined with cute girls in maid uniforms passing out coupons for maid cafes. Many get upset when you take their picture so you have to be a little guerrilla about it. Sunday, when the street is closed, is the best time to see people in CosPlay costumes just hanging out. They love to pose for snaps!

Mandarake. Where the boys are...
3. Mandarake.
Being a fan girl or fan boy is very mainstream in this country. Collecting and a passion for all sorts of odd things is not limited to the socially awkward. Trains, planes, and automobiles have rabid followings just as much as Ultraman, Godzilla, manga, and Hello Kitty. It really transcends age and gender.
Mandarake (man-da-ra-kei, pronounce each syllable) is eight floors of anime, TV superheroes, characters and mascots, and manga comics, new and used. Start at the top and work your way down.
This is one of Akihabara's biggest place for collectibles. I won't say it's the best because regulars have their own favorite store, but it's a good place. They have alot of branches, including branches in Shibuya and Nakano. Here's their website.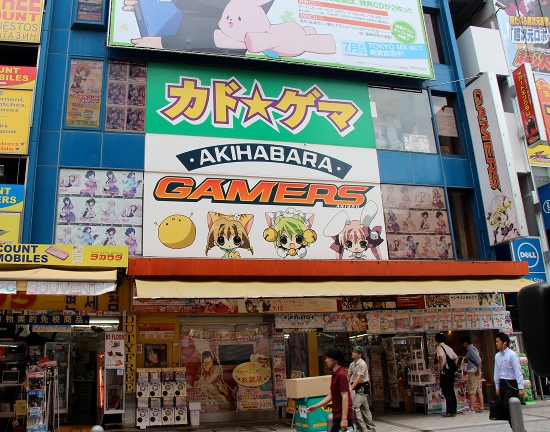 Gamers, right near the station, is another favorite with the Akiba crowd. It's on the opposite side of the 'electric town' exit from the big Crossfield plaza. Their website is only in Japanese.
Hours: Mandarake, noon to 8 p.m. Daily.
Gamers: 9/10 a.m.-9/10 p.m. It depends on the floor. Daily.
Access: Mandarkae. West exit. Follow the tracks to Chuo Dori. Go to your right but cross to the other side at the signal (there aren't many crossings). Keep walking on Chuo Dori. You'll see the Taito Game Center (giant space invader symbol) across the street and facing the little alley you are going to turn left on. Walk one block. Mandarake is the black building on the corner on your right.
3. Gundam Cafe and AKB48 Cafe/Shop
These are really two things, but since they are literally next door to each other. I threw them together.

AKB48 is a massively popular, manufactured J-pop group made up of girls, girls and more girls. Forty-eight of them in several troupes. They are so hot, they've created official spin-off clones in several other Asian countries. The phenomenon got its start here in Akihabara - that's what AKB stands for. They have nothing to do with electronics and technology but everything to do with boyish fantasies.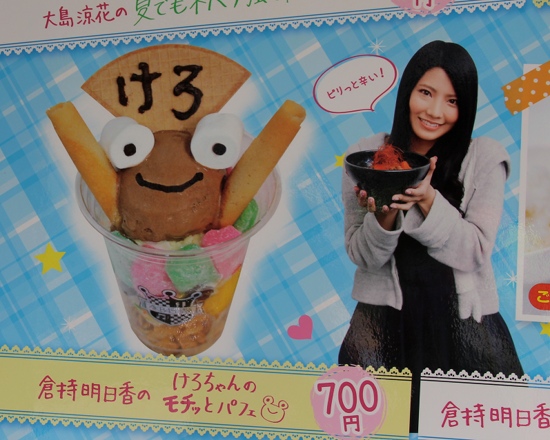 This is probably more calories than she consumes in one week.
The AKB48 Cafe and Shop promises tasty sweets and treats - and those are just the photos of the girls - and an entire boutique devoted to all things AKB48. A movie-style screen set up at one end of the cafe endlessly runs concert footage and music videos.
There is no such thing as 'too cute' in Japan and no age limit to indulgence. AKB48 attracts masses of little girl fans as well as the big boys, making for a rather strange hybrid group of visitors.
English website.
Cafe Hours: Weekdays 11-11. Weekends, holidays: 10 a.m.-11 p.m.
Shop Hours: Mon.-Thurs.: 11-10; Fri./Sat.: 11-10:30; Sun./holidays: 10-10.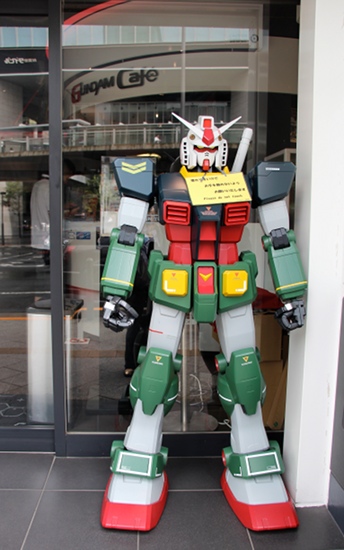 Come at me bro'! Or not. The sign says 'don't touch'.
Gundam Cafe: I've written about Gundam in another Huff Post article. Gundam is a Japanese animation series about giant robot mobile suits piloted by humans. As the show progressed, the pilots got increasingly younger and their hair longer (the guys, not the girls) and the marketing smarter. The spin-off cafes have been hugely popular. And not just with guys. Girl fans flocked to the show as the boys got prettier and the sexual orientation sightly fuzzy.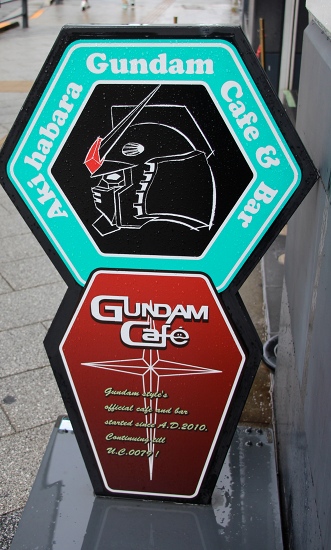 Staff at the cafe are dressed in modified Gundam uniforms and snap a salute when they take your order. The food is Gundam themed - robot waffles, cakes, ice cream floats. The character lattes are especially fun. The cafe sells assorted Gundam goods, including cafe exclusives. If time is a problem, there's a take-out window in front.

Gundam Cafe hours: Weekdays 10 a.m- 11 p.m. Sat. 8:30 a.m. - 11 p.m. Sundays/holidays, 8:30 a.m. - 9:30 p.m.
English website (hasn't been updated in quite awhile...)
Access for both cafes: West Exit. Just on the right, under the tracks.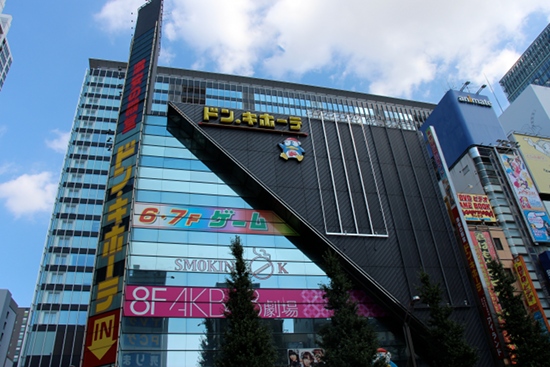 The AKB48 Theater is inside discount mega-store Don Quijote.
If you are a J-Pop fan, the AKB48 theater is located on the eighth floor of discount retailer Don Quijote's Akihabara branch. Yes, it is inside a discount store. Ticket prices for live shows are generally 2000 yen ($20) to 3000 yen ($30). Getting hold of them is another matter entirely. This is their website for show schedules.
Access: West Exit. Go to your left, walk straight ahead to Chuo Dori. Turn right. Walk about two blocks, Don Quijote takes up an entire corner on your right.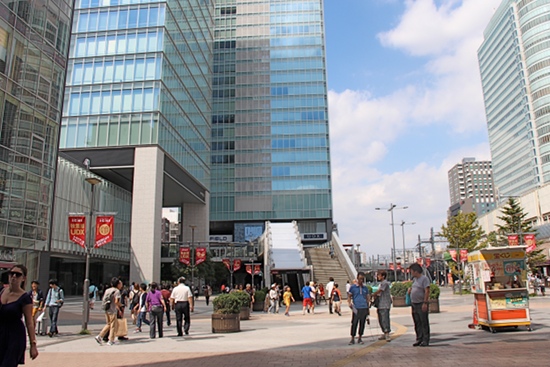 Crossfield Plaza by the station's main entrance.
4. Akihabara Crossfield and Anime Center:
Crossfield's two highrises - UDX and Daibiru - represent the hopes of city planners to transform Akihabara from retail district into an IT business center. Which is great for them, but hugely unexciting for visitors. Crossfield is mostly about upmarket office space, but not entirely.
The complex is connected to the West exit area of the station by a footbridge, so access is easy. If you're looking for electronics, turn around and go back to Yodobashi Camera or the shops on Chuo Dori. This is not the place for you.
If you're hungry, you will be so happy you took that footbridge. Inside the UDX building is Akiba Ichi. Three floors of restaurants; lots of fun choices for food at reasonable prices. Akiba Ichii can save visitors from wandering around wasting energy searching for a decent place to eat.
The free Anime Center is here on the fourth floor. I know the name is popping up in lots of online guides which is why I've included it. Just...well, don't get too excited. It's not as cool as it sounds. Unless, of course, obviously converted office space decorated with a few display cases, a scattering of tables and chairs, posters and mid-size TV screens with short videos on endless loops excite you. Then, wow, you're going to love this place.

Fangirling at the Anime Center.
Hopefully the Center will get some more funding to justify its name. Though the current exhibit did have life-size cut outs of one samurai anime's main characters which was enough to make some fan girls very happy.

Directly at the end of the pedestrian bridge is the tiny Anime Information Center on the second floor. They do have great free maps of Akihabara in English and other languages. The 'Akiba Map' with a block by block breakdown of retailers was definitely worth the walk. They don't, however, have a lot of information on Anime. It's mostly a shop with anime goods.
5. Kanda Myojin Shrine: God is my firewall.
The priests of the 800-year old shrine take their proximity to Akihabara very seriously and so do IT professionals from all over the country. This is the place Japanese go to geek out on the heavenly plane.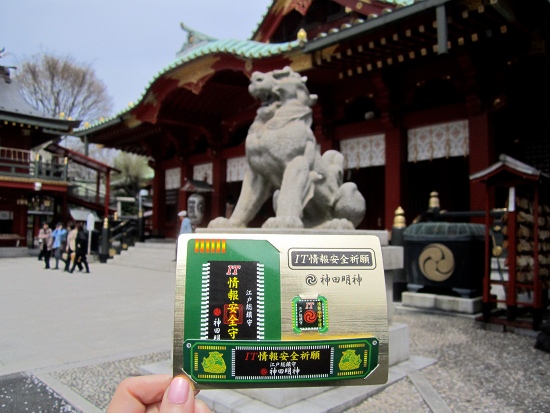 Kanda Myojin shrine and IT charm.
The beautiful shrine is busy nearly every day with blessing ceremonies inside the main hall for new IT-related ventures or divisions - to get them off to a good start - or banish lingering bad luck. Ceremonies are expensive. But not to worry. For individuals, the priests have created a take-home charm to shield digital devices from the demonic forces of evil for only 800 yen ($8).
The charm comes in three parts: A card for your wallet, a strip for the computer and a thumbnail-sized sticker for cell phones or digital devices. They are designed to look like computer hardware because your digital devices obviously care about the aesthetics of their luck. 'Charm' in Japanese is, omamori.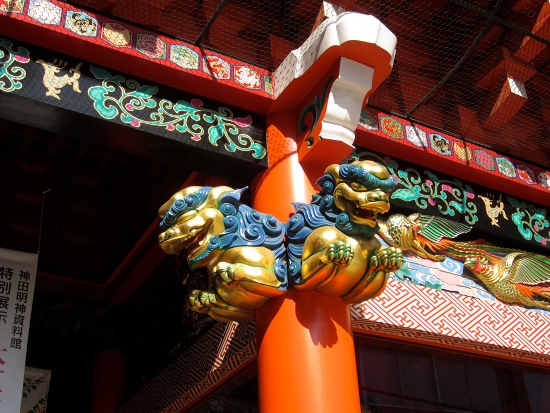 Detail of carving at Kanda Myojin. Myojin means 'bright god'.
Once you have secured your charm at the shrine 'shop' near the entrance to the main hall, take your time to walk around this stunning, brightly colored shrine. Kanda Myojin is one of the city's most beautiful in my opinion.
Akihabara used to have its own shrine. In fact that's what the name 'Akihabara' is derived from - or so the legend goes. The shrine was moved when the station was built, though they left a little token emblem on the second floor of the Radio Center. Sorry local gods...
Access: Although Kanda Myojin is walkable from Akihabara (take Kurumabashi street), it's much easier to take the train. From Akihabara, hop the Sobu line one stop to Ochanomizu. Take the Hijiribashi (聖橋口) exit. Walk across the bridge over the river, straight on to the next traffic light. Turn right, the shrine is on the left. Or grab a cab and say, "Kanda Myojin (mee-yo-jin) onegai shimasu."
Last word about maid cafes.
I know I wasn't going to say anything about them, but, some have cover charges. If money's tight, watch for that.
Many thanks to Mike Nakada who contributed to this article.